We've put together an amazing list of some of the best Air Fryer Desserts you will ever find. Bookmark this page to have handy when you're looking for easy air fryer desserts and sweet treats the whole family will love.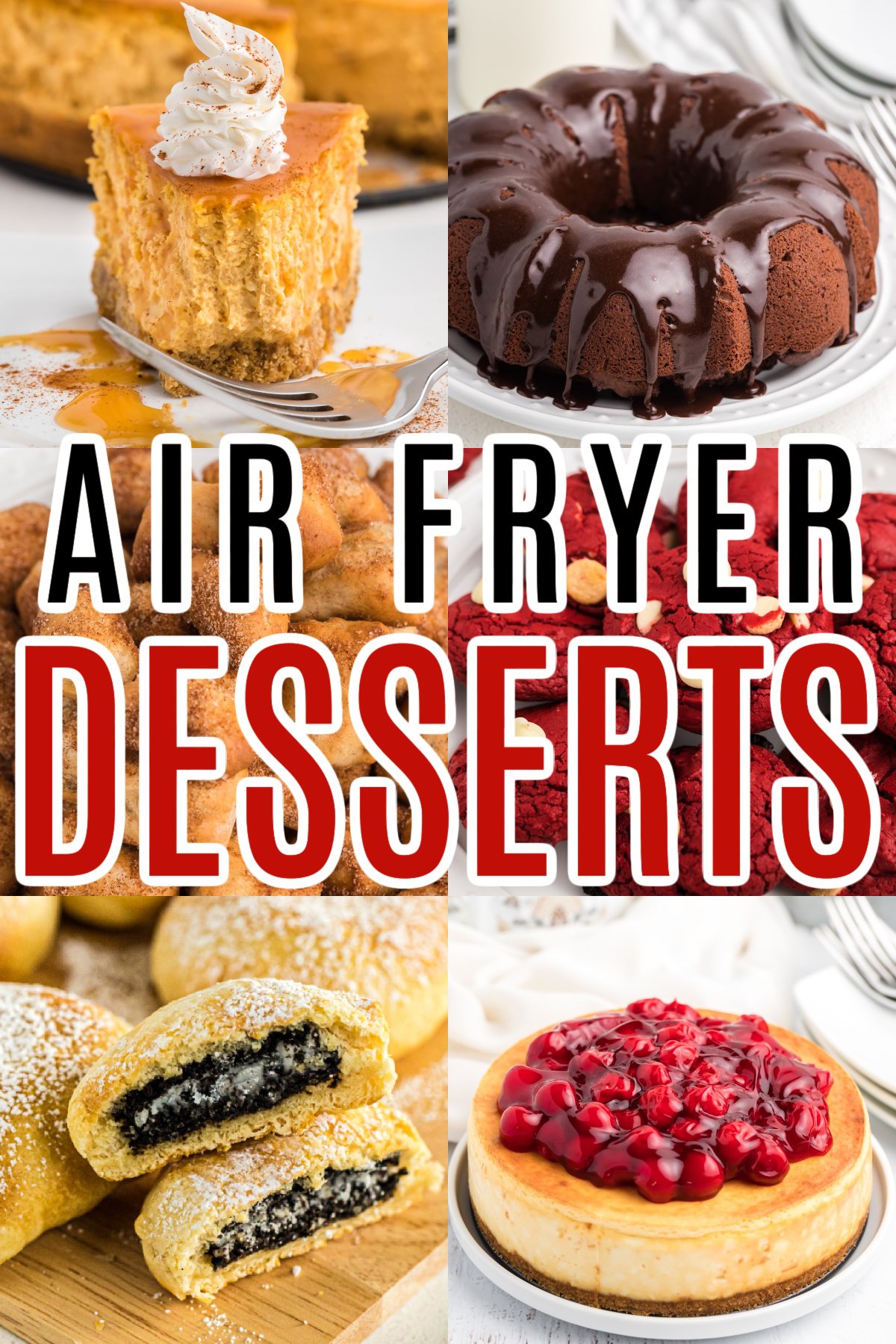 Did you know you can BAKE in your air fryer? Yea, me either until one day I just made a calculated risk and did it. Not only did dessert turn out amazing, but it was done in half the time.
In fact, when I am baking in the air fryer, there are a few things I do to make desserts come out perfectly every single time. I'll share with you all of my favorite tips and tricks, and then I will share ALL of my favorite dessert recipes.
When my sweet tooth is kicking in and I am craving something fun, I'll make sure to find something delicious and easy to make in my air fryer.
Here at Air Frying Foodie, we make sure all of our air fryer recipes are easy and fun. You'll find recipes like apple pie, cheesecake, and cherry pie bombs, just to name a few.
Let's go over a few of my air frying tips and tricks first.
How does baking in an air fryer work?
Baking in the air fryer is done easily when you know what you're doing. We've already made the mistakes so that you don't have to.
Air Fryers cook foods by using a heating element and a fan, and that circulating of heat and hot air is what helps cook the food and crisp it.
Air Fryers can cook with heat as high as 400° Fahrenheit/200° Celcius. Some air fryers may even cook to higher temps.
TIP#1: You don't have to use the BAKE feature if your Air Fryer even has it (some manufacturers do, and some do not.) I always use the same Air Fryer button function whether I am making a cheesecake or making french fries
How do I Make Desserts in the Air Fryer?
When I am making items such as Air Fryer Oreos or using cookie dough to make cookies, I typically like my air fryer basket with parchment paper. Lining the basket with parchment paper keeps the clean up easy and also keeps cookie dough or crescent dough from dropping through the grates of the basket.
TIP#2: Make cleaning up the air fryer basket easy by using parchment paper when making desserts such as cookies.
Do I need to Preheat the Air Fryer when Baking?
Some air fryers require you to preheat before you can cook, but when I am baking in the air fryer, I never preheat it. For instance, if I place cookie dough into the preheated air fryer and I am not using parchment paper, the dough is going to seep through the grates in the hot basket before it starts cooking. I always start off without a preheat when I am making cookies, cheesecakes, chocolate cakes, or breads.
TIP#3: You don't need to preheat the Air Fryer when baking.
Now that I have shared my favorite tips, let's start talking about delicious dessert! You can find great air fryer desserts such as delicious air fryer brownies, donuts, cinnamon rolls, cookies, cakes, and more.
Scroll through your favorite desserts below and then click on the one you want to try. Then simply click the "jump to recipe" button where you can easily print or save each recipe.
Have fun, these are all delicious!
Air Fryer Dessert Recipes
I hope you found this list helpful while you decide what's for dessert!
If you love this recipe, you might also like these other Air Fryer recipes we've shared.
MORE AIR FRYER RECIPES:
We Would Love to Hear From YOU!
Let Us Know What You Think!
Tag Us In Your Photos! Are you on Facebook? If so, join our Easy Air Fryer Recipes Group (with hundreds of thousands of Air Fryer Foodie Fans!) and share your photos! We love to see your creations.
Have a Question or General Feedback?
Jump down to the COMMENT section and let us know! We would love to help and also love feedback on all of our posts.
Thanks for stopping by, and we hope to see you here again soon!