If you love making beef in the air fryer, check out this great list of Air Fryer Beef Recipes. You'll find everything from steak bites to burgers, and more!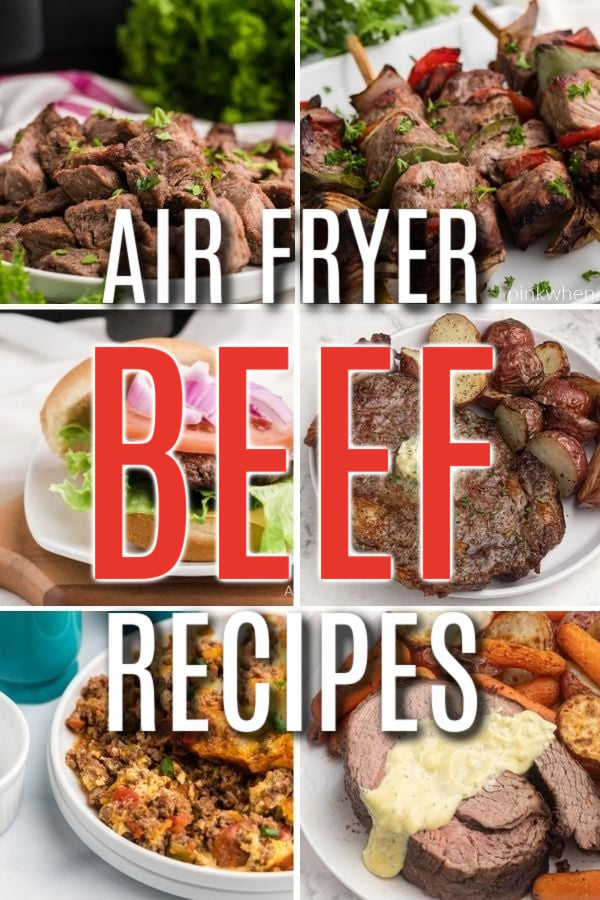 One of the best investments I have ever made for my kitchen is the air fryer.
When cooking meat products such as beef and chicken, I love to make sure I have a meat thermometer on hand to ensure I am cooking my recipe to my desired internal temperature. If you don't have one, make sure you grab one!
I love an easy recipe and most of these air fryer recipes are easy and perfect for the beginner or advanced air fryer enthusiast.
Using the air fryer is also a great way to get dinner on the table fast! For best results, I always recommend testing out your recipes first to see how your particular air fryer cooks.
Air Fryers cook by using a heating element that causes hot air to blow around and cook your recipes to perfection at a high temperature. Different air fryers can cook things a little differently, so it's always a good idea to check out the differences between different types of air fryers. The wattage and power will cook things differently, so make sure you are aware of what your air fryer can do.
In fact, if you are still unsure, it's always a good idea to test a recipe out with different cook times before possibly overcooking what could actually be the perfect steak.
I have had much success cooking different beef recipes in my air fryer, and you'll love this great list of recipes. You'll surely find something below that the whole family will enjoy.
Air Fryer Steak Bites
Air Fryer Steak Bites are one of my favorite quick and easy recipes to make. You can use sirloin steak, filet mignon, New York Strip, or your favorite steak cut into bite sized pieces.
A good steak and a little seasoning is all you need to make this delicious recipe. Air Fryer Steak Tips are great over rice, over a salad, or even for steak tacos or fajitas.
Not only that, but you don't have to break out the cast iron skillet and heat up the entire house or slave over the stovetop.
For this recipe, I use simple seasoning and a little olive oil to make these juicy steak bites.
Air Fryer Ribeye Steak
This air fryer steak recipe is by far one of my favorite recipes. This tender cut of meat is one of my favorite things to pop in the air fryer on a busy weeknight when I am craving something delicious and filling. This easy air fryer recipe is perfect with or without steak seasoning.
If you are looking for the perfect air fryer steak, check out this recipe for air fryer steak below.
Air Fryer Roast Beef Recipe
YES! The perfect roast beef recipe can be made using the air fryer. I love this main dish when I am craving delicious roast beef and I don't have hours on hand to cook and prepare it.
The first time I made this, I was a little hesitant to put a roast in the air fryer. But it cooked like a champ and made for a delicious dinner. It was pretty easy to make too, with very little prep.
Air Fryer Meatballs
Being able to make fast meals in the air fryer is one of the main reasons I use my air fryer. This recipe is SO easy and quick to make, and the best part about these meatballs is they can be served with pasta and sauce, in a sandwich, or just by themselves!
There are so many easy ways to add meatballs to a meal. They are also great to use for meal prepping and they freeze well.
Not only that, but if you love making meatballs in the air fryer, you'll love making air fryer burgers.
Air Fryer Steak Kabobs
Air Fryer Steak Kabobs are a quick and easy air fryer recipe that can be used as an appetizer or even a main dish. Choose your favorite cut of steak, vegetables, onions, and dinner can be ready in just 10 minutes.
This is one of my favorite easy air fryer recipes that the whole family enjoys.
Air Fryer Taco Casserole
This delicious taco casserole is made with ground beef, taco seasoning, bell pepper, tomatoes and chilis, cheese, and more. It's the perfect easy Air Fryer meal that's family-friendly and keto-friendly, too!
If you are looking for something that is delicious, filling, and low carb, this needs to be on your must-make list of air fryer recipes.
Air Fryer Meatloaf
If you love meatloaf, you are going to have to get your taste buds ready for an amazing experience. This Copycat Cracker Barrel meatloaf is full of flavor, and so moist after being cooked in the air fryer.
The best way to tell if your meatloaf is fully cooked is to use a thermometer. The internal temperature should be 160 degrees f.
These are just some of our favorite beef recipes in the air fryer.
Air Frying our meals is hands down my new favorite way to make just about anything in the kitchen. If you're looking for extra flavor and tender, juicy recipes, you are going to love using the air fryer, too.
MORE AIR FRYER RECIPES:
If you love learning about the air fryer, make sure you join our Easy Air Fryer Recipes Facebook community. Thousands of people share their favorite tips, tricks, and recipes on a daily basis.