Ribeye steak in the air fryer is an incredibly easy way to make a delicious classic dinner. Done in just minutes, and cooked to perfection, you will not want to cook your steak any other way!
To be honest, the first time I got the steaks ready to cook in the air fryer, my husband was a little skeptical. He is a traditional steak and potatoes guy, and did not want the ribeye to be different than how he grew up eating it for dinner.
Thankfully, he trusted me, so I brushed it with olive oil, and kept it easy with a salt and pepper rub. That is the entire prep to this air fryer ribeye. Once it came out of the air fryer and onto his plate, let's just say he did not complain!
This is also one of our favorite Christmas Dinner Recipes to make in the air fryer.
Because I love steak, making air fryer sides like Potatoes, which are shown on the plate below, are an easy option. But, if you would like a different side, you can make Air Fryer Hasselback Potatoes or Air Fryer Honey Glazed Carrots.
If you want sirloin steak dish ideas or beef recipes, try these air fryer steak bites, air fryer cube steak, Filet Mignon, air fryer flank steak, or this delicious air fryer chicken fried steak.
What you need to make Ribeye
Making the juicy steak in the air fryer is not only easy, but requires minimal ingredients. To make perfect steaks, I keep seasonings to a minimum, and top steak with a flavored butter I make myself.
Ingredients Needed:
Ribeye steak
olive oil
salt
pepper
butter
Mix-ins for the butter such as crumbled blue cheese or garlic
Because everyone has a favorite flavor for their steak, you can easily change this recipe to add in additional seasonings such as garlic salt, chili powder, or add in your favorite McCormick Steak Rub.
Check out how to reheat steak in the air fryer. We share all of our favorite tips and tricks.
How to make Air Fryer Ribeye Steak
Making the ribeye in the air fryer begins with just a few easy steps to prepare the steak. First, brush the steak with olive oil. I normally brush the air fryer basket with olive oil, but since you are coating the meat itself, you don't need to oil the basket.
Click Here to Get the Top Ten Air Fryer Questions Answered
Once you have the steak lightly coated in oil, season to your liking. We keep it easy with just salt and pepper, and that was plenty enough flavor! After they are seasoned, preheat the basket at 400 degrees Fahrenheit, which only takes a few minutes.
Once the basket is preheated, place your steaks in the basket, without any overlapping. Then, air fry at 400 degrees F for 16 minutes, eight minutes on each side, which is perfect for two 16 ounce ribeye steaks to medium well doneness. However, if you have thinner steak, you may need to lower the time.
After air frying, allow the steak sit for 5-10 minutes, to allow the flavoring and juices to set. Doing this makes a huge difference in the flavor! And finally, top your steak with a pat of butter, garlic butter, garlic herb butter, or blue cheese butter.
FAQ's about making Ribeye Steak in the Air Fryer:
Will my steak be juicy after being cooked in the air fryer?
Air frying our steak made it VERY juicy and tender. By allowing the steaks to rest for at least 5-10 minutes before eating, it gives the meat extra time to marinate in it's own juices and brings out the flavor.
How can I tell if my steak is cooked properly in the air fryer?
Because it is important to eat properly cooked meat, the surest and safest way to determine doneness, is with a meat thermometer. According to the FDA, proper temperatures for steak doneness, are:
Rare- 125 degrees F
Medium Rare- 135 degrees F
Medium- 145 degrees F
Medium Well- 155 degrees F
Well Done- 160 degrees F
MORE AIR FRYER RECIPES:
📖 Recipe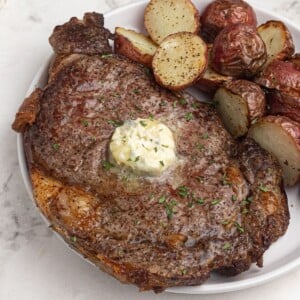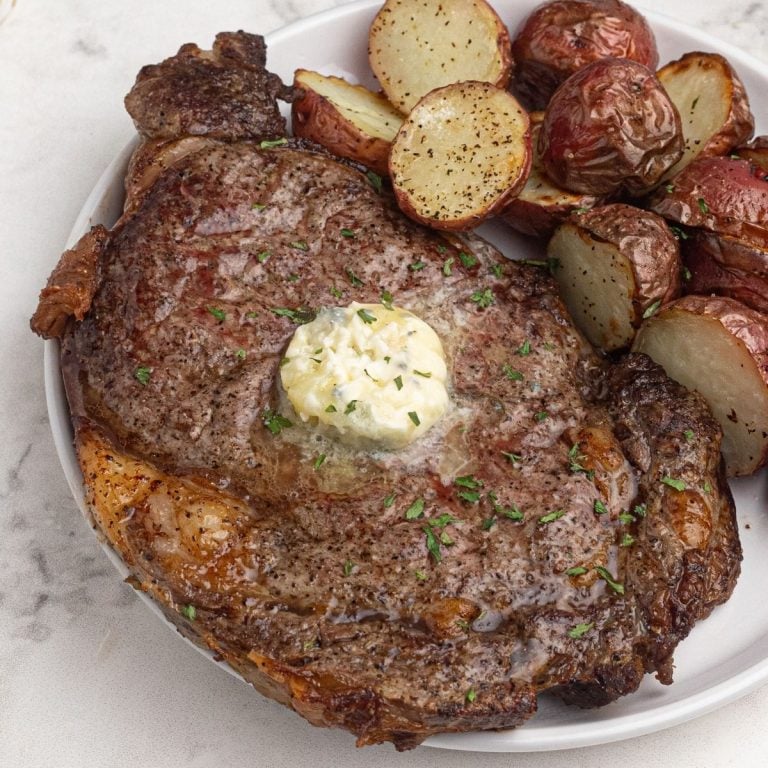 Air Fryer Ribeye Steak
Delicious and juicy, ribeye steak cooked in the air fryer, topped with blue cheese butter.
Ingredients
2

rib eye steaks

16 ounces each

1

tablespoon

olive oil

½

teaspoon

pepper

½

teaspoon

salt
Blue Cheese Butter
2

tablespoon

unsalted butter

melted

1

tablespoon

blue cheese

crumbled
Instructions
Butter and Blue Cheese Topping
To prepare butter topping, melt butter and blue cheese in the microwave, for about 30 seconds. Stir together, and return to refrigerator while steak is cooking.
Ribeye Steak
Lightly coat steak with olive oil, on both sides and then add salt and pepper, or your preferred seasonings.

Preheat air fryer to 400 degrees Fahrenheit.

Cook at 400 degrees F, for 6-8 minutes on each side, depending on preference for doneness.

Let steak sit for 5-10 minutes before serving and top with spoonful of prepared butter.
Notes
Let steak rest in juices for 5-10 minutes before serving. 
Weight Watchers: 4 ounces of ribeye steak is approx 7 points- serve with steak sauce for additional 1 point.
KETO: 8 ounce serving C/1 P/23 F/26
Nutrition
Calories:
323
kcal
Carbohydrates:
1
g
Protein:
23
g
Fat:
26
g
Saturated Fat:
12
g
Polyunsaturated Fat:
1
g
Monounsaturated Fat:
12
g
Trans Fat:
1
g
Cholesterol:
85
mg
Sodium:
375
mg
Potassium:
312
mg
Fiber:
1
g
Sugar:
1
g
Vitamin A:
207
IU
Calcium:
20
mg
Iron:
2
mg
*Nutritional information is a calculated guesstimate. Please note that this can change with different brands and modifications you may make to the recipe. For the most accurate information, use a nutritional calculator with the exact brands and measurements you're using with each recipe.
©AirFryingFoodie 2023
Share this recipe!
Follow @AirFryingFoodie on Pinterest.