Air Fryer Asparagus has got to be the easiest way to make perfect, crispy asparagus. Ready to eat in under fifteen minutes, dinner will be ready in a snap!
Asparagus in the Air Fryer
Making this side dish for dinner can't be any easier. Before I started using my air fryer for EVERYTHING, I used to fry these in a skillet with a small amount of olive oil, salt, and pepper. If I wanted to splurge on fat count for the day, I would use butter instead of oil.
Either way, cooking on the stove top, my asparagus wasn't as crispy as I would like it to be, and the small splatters of oil or butter as it was cooking, always left a mess on my stove top.
Thank goodness for the air fryer! I just brushed a small amount of olive oil on my asparagus, placed them in the basket, and they were ready to cook!
CLICK HERE for the Easy Air Fryer Recipes Facebook Community.
Cooking asparagus in the air fryer is so fast and easy! And the best part, is you can make it with different seasonings each time, until you find your favorite blend!
How to make Air Fryer Asparagus
I trim the ends off of the asparagus before cooking them, so they are crisper and the same size for cooking. Most importantly, those ends are tough to chew, so it makes the asparagus easier to eat.
Once you have the stems trimmed, place them in the basket. Don't overload the basket with them, or else they won't get the crispness you want.
Brush them with olive oil, and then lightly season them with salt and pepper. This is really your decision, because you can add garlic salt, garlic powder, minced garlic, chives, tarragon, or dill. I just used salt and pepper for mine.
Cook them for 8-10 minutes. My husband likes his vegetables a little bit crispier than I do, so I take a few out at eight minutes, and cook the rest for another minute or two.
Sprinkle with slivered almonds and Kraft shredded parmesan cheese. Serve with your favorite meal!
FAQ's about Air Fryer Aspargus
What should I eat with asparagus?
The beauty of asparagus is that is goes well with so many things! Pasta, chicken, steak, and fish are my meals to pair with asparagus.
Should I peel asparagus before cooking?
No. There is no need to peel the asparagus. Not only does it take a lot of time, but it's not necessary. Just trim the stems and you are good to cook it as is.
How can I tell if my asparagus is done cooking?
Asparagus should be soft, but crisp, and should stay a dark green. You don't want to overcook it so it burns, or undercook it so it is too hard to bite.
MORE AIR FRYER RECIPES:
Looking for more recipes? Follow us on Facebook and Pinterest!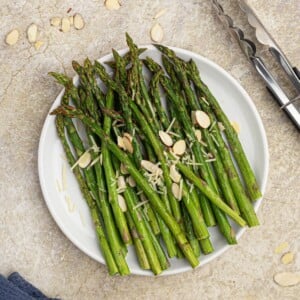 Air Fryer Asparagus
Crispy asparagus cooked in the air fryer.
Ingredients
1

pound

asparagus

1

tbsp

olive oil

1/8

tsp

salt

1/8

tsp

pepper
Instructions
Rinse the asparagus well.

Trim the stems of the asparagus, cutting about 1-2 inches off the bottoms of each stem.

Place the asparagus in the air fryer basket.

Brush with olive oil, covering the asparagus with a light coat.

Sprinkle salt and pepper, or desired seasonings on the asparagus.

Place the basket in the air fryer and cook at 400 degrees for 8-10 minutes, depending on desired crispness.
Notes
This recipe used one full bunch of asparagus, which was almost exactly one pound. This equals four servings. 
Nutrition
Serving:
4
oz
Calories:
54
kcal
Carbohydrates:
5
g
Protein:
3
g
Fat:
4
g
Saturated Fat:
1
g
Sodium:
293
mg
Potassium:
232
mg
Fiber:
2
g
Sugar:
2
g
Vitamin A:
859
IU
Vitamin C:
6
mg
Calcium:
29
mg
Iron:
2
mg
*Nutritional information is a calculated guesstimate. Please note that this can change with different brands and modifications you may make to the recipe. For the most accurate information, use a nutritional calculator with the exact brands and measurements you're using with each recipe.
Share this recipe!
Follow @AirFryingFoodie on Pinterest.