We love burger night at my house! It's an easy meal that everyone enjoys and cooking burgers in the air fryer is quick with clean-up being super fast. We also love to add some Air Fryer Asparagus to get a delicious and healthy side dish.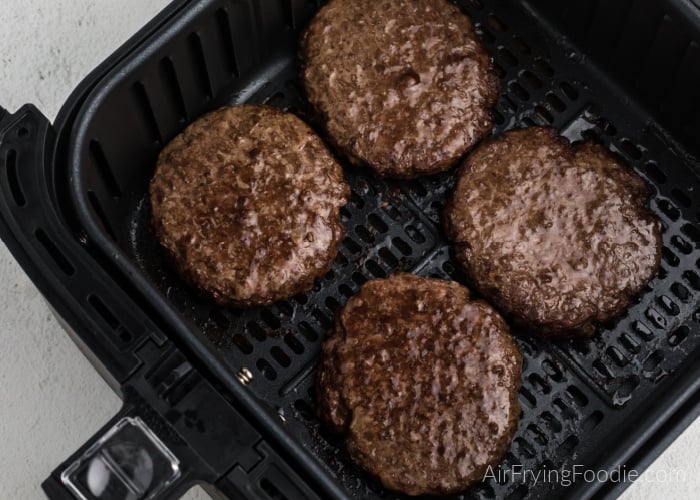 Making Burgers in the Air Fryer
We love to make hamburgers for the big game or movie night at my house. Sometimes we pull out the grill but Air Fryer burgers are so much quicker with much less prep work. After a long day at work we are able to get dinner started quickly and to be able to relax with the family.
While the hamburgers are cooking we get the condiments and extras ready for everyone to personalize their air fryer burgers. Everyone in the family is excited for this quick and comforting meal.
The air fryer cooks your hamburger perfectly and evenly so you know it is going to taste great. The Air Fryer even gives your hamburgers a grilled taste and are juicy and delicious. And these Air Fryer Hot Dogs also go well with these yummy burgers!
How to make Air Fryer Burgers
This is a foolproof recipe that you can do even at the last minute. I like to keep it simple with a little salt and pepper because the Air Fryer gives it a great taste naturally.
Preheat the Air Fryer at 370 for 4 minutes. Preheating your air fryer is important for optimum cooking so the airflow will be at the right levels.
Prepare the Air Fryer basket by placing the hamburger patties in a single layer in the basket. Using a single layer will ensure that there is plenty of circulation and the food cooks completely.
Place the basket in the air fryer and cook for 10-12 minutes. You'll want to flip your burgers halfway through so both sides get cooked the same. It's best to not open your air fryer unless you are flipping the food.
How long do I cook burgers in the air fryer?
This will depend on your air fryer and the thickness of your hamburgers. Just like microwaves, air fryers have varying watts and this will affect the time that it takes to cook your food.
We cook our hamburgers for 10-12 minutes, flipping halfway through. This gives us a perfect medium hamburger that is juicy and delicious. If you cook your hamburgers in the air fryer too long they will become dry so I suggest a good meat thermometer to make sure that it is cooked well enough. The more you get to know your air fryer the easier it will be to determine how long to cook your food.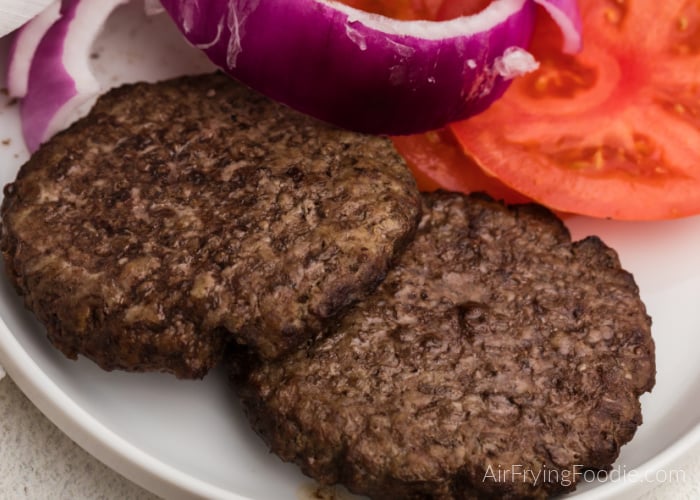 What sides go well with Hamburgers?
We know that fries are a go-to for hamburgers but there are so many other great options! We like to switch it up and try to add some healthy vegetables for a well balanced meal.
Here are a few of our favorites, many of these can be cooked in the air fryer as well:
Sweet potato fries
Zucchini chips
What toppings can I use for hamburgers?
The fun of air fryer burgers is all of the toppings that you can add to make it your own, each family member can even pick out their favorite and create their masterpiece. Cheese is a must for our family and you can try so many different kinds: gouda, pepperjack, Swiss and regular American cheese are great choices.
Other options:
Spicy ketchup
Salsa
Jalepenos
Barbecue sauce
Guacamole
Chili
Avocado
Bacon
Eggs
What other meats can I use for Air Fryer Hamburgers?
There are so many options when cooking hamburgers, some people prefer a healthier meat or don't eat meat at all. You'll need to adjust your time for different meats but they all taste great.
Turkey
Chicken
Black Bean Burgers
Air Fryer Hamburgers are a great weeknight meal or great for special occasions and you'll love the ease of cooking and cleanup. Your family will love how this great family meal taste.
MORE AIRFRYER RECIPES:
Air Fryer Hamburgers
Air Fryer Hamburgers are a quick and one of the fastest ways to make delicious hamburgers!
Instructions
Preheat the Air Fryer to 370 degrees Fahrenheit. Prepare the Air Fryer basket with nonstick cooking spray.

Add the hamburger patties into the Air Fryer basket in a single layer.

Cook in the preheated fryer for 6 minutes. Flip the hamburger patties and cook for an additional 5-7 minutes, dependending on how well done you would like the hamburgers.

Carefully remove the hamburger patties from the Air Fryer basket and serve with your favorite sides and toppings.
Notes
If cooking frozen hamburger patties, add an extra minute or two to the cook time to ensure they are cooked thoroughly. 
Nutrition
Calories:
231
kcal
Protein:
17
g
Fat:
18
g
Saturated Fat:
7
g
Cholesterol:
60
mg
Sodium:
84
mg
Potassium:
304
mg
Calcium:
8
mg
Iron:
2
mg
*Nutritional information is a calculated guesstimate. Please note that this can change with different brands and modifications you may make to the recipe. For the most accurate information, use a nutritional calculator with the exact brands and measurements you're using with each recipe.
©AirFryingFoodie 2023
Share this recipe!
Follow @AirFryingFoodie on Pinterest.