These Air Fryer Accessories are our recommended must-haves. These are what we use the most when making foods in our air fryers. The air fryer is so easy to use, but having a few essential accessories can help with cleaning the air fryer, protection from heat, and perfecting recipes.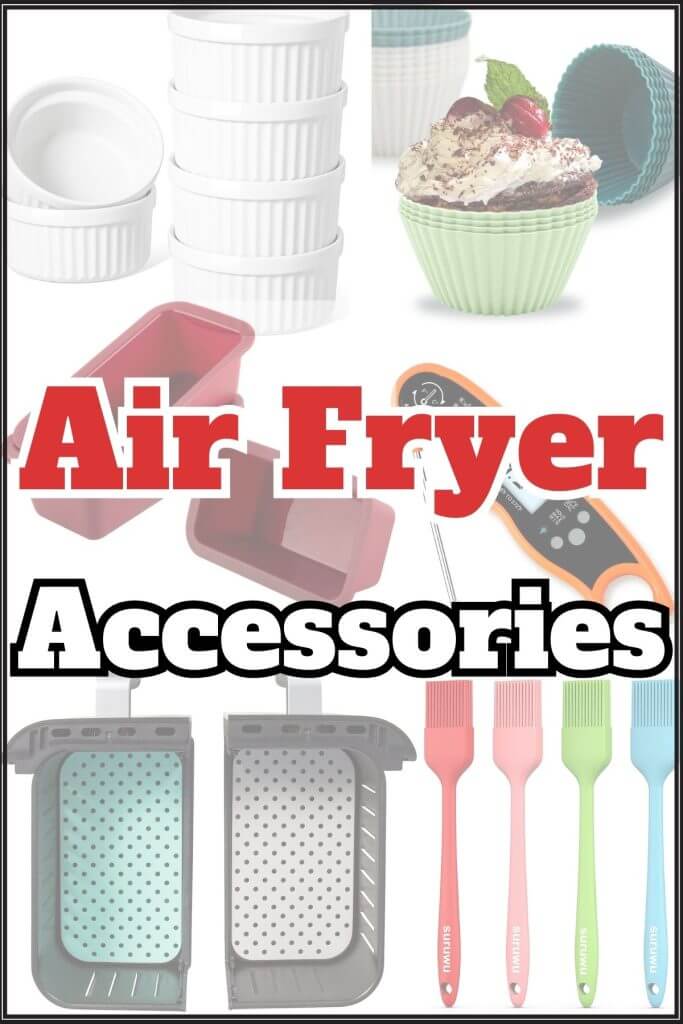 Benefits of Using an Air Fryer
The benefits of using an air fryer can include lower cook time, create healthier versions of our favorite delicious meals, and only need a small amount of counter space. Once you have tried the air fryer experience, you will be one of the millions of air fryer users who enjoy their crispy meals without the hassle of using a regular oven.
Another great feature of an air fryer, is that can cook frozen foods straight from the freezer. Quick snacks like air fryer frozen mini pizza and air fryer frozen chicken nuggets are always fun frozen foods to eat when first using your air fryer.
You can find several accessories put together in this air fryer accessory kit. But we broke down the most used accessories individually so you can decide which ones are right for you.
You can also read more in this article titled What Is An Air Fryer for more information.
Air Fryer Parchment Paper Liners
Parchment paper liners make cleaning so much easier and faster! They are also a must when making Air Fryer Chocolate Chip Cookies or Air Fryer Pretzels. The parchment paper already has holes so it doesn't prohibit air flow.
Because they are disposable liners, when you are done air frying, just toss them. They can be used on an air fryer rack or basket type air fryer and are made for both round air fryers and square air fryers.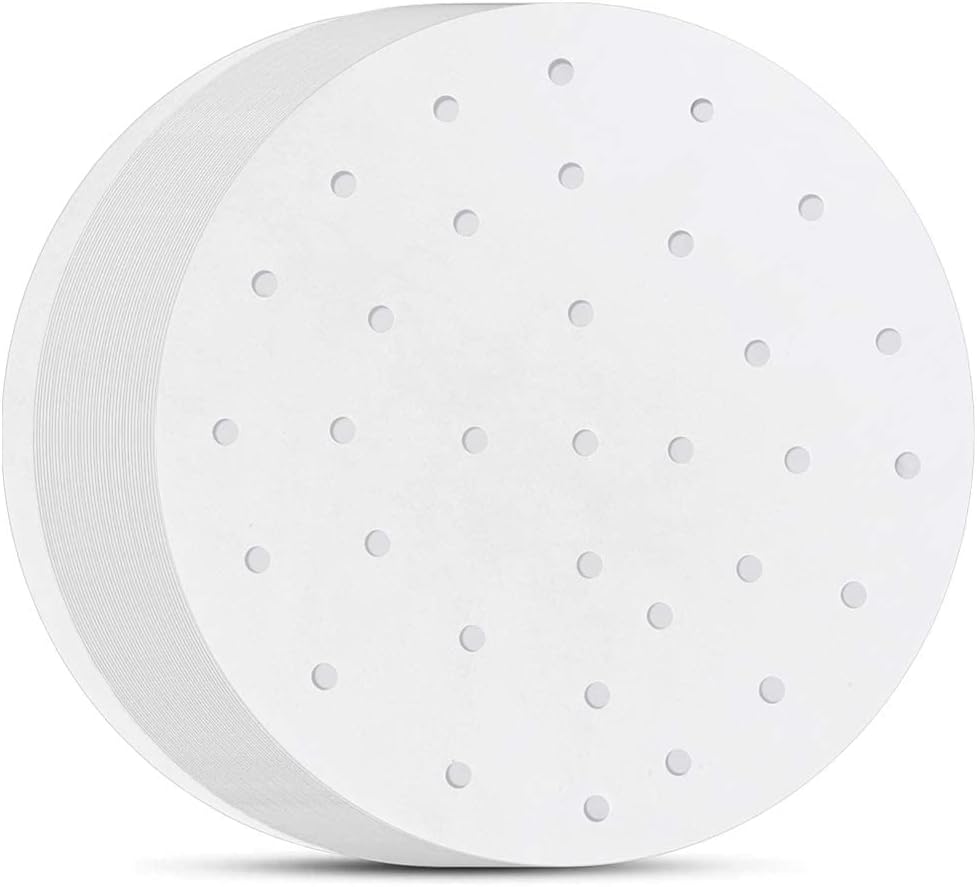 Air Fryer Silicone Liners
Even though most air fryer baskets have a non-stick surface, air fryer liners are a game-changer! They have a perforated design, and are reusable liners that provide easy cleanup. The parchment sheets are made with food-safe silicone, and fit right into the basket.
Liners can be easily cleaned with a sponge or even thrown in the dishwasher. They can comes in packs of multiple liners in different colors so you can be used for different foods. Round air fryer silicone liners, square air fryer silicone liners, and air fryer silicone liners for dual baskets, are made to fit so they can be used on an air fryer tray or basket type air fryer.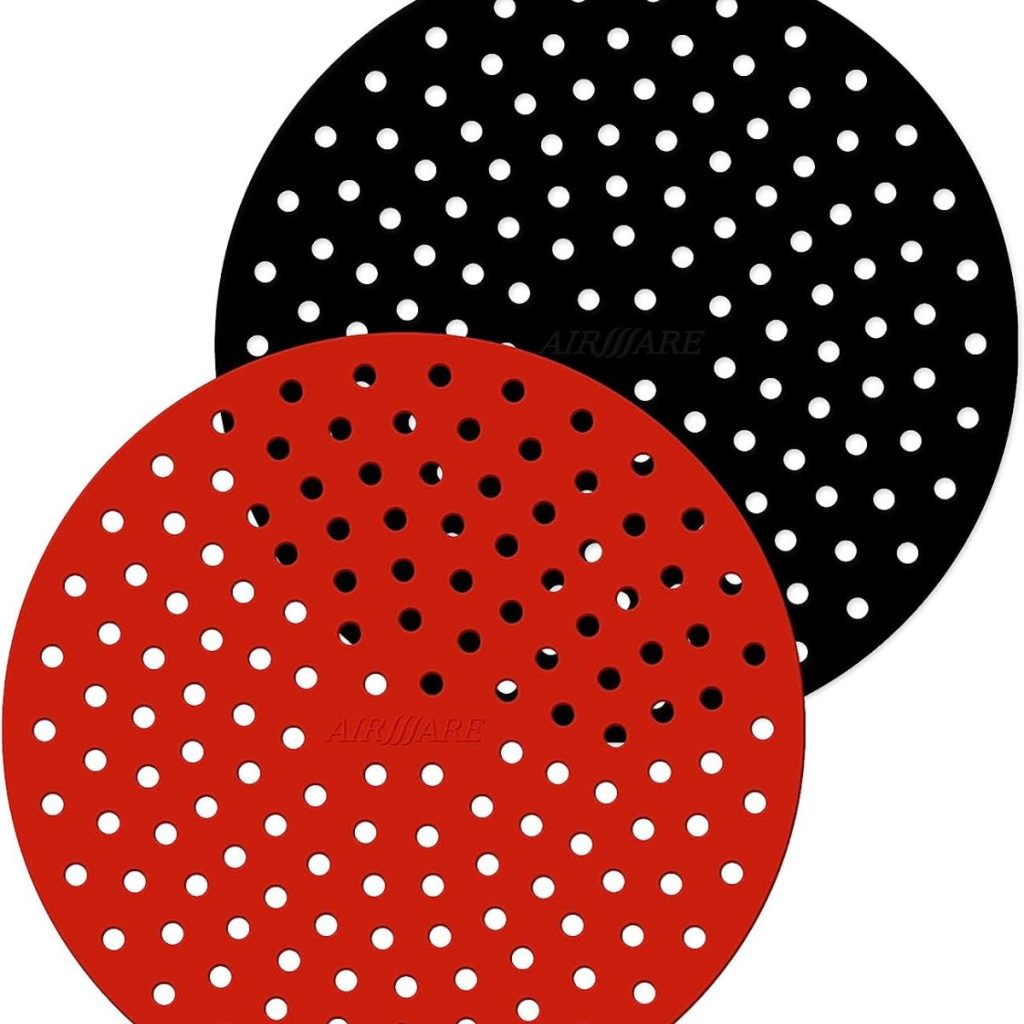 Silicone Mitts
Oven mitts are great hand and arm protectors. This pair has a cloth lining on the inside, and silicone on the outside. A silicone mat can be used too. I tend to burn my wrist on the edge of the air fryer basket, to these have saved me many times.
The silicone is easy to clean too! The heat resistant small mitts are great for great for grabbing a dish or pan in a hurry.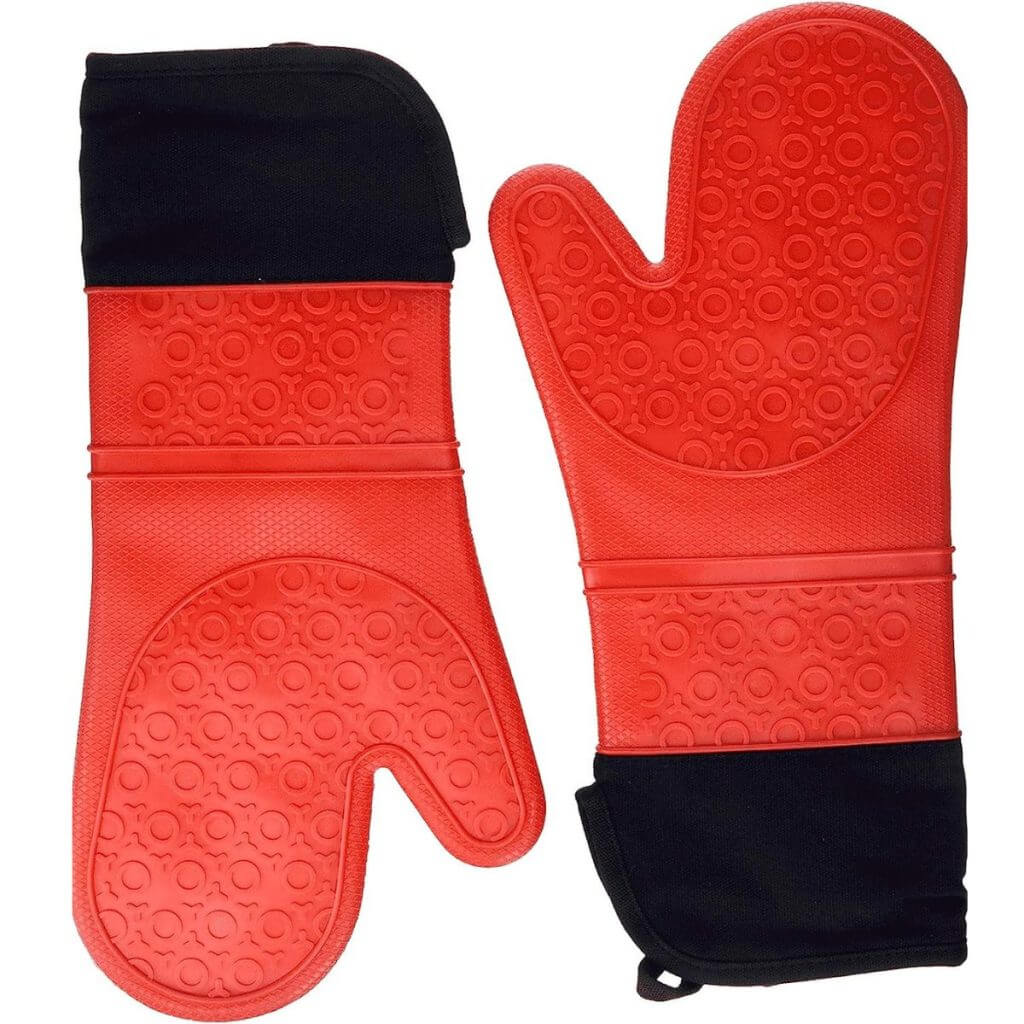 Tongs and Plate Grabbers
A simple pair of silicone handled tongs are easy to hold and help you easily remove or flip hot foods like Air Fryer Bacon or Air Fryer Chicken Wings. We like silicone tongs, but if using metal tongs, make sure they are heat-resistant tongs so they are easily to handle with bare hands.
The plate grabbers have long handles, so you can keep your hands away from hot foods or the hot basket. These plate lifters are also great for grabbing plates of delicate food that may be hot.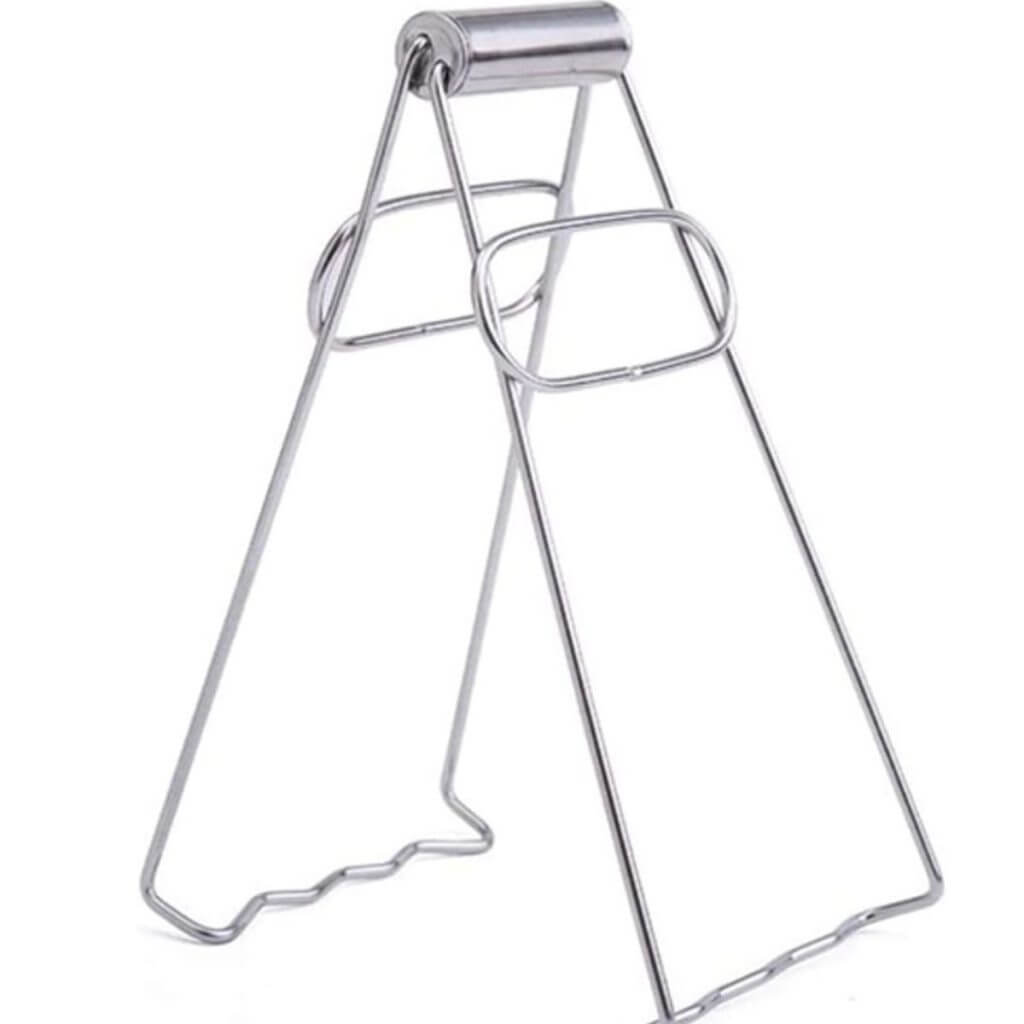 Silicone Muffin Liners and Ramekins
Reusable and easy to clean, silicone muffin liners or small ramekins are great for Air Fryer Cupcakes, Air Fryer Egg Bites, and Air Fryer Blueberry Crisps. They are perfect for individual servings. To clean, just put in the dishwasher or hand wash with soapy water, when done using.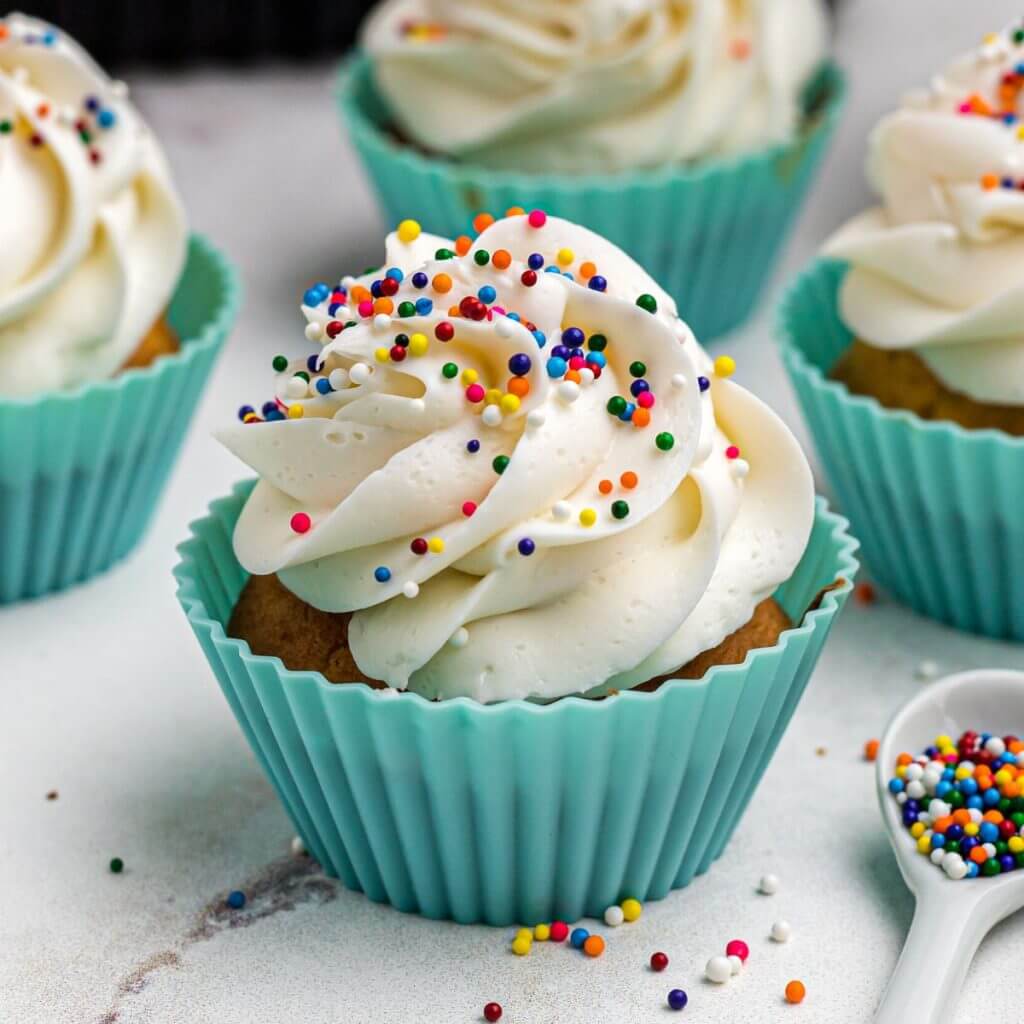 Oil Sprayer or Silicone Brush
An oil spray bottle is a perfect for quickly coating the basket or foods when air frying. You can make your own blend of olive oil and fill the spray bottle for easy use, avoiding contact with uncooked meat.
The silicone brush works well too, and can also be used for marinating or brushing sauces onto foods. A small amount of oil can help the air fryer make crispy food.
Some non-stick coating sprays can damage an air fryer basket during the cooking process. If you aren't sure what types of oils you can use in your air fryer, we put together this list of the Best Oils for Air Fryer.
Pans and Racks
If you are like us, you use your air fryer for so much more than reheating foods. We love making Air Fryer Cheesecake, Air Fryer Cake, and even Air Fryer Chocolate Chip Muffins.
Most traditional bakeware will not fit in the air fryer. We find this perfect baking pan set, works well in a tray style air fryer. And the round Springform pans and silicone loaf pans, work well for any type of air fryer.
Meat Thermometer
An instant-read thermometer is not just another kitchen gadget, it's a staple in our kitchen. We actually keep a couple on hand for baking, as well as steaks or chicken. If you are tech savvy, you can try the wireless digital thermometer that uses a probe to track as the food is cooking.
We use the Cosori Air Fryer Oven for most of our recipes. However, different brands have different wattages. A food thermometer can assure you that your food is done cooking on the inside without having to remove it from the air fryer or worry about temperature settings.
Baking Dish and Silicone Pot
Trust me, you are going to come to appreciate having an amazing dish like one of these. The large ramekin is perfect for making our favorite foods, like casseroles. And the silicone pot is perfect for whole meals like Air Fryer Chicken Breast, or Air Fryer Whole Chicken. The air fryer silicone pot is easy to clean and can quickly be lifted out of the air fryer.
Air Fryer Cookbook
The air fryer has become an essential kitchen appliance, gracing counters in a majority of kitchens in the United States. We've also put together a list of air fryer tips, tricks, and simple, dependable recipes, in our new cookbook, Air Fryer All Day.
While we do share a few fan favorites, most of the recipes are exclusive to the book, and will impress even the pickiest eaters!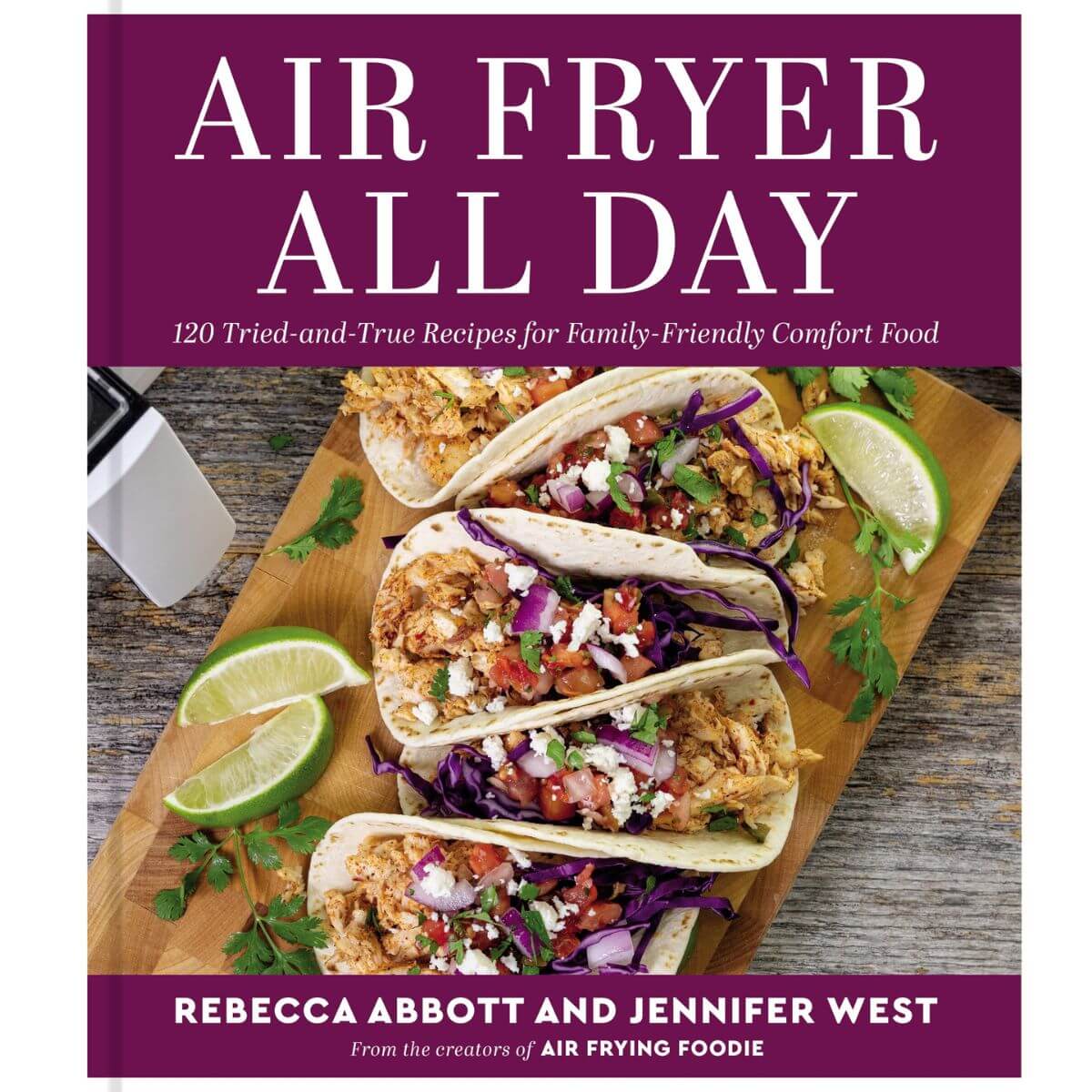 FAQ's
What air fryer should I use for these accessories?
We have our favorite air fryer brands and have used several types and sizes. If you don't have an air fryer yet or need a new one, we put together a short list of the Best Air Fryers we like to use, with cooking space required, pros and cons, features, and pricing.
What are the best air fryer oven accessories for air frying beginners?
We love helping others get to know their air fryers and become comfortable using them on a daily basis. But for some reason, once the box is opened, it might sit for a few months before a new user gets the courage to try using it for the first time.
The best way to know what you need is to think about what foods you will be making in the air fryer. If you are just starting to use your air fryer, you will love these Beginner Recipes we've put together, along with our Top 10 Air Fryer Beginner Questions.
We Would Love to Hear From YOU!
Let Us Know What You Think!
Be sure to leave a review of this recipe and give it a star rating. It lets us know how we are doing and lets others know they should try it!
Tag Us In Your Photos! Are you on Facebook? If so, join our Easy Air Fryer Recipes Group (with hundreds of thousands of Air Fryer Foodie Fans!) and share your photos! We love to see your creations.
Are you on Instagram? Follow along and TAG US @airfryingfoodie.
Have a Question or General Feedback?
Jump down to the COMMENT section and let us know! We would love to help and also love feedback on all of our posts.