We've put together the most comprehensive and best Air Fryer Holiday Gift Guide for all of your gift-giving needs. In this post, you'll find our favorite Air Fryers, Air Fryer Accessories, and Air Fryer Cookbooks!
The Ultimate Air Fryer Holiday Gift Guide
Here at Air Frying Foodie, we want to make sure you find all of your favorite Air Fryer recipes.
Not only that, but we also want to make sure that if you're giving an Air Fryer to a friend or family member, that you're choosing the best air fryer and the best accessories.
In this comprehensive holiday gift guide, we will share with you all of the air fryers and accessories that are this year's hottest kitchen accessories!
Let's get started!
The Best Air Fryers
Here at Air Frying Foodie, we've been able to help so many people decide which air fryer is the best because we have owned them and used them and know what works and what doesn't.
We've put together our favorite list of Air Fryers in a detailed post, but we will go over our favorites here for you as well.
Cosori Air Fryer - The Cosori is a great size for a small family of 4 people or less. It has a basket large enough to fit a 5 pound chicken. The Cosori has presets to make cooking easy, or you can choose you're cooking style with easy buttons. PRO- It is very highly rated with online users. There are also different sizes you can choose from.
Ninja Foodi - The Ninja Foodi gives a lot of options. You can steam, broil, dehydrate, as well pressure cook and slow cook. It has a large ceramic coated pot, (or purchase the larger 10 qt with 2 5qt baskets!)and is easy to hand wash. PRO- Combines several appliances into just this one, easy to clean, and is perfect for a large family. CON - the size of this air fryer may takes up a little more counterspace.
The Best Air Fryer Accessories
We love using accessories with the air fryer.
There are so many different things you can make, and while I would love to list ALL of those fun accessories, here are the ones I find the most helpful when cooking.
Air Fryer Guide Refrigerator Magnet - I love to try new things in my air fryer and this guide always comes in handy when I want to make something new. You can grab this magnet in TWO sizes: 4x7 or 8x10.
Meat Thermometer - Don't guess what the internal temperature is when you can know for sure with this digital meat thermometer.
Kitchen Cart - If you're running out of counter space and looking for a little cart to use with the air fryer, this is perfect!
Parchment Paper - There are certain air fryer recipes where I love to use parchment paper to help with easy basket clean up. Preheat the air fryer (if needed), then add the parchment paper and recipe, cook, and then remove the parchment paper to make clean up easy!
Counter Protector - Don't worry about overheating the countertops when you use this counter protector.
Silicone Cupcake Liners - I love to bake in my air fryer and these silicone cupcake liners make baking muffins and cupcakes a breeze.
Air Fryer Accessory Pack - This dishwasher-safe accessory package comes with several air frying accessories including a pan, silicone mat, egg molds, silicone brush, and tongs, as well as parchment paper and even includes a cookbook.
7" Springform Pan - Springform pans are great to use in the air fryer! I've used these to make a breakfast casserole, a sweet potato casserole, and a classic cheesecake in the air fryer.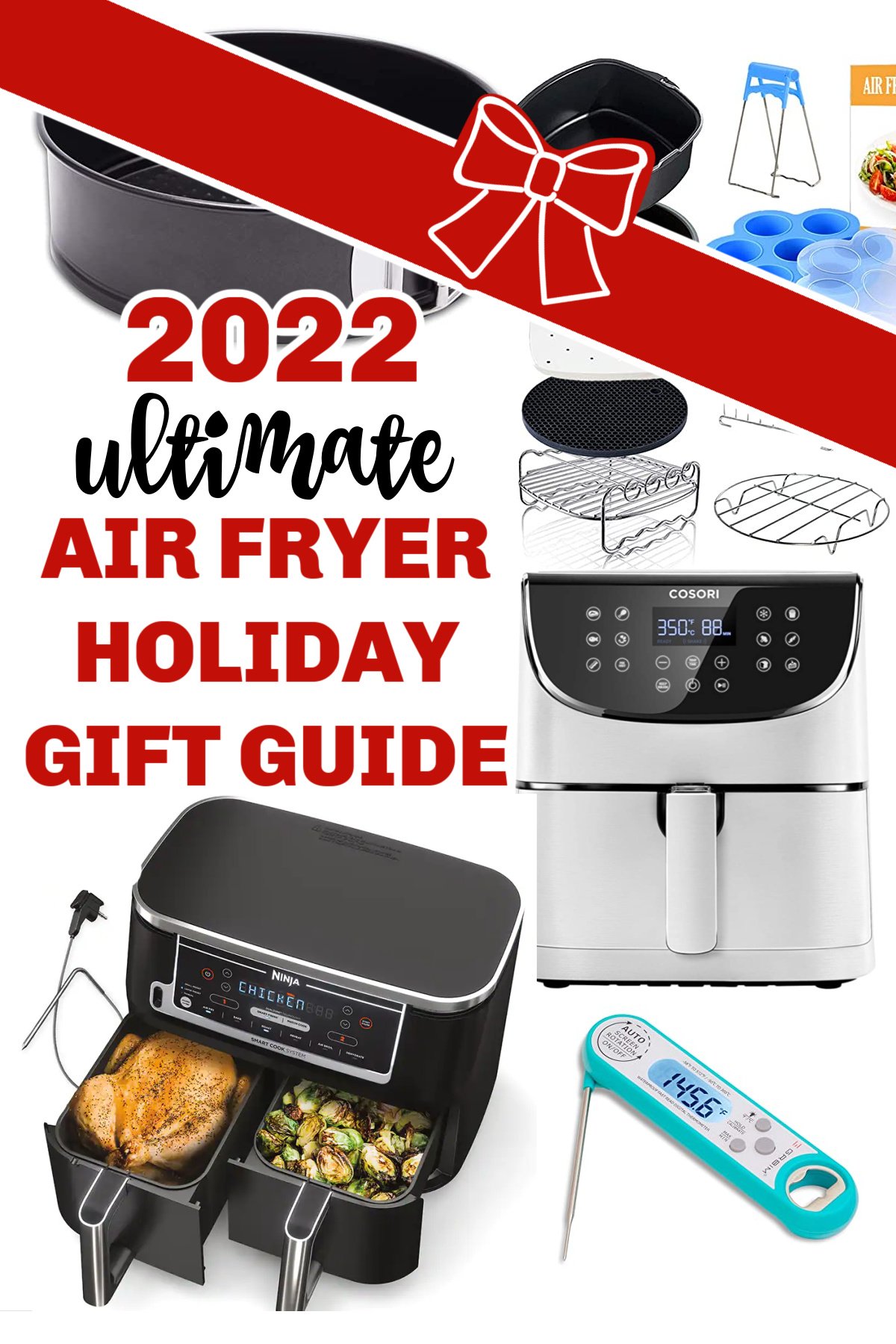 Best Air Fryer Cookbooks
An Air Fryer Holiday Gift Guide wouldn't be complete without the option of purchasing Air Fryer-specific cookbooks.
After you've decided on which Air Fryer to purchase, the next big thing to look for is recipes! You've finally found the perfect air fryer and now you need the perfect cookbook.
We've put together our favorite air fryer cookbooks that are perfect for the beginner or advanced air fryer enthusiast.
We've put together several different books to choose from!
Choose a paperback book, a Kindle book, or one of our many eCookbooks.
Beginner Air Fryer Recipes eBook: Over 70 Recipes including Breakfasts, Entrees, Appetizers, Side Dishes, and Desserts. You can download this book instantly.
Dinner Recipes eCookbook: You'll download 24 dinner recipes that are perfect for the advanced or beginner air fryer enthusiast. Each recipe has been tried and tested to give you the perfect dinner. This downloadable eCookbook also comes with a menu planner.
After all of those awesome holiday dishes, snacks, and sweets, you might want to check out our low carb dishes, as well. You can download our favorite keto-friendly book or weight watchers books below.
Low Carb Keto Recipes: You'll download 18 Low Carb Keto friendly air fryer recipes along with a menu planner to help plan your next keto low carb air fryer meal.
Weight Watchers: You'll get 15 Air Fryer Weight Watchers recipes along with a meal planner to help you plan all of your favorite weight watcher air fryer meals.
Whether you're looking to purchase an Air Fryer, cookbook, or accessories, you're sure to find your favorite gifts to give this holiday season with our ultimate Air Fryer Holiday Gift Guide.
Need more recipes to choose from? You might also like these air fryer holiday recipes.
AIR FRYER HOLIDAY RECIPES:
We hope you're able to use this guide to help you find that perfect gift this holiday season!