Air Fryer Frozen Pizza is the perfect way to get that crispy crust and melted cheese! If you want a quick meal and the best way for cooking pizza, let the hot air of your air fryer do the trick. This is a great option for a delicious recipe, using thin crust pizza or thick crust pizza.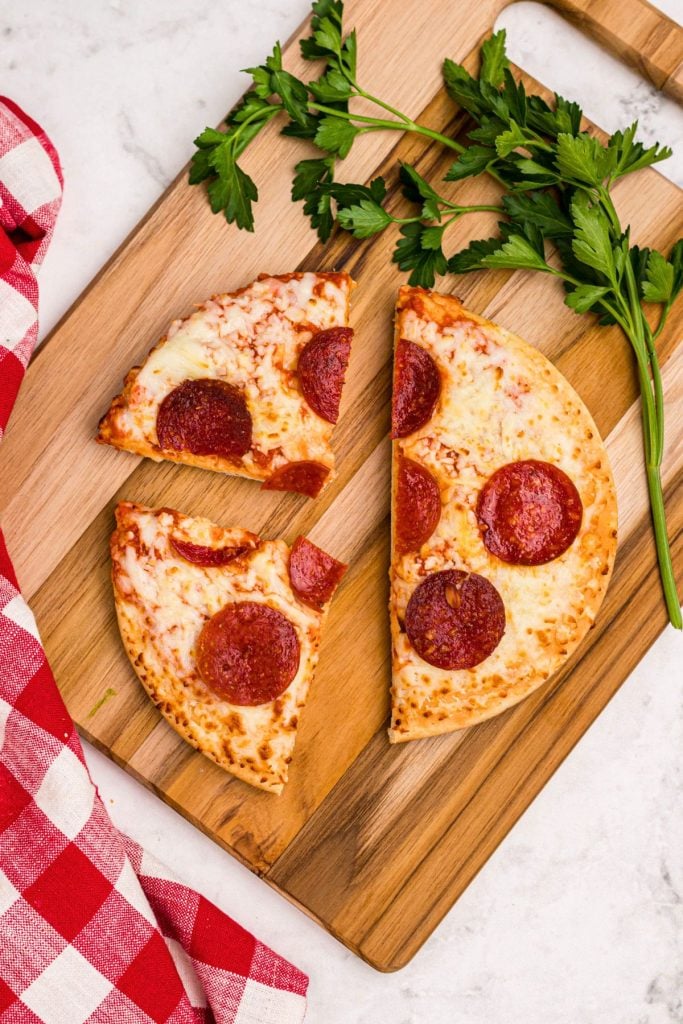 It can be so stressful to figure out what to feed everyone when you have a short amount of time. The good thing about keeping frozen pizza in the house is that you can complete the cooking process easily with the air fryer. It not only crisps the bottom of the pizza crust perfectly every time, but it also cooks the top of the pizza to perfection as well.
I'm always amazed at how the air fryer cooks a tasty pizza, no matter what brand or style it is. (I'm a Red Baron fan, but the kiddos seem to love Totino's pizza!)
Depending on the size of your pizza, you can literally put the whole pizza right into the air basket as well, making it an ultra-easy meal or quick snack. This is one of those easy air fryer recipes that cut the cooking time down to nothing, giving everyone plenty of time to enjoy bite after bite of their own personal pizza.
Ingredients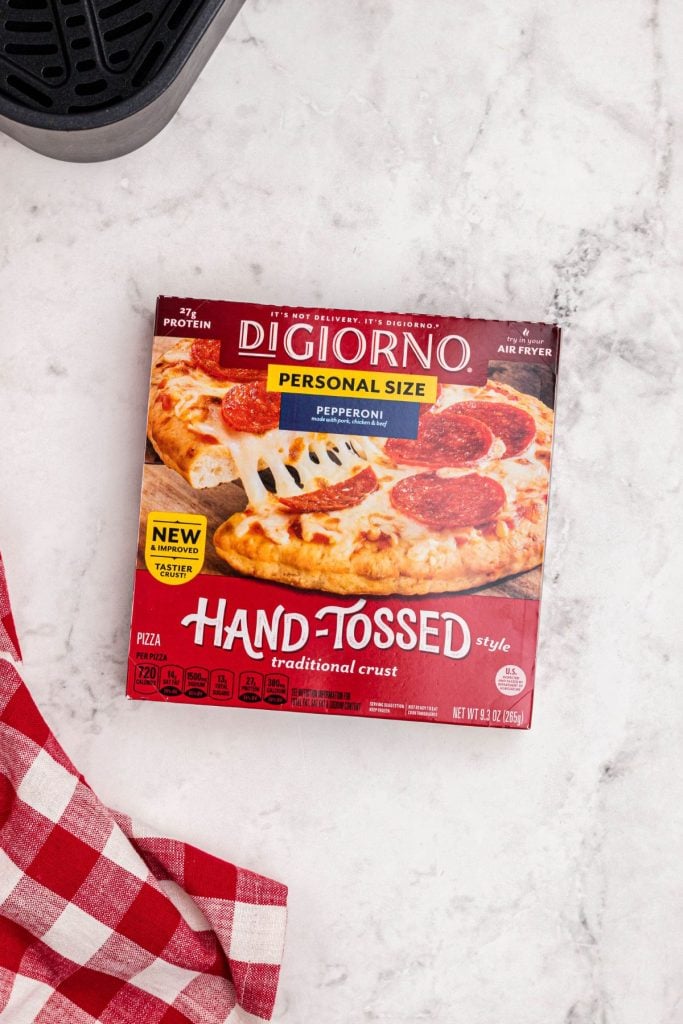 Yes, there is literally just ONE ingredient needed!
How to make this Air Fryer Pizza Recipe
Open the packing and place the pizza in the air fryer basket.

Air fry at 380 degrees F for 6-8 minutes until crispy. 
How to serve
Any way that you want to eat pizza is a great way! Serve this delicious meal with a side of ranch, or cook up some chicken wings and french fries and make it an appetizer dinner!
How to store
It should come as no shock to anyone that leftover pizza is the best. For the best results, let the pizza cool down, and then wrap it in aluminum foil and store it in the fridge, or put the slices of pizza in an airtight container in the fridge for later.
When you're ready to reheat and eat, you can warm them in the microwave for a few moments of time, or pop them back in the air fryer to make that crust crispy again.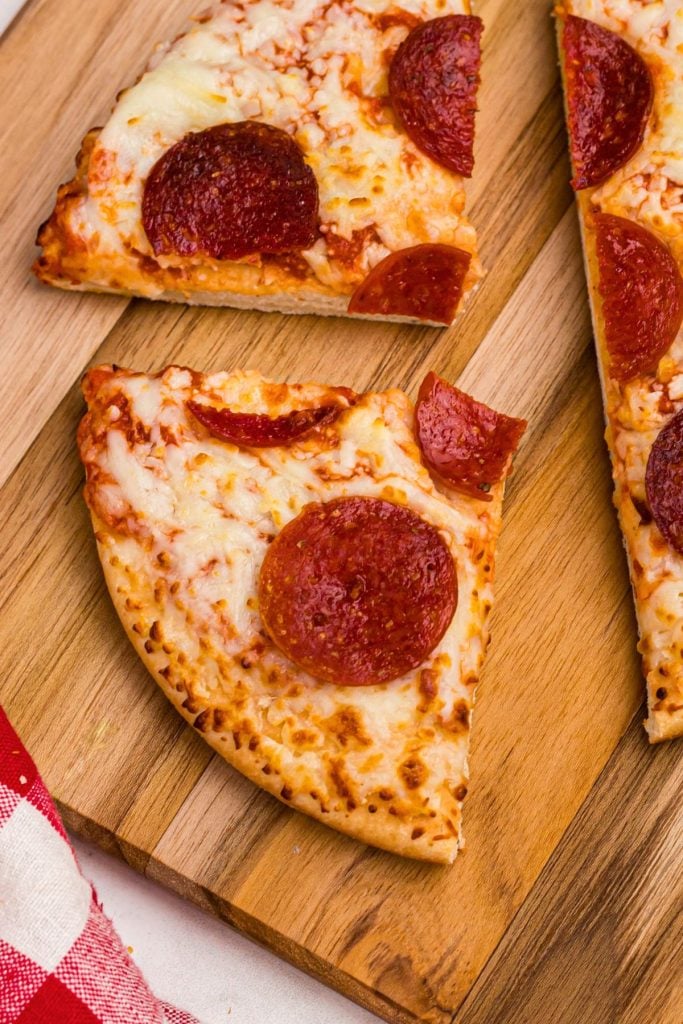 ​FAQs
How do I cook a larger pizza in the air fryer?
Where there is a will, there's a way! If you have a bigger pizza to cook on pizza night, you have options. Some larger air fryers may work to hold all that delicious pizza, or you might have to cut the pizza in half and cook it in sections. As long as the pizza cooks all the way through, it's good to go! 
Will an air fryer give my pizza a crispy crust?
That will depend on the various thickness of crusts. If the pizza is a deep dish pizza, you may need to air fry a little longer to get the crispness. Different sizes and different crusts are going to cook up differently, and that's just the way it is. The air fryer will make a thin crust crispy easily, but any type of thicker crust will take longer.
Should I add extra toppings to the pizza before or after putting it in the air fryer?
Both! You can add toppings like onions, mushrooms, and black olives before cooking it, and then add toppings like parmesan cheese and chili pepper flakes after! Load up the top with pizza toppings and make it your own!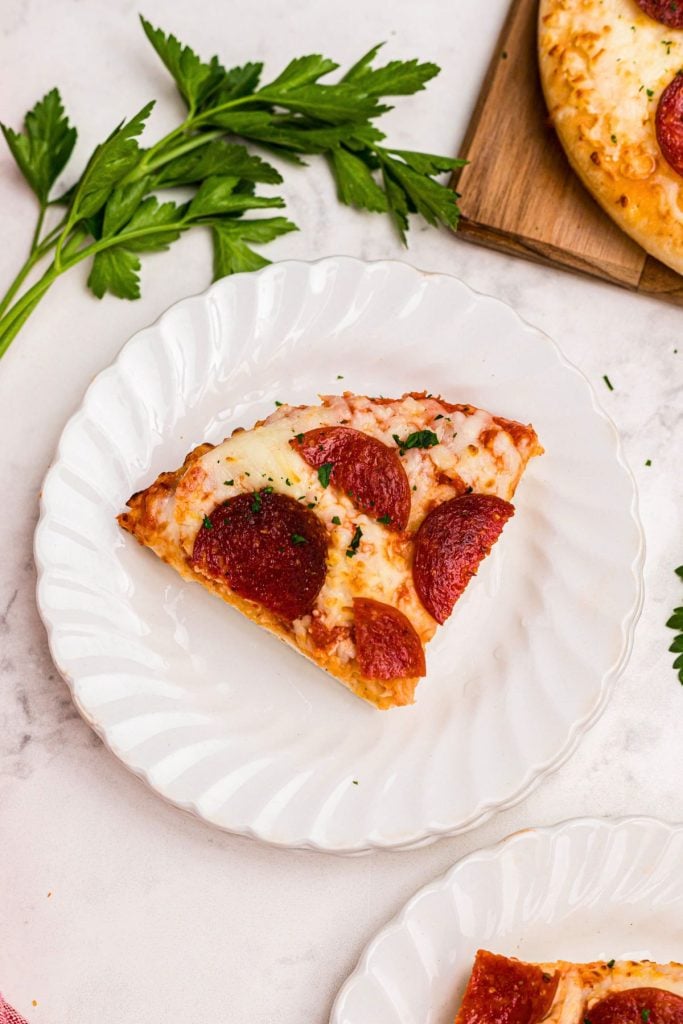 More Easy Air Fryer Recipes
We Would Love to Hear From YOU!
Let Us Know What You Think!
Be sure to leave a review of this recipe and give it a star rating. It lets us know how we are doing and lets others know they should try it!
Tag Us In Your Photos! Are you on Facebook? If so, join our Easy Air Fryer Recipes Group (with hundreds of thousands of Air Fryer Foodie Fans!) and share your photos! We love to see your creations.
Are you on Instagram? Follow along and TAG US @airfryingfoodie.
Have a Question or General Feedback?
Jump down to the COMMENT section and let us know! We would love to help and also love feedback on all of our posts.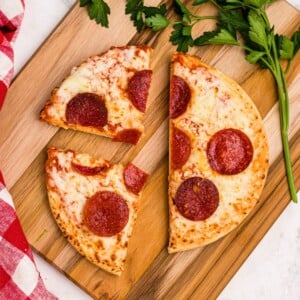 Air Fryer Frozen Pizza
Just one simple ingredient is needed to make this Air Fryer Frozen Pizza! The perfect quick meal!
Instructions
Open packing and place pizza in the air fryer basket.

Air fry at 380 degrees F for 6-8 minutes, until crispy.
Nutrition
Serving:
1
g
Calories:
720
kcal
Carbohydrates:
84
g
Protein:
27
g
Fat:
32
g
Saturated Fat:
14
g
Trans Fat:
0.5
g
Cholesterol:
50
mg
Sodium:
1500
mg
Sugar:
13
g
*Nutritional information is a calculated guesstimate. Please note that this can change with different brands and modifications you may make to the recipe. For the most accurate information, use a nutritional calculator with the exact brands and measurements you're using with each recipe.
©AirFryingFoodie 2023
Share this recipe!
Follow @AirFryingFoodie on Pinterest.