Wondering what is an air fryer? Unless you've been sleeping under a rock, you might have an idea! Just in case, we are here to share with you EXACTLY what an air fryer is and what you can do with it.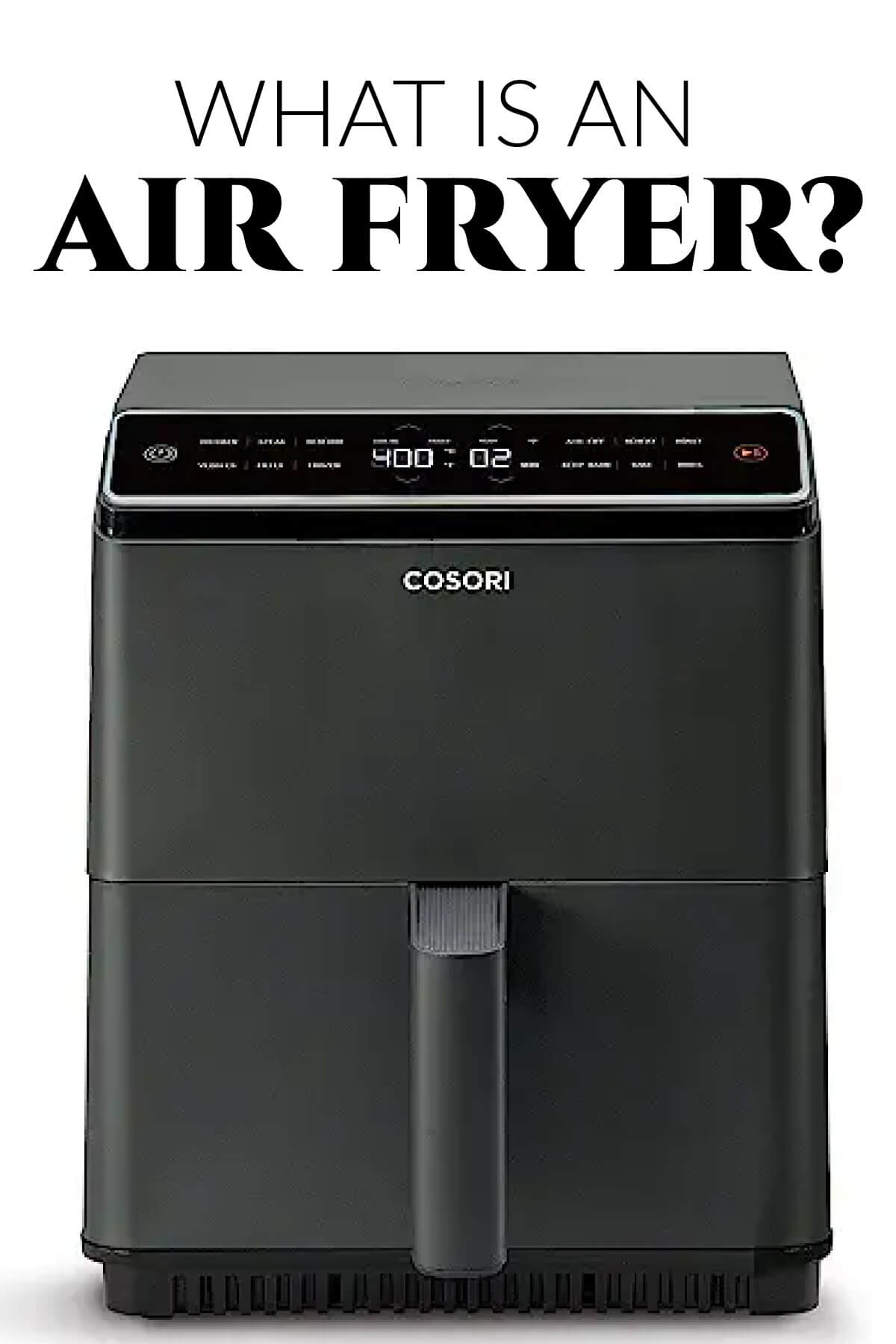 What is the air fryer appliance?
Air Fryers cook foods by using a heating element and a fan, and that circulation of heat and hot air is what helps cook the food and make it crispy. Essentially using circulated hot air to cook and "fry" the foods.
Cooking with Air Fryers has made it easier to eat healthier without submerging your foods in oil.
If you want to dig even deeper, check out this article on the benefits of using an air fryer.
Let's take a look at all of the things you can do in the air fryer.
Jump to:
What can I make in an air fryer?
Air Fryers can cook with heat as high as 400° Fahrenheit/200° Celcius, making this appliance versatile for making almost any type of food. Some air fryers may even cook to higher temps.
The sky is the limit when it comes to making recipes in the air fryer. You can make anything from breakfast, dinner, sides, and appetizers. You can even dehydrate in many air fryers.
Here is a breakdown of some of our favorite foods to make using the air fryer.
Frozen Food
Frozen foods are some of the first items people think of when using the air fryer. Some of our favorite frozen foods include frozen chicken wings, french fries, tater tots, and more. In fact, we have a great list of frozen foods to make in the air fryer.
Homemade Foods
Homemade foods are also easy in the air fryer. Some of our most popular air fryer recipes are air fryer chicken wings, air fryer chicken tenders, and air fryer ribeye. YES. You can make steaks in the air fryer and they are amazing!
Desserts
Desserts are some of the best things to make in the air fryer. It takes much less time and they always turn out beautifully! Some of our favorite homemade desserts include chocolate chip cookies, air fryer peaches, and air fried cheesecake.
Chicken, Beef, and Seafood
Main dishes such as chicken, beef, and seafood are all wonderful in the air fryer. In fact, these are items we make over and over again as they turn out perfectly golden brown and crispy every single time. You'll enjoy items like grilled chicken breast, country-style ribs, tilapia, and t-bone steaks.
Vegetables
Sides and vegetables are also delicious and perfect when made in the air fryer. Seasonal and evergreen vegetables are always a favorite! You'll love making these sides such as zucchini, butternut squash, brussel sprouts, and potatoes.
Baked Goods
The air fryer can also be a great appliance to use when it comes to making your favorite baked goods. Some of our favorite baked goods include homemade air fryer bread and air fryer rolls.
Is air-fried food healthy?
A huge difference between the air fryer versus using a deep fryer is that you don't have to use copious amounts of oil. Using less oil means less fats and calories.
Lower fats and calories generally speaking means that yes, these foods are indeed healthier.
If you use oil with the Air Fryer, it is generally used to help create a nonstick surface or to spray lightly on the foods to help them crisp easier. This is a small amount of oil when compared to deep frying foods.
If you love the taste of fried foods without all of the fats and calories, air frying will be your new favorite way to make all of your favorite fried recipes.
What are the Best Oils to Use in the Air Fryer?
Even though the air fryer doesn't require oils, you may want to use a light spritz of oils for some of your recipes.
Different oils heat and smoke at different temperatures. Each oil has its own smoking point, and these are good to know when you are using oil on foods in the air fryer.
For example, butter and olive oil both have a lower smoke point than avocado oil. That means you can spray avocado oil on your foods and cook them at a higher temperature, such as 400 degrees Fahrenheit, without the oil reaching its smoke point.
Air Fryer Smoke
Knowing about different oils to cook with and when to use them is important in air frying. Different oils have different smoke points.
If you are using butter and cooking over 350 degrees Fahrenheit, your food will start to smoke because the butter has surpassed its smoke point. It can also change the flavor of the food.
It's important to understand the different oils you can use, and when to use them in the air fryer so you don't end up with a kitchen full of smoke or with funky tasting foods.
We've written a detailed post to help you understand more about which oils are best used in the air fryer. To learn more about which oils are best used for the air fryer, check out this post on the Best Oils for Air Fryer.
How to Air Fry
Step 1
Prepare the food you plan on making in the air fryer.
Step 2
Add the food into the air fryer in a single layer.
Step 3
Air fry at the recommended time and temperature.
Reheating
Reheating foods is another great way to use the air fryer. Not only does the air fryer reheat foods fast, but they almost taste better than they did when you originally made them. A few popular items to reheat in the air fryer are pizza, french fries, and steak.
FAQs
How do I know what temperature to cook foods in an air fryer?
A rule of thumb when converting oven temperature and time to air fryer temperature and time is to reduce the temperature by 25 degrees and to reduce the cooking time by 25%. To make this easier, we have made a chart with some popular air fryer conversions done for you.
What are the pros and cons of air frying?
Pros - air frying makes cooking frozen foods or reheating leftovers a breeze.
Cons - there is a limited capacity to most air fryers and if you're cooking for a large group, you may need to cook in batches.
What is the best air fryer to get?
When deciding on an air fryer, you will want to look at factors such as counter space, functions you need, what fits your budget, and how many people you are feeding. The Cosori Air Fryer and the Ninja Foodi are two of our favorite brands. You can find our complete detailed list of the best air fryers here.
Air fryers are some of the most versatile and easy kitchen appliances to be invented. If you've been on the fence with air frying, we hope this article helped make that decision a little easier.
Looking for more ideas? Here are more of our favorite recipes to make in the air fryer.
More Air Fryer Recipes
Looking for the BEST accessories to use with your air fryer? We've put together this list of our favorite Air Fryer Accessories.
We Would Love to Hear From YOU!
Let Us Know What You Think!
Looking for a hardcover book of recipes? Check out the retailers where you can order our Air Frying Cookbook, Air Fryer All Day!
Tag Us In Your Photos! Are you on Facebook? If so, join our Easy Air Fryer Recipes Group (with over a million Air Fryer Foodie Fans!) and share your photos! We love to see your creations.
Like to watch TikTok? Follow along with our recipes on TikTok @airfryingfoodie.
Are you on Instagram? Follow along and TAG US @airfryingfoodie.
Have a Question or General Feedback?
Jump down to the COMMENT section and let us know! We would love to help and also love feedback on all of our posts.