One of the best ways to turn your favorite traditional oven recipes into an air fryer recipe is by using an air fryer conversion calculator. We've put together a simple calculator that will allow you to take any oven recipe and make it in the air fryer with just a simple input of time and temperature. See how it works, with both Fahrenheit and Celsius temperatures.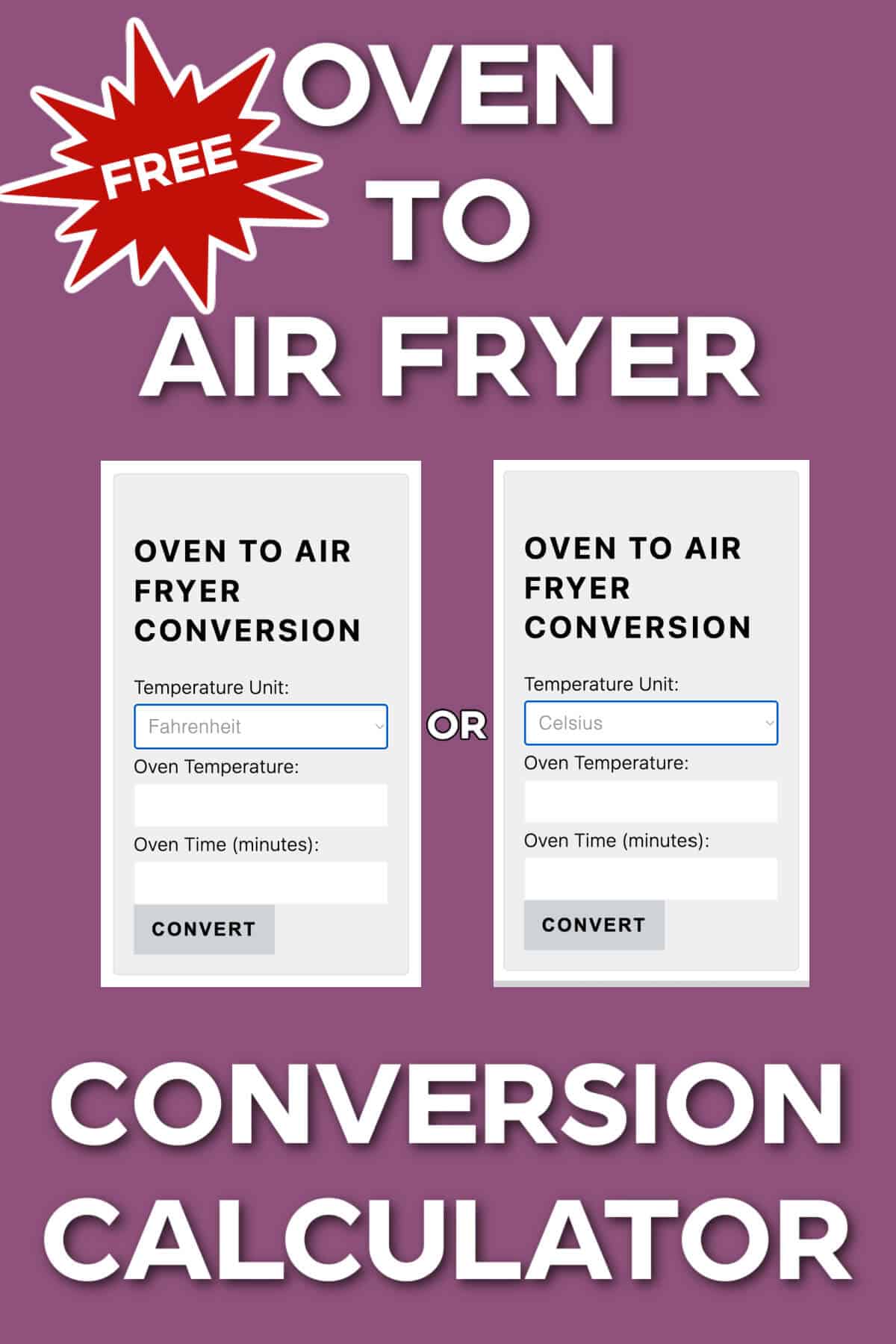 Every air fryer is different, so you may have to adjust this time as well, but this will give you a great starting point.
Rule of thumb: check on your items a couple of minutes before they are finished. It's always easy to add more time, but you can't do much if you overdo it. So just keep an eye on your recipe the first time you make it.
Conversion Calculator
This calculator is very simple and easy to use. Just input the basic information with a traditional conventional oven recipe and let the calculator do the rest of the work for you. It's that easy!
Step 1
Choose Fahrenheit or Celcius.
Step 2
Input the suggested oven cooking temperature.
Step 3
Input the suggested oven cooking time.
Step 4
Hit the CONVERT button and the calculator will give you the suggested air fryer temperature and cooking time.
Oven to Air Fryer Conversion
Jump to:
Why I Love This Conversion Tool
This simple air fryer calculator makes life easy when you need to adjust cooking time and temperatures. All you have to do is input the oven time and temperature and let the calculator do the rest.
Not only that, but you can use Fahrenheit and Celsius temperatures with this air fryer conversion calculator.
Get ready to put food on the table faster with a shorter cook time.
Why I Love the Air Fryer
The air fryer cooking temperature is lower than the traditional oven, the recipe will use less oil, and the cooking process is generally quick and easy.
Cooking with Air Fryers has made it easier to eat healthier without submerging your foods in oil.
Air Fryers cook foods by using a heating element and a fan, and that circulation of heat and hot air is what helps cook the food and crisp it.
Air Fryers can cook with heat as high as 400° Fahrenheit/200° Celsius. Some air fryers may even cook to higher temps.
Converting Air Fryer Recipes
You can use the calculator above to take your conventional oven recipes and convert them to air frying recipes.
Whether you are making french fries, chicken wings, or onion rings, we have you covered.
Take your favorite oven recipes and deep fryer recipes and make them with less time and very little oil in the air fryer.
How to convert Oven Temperatures to Air Fryer
For best results, the general rule of thumb when converting oven temperatures to air fryer temperatures is to decrease the oven-suggested temperature by 25 degrees and the cooking time by 20 percent.
That's a shorter cooking time with a lower temperature thanks to the dry heat and hot air circulation of the air fryer.
Air Fryer Tips
Keep foods in a single layer in the air fryer basket. Don't overcrowd or over lap foods so that you can ensure even cooking throughout.
If using a dry coating like panko or breadcrumbs, lightly spritz the coating with oil or cooking spray to help it get crispy during the cooking process.
Your air fryer model may cook differently than others, so test your recipe cooking time and temp. Start with a lower time and add more if needed. Every model is different so you may need to slightly adjust your cooking time and temp.
Use a digital meat thermometer to ensure the internal temperature has reached the recommended temperature.
Use silicone liners or parchment paper for easier cleanup. (Never put parchment paper in during a preheat, always weigh it down with food.)
Use the air fryer conversion chart as a guide and cheat sheet for specific foods.
Keep a close eye on new recipes, and adjust your cooking times if needed.
The good news is this air fryer conversion calculator can work with all of your traditional foods.
We hope this new conversion calculator makes life easier when converting all of your favorite recipes. The most important thing is to keep a close eye on anything new.
Check out some of our favorite easy air fryer recipes below.
Easy Air Fryer Recipes
Are you new to air fryers? If you are, we have a great article about What is an Air Fryer. It talks about what you can make, how to use it, and more.
Looking for the BEST accessories to use with your air fryer? We've put together this list of our favorite Air Fryer Accessories.
We Would Love to Hear From YOU!
Let Us Know What You Think!
Looking for a hardcover book of recipes? Check out the retailers where you can order our Air Frying Cookbook, Air Fryer All Day!
Tag Us In Your Photos! Are you on Facebook? If so, join our Easy Air Fryer Recipes Group (with over a million Air Fryer Foodie Fans!) and share your photos! We love to see your creations.
Like to watch TikTok? Follow along with our recipes on TikTok @airfryingfoodie.
Are you on Instagram? Follow along and TAG US @airfryingfoodie.
Have a Question or General Feedback?
Jump down to the COMMENT section and let us know! We would love to help and also love feedback on all of our posts.