Everyone is searching for the best Air Fryer Cook Times and we've put together a chart that's in both Fahrenheit and Celcius. Grab the handy reference chart below!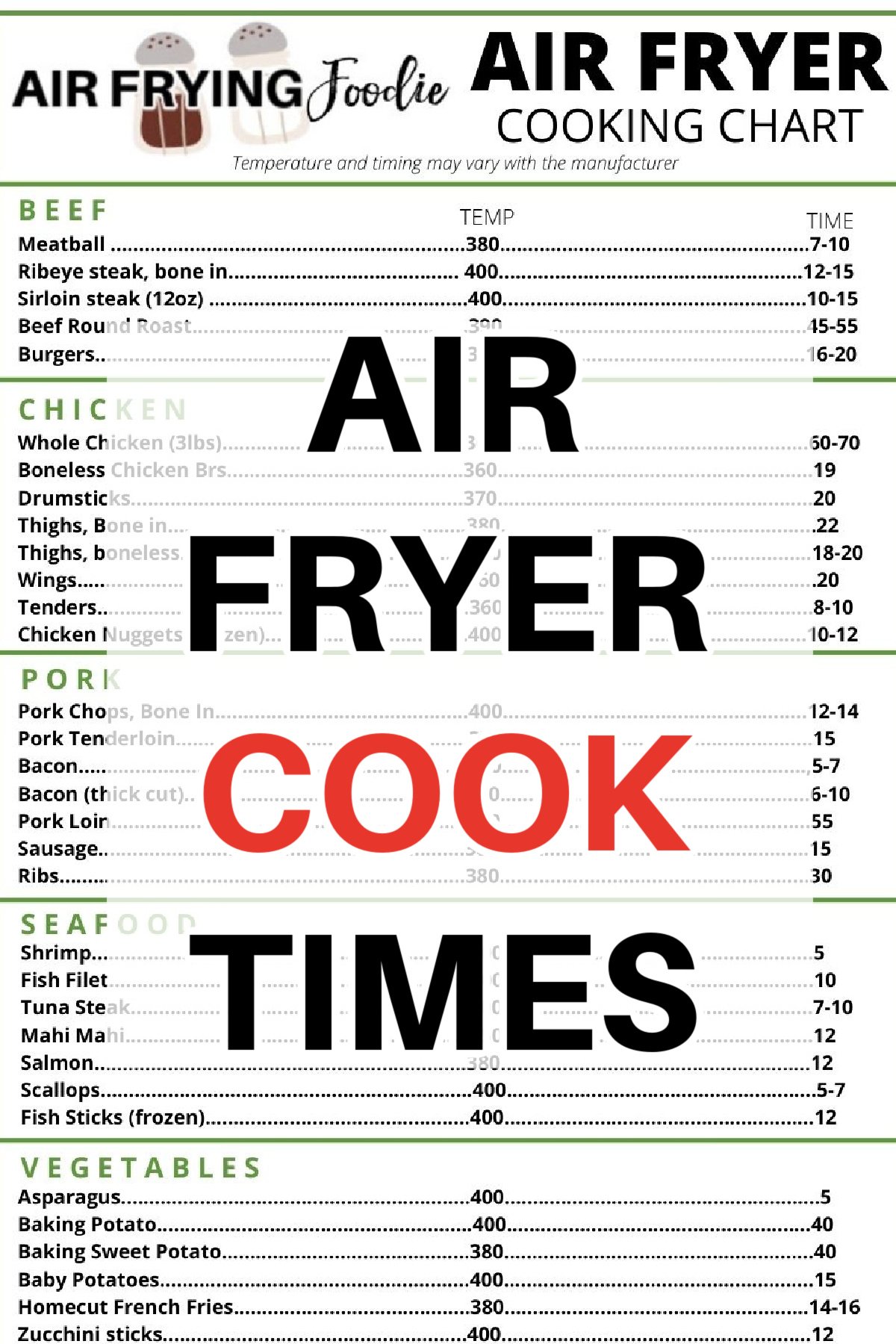 Are you looking for a chart of air fryer cooking times that will help you figure out all of your favorite recipes? If so, we've got you covered with this free air fryer cooking chart.
Wondering why we think air fryers are amazing? Check out our post based on the funny meme, Clearly, You Don't Own an Air Fryer.
But before we get to that, we wanted to share a few other things that may help you get the most and best use out of your Air Fryer.
Want to know what times and temperature to use when cooking common foods such as chicken breast, chicken wings, or french fries?
Or how long it would take to make popular air fryer foods such as whole chicken, pork chops, chicken nuggets, or onion rings?
Use this easy reference guide to ensure you create delicious food the first time. Hopefully, you won't encounter any mistakes with this trusty air fryer guide.
We are going to answer all of those questions for you. But before we do, we want to share a few additional air fryer tips that might help make your air frying journey even better.
Not only that but if you want to be a part of a huge community and you're on Facebook, make sure to join our Easy Air Fryer Recipes Facebook Group.
How does the air fryer work?
Cooking with Air Fryers has made it easier to eat healthier without submerging your foods in oil.
Air Fryers cook foods by using a heating element and a fan, and that circulating of heat and hot air is what helps cook the food and crisp it.
Air Fryers can cook with heat as high as 400° Fahrenheit/200° Celcius. Some air fryers may even cook to higher temps.
Why is air frying food healthier?
The only difference with the air fryer versus using a deep fryer is that you don't have to use copious amounts of oil.
Because of that, you are able to make foods that are lower in fats and calories.
If you use oil with the Air Fryer, it is generally used to help create a nonstick surface or to spray lightly on the foods to help them crisp easier.
If you love the taste of fried foods without all of the fats and calories, air frying will be your new favorite way to make all of your favorite fried recipes.
What are the best oils to use for the air fryer?
Even though the air fryer doesn't require oils, you may want to use a light spritz of oils for some of your recipes.
Different oils heat and smoke at different temperatures. Each oil has its own smoking point, and these are good to know when you are using oil on foods in the air fryer.
For example, butter and olive oil both have a lower smoke point than avocado oil. That means you can spray avocado oil on your foods and cook them at a higher temperature without the oil reaching its smoke point.
We've written a detailed post to help you understand more about which oils are best used in the air fryer. To learn more about which oils are best used for the air fryer, check out this post on the Best Oils for Air Fryer.
If you haven't decided on an air fryer just yet, make sure you check out our list of the Top 5 Air Fryers to buy.
What are some things I can use to make Air Frying easier?
Tips and Tricks:
Unless it states otherwise, it's always best to cook items in a prepared air fryer basket and with your items placed into the basket in a single layer.
Keep your printable cheat sheet with recommended temperatures handy. All of our recipes have printable recipe cards that you can easily print and place into a recipe binder. If you want a cooking times chart that is a magnet and fits on your fridge, you can purchase one from our store.
If you're new to the air fryer, it's a good idea to start off with easy recipes such as french fries.
Air Frying Foodie Cooking Guide
Click Here for your printable Air Fryer Cooking Guide. You'll be able to grab both the Fahrenheit and the Celcius guide when you do!
Thanks for stopping in and grabbing this free printable resource. We hope you find it useful for many future air frying recipes to come!
If you're looking for recipes, you might want to check out a few other resources we have below.
AIR FRYER RECIPES:
You can also PURCHASE this cooking times (Fahrenheit only) guide in magnet form. Choose from two different sizes! Just CLICK HERE.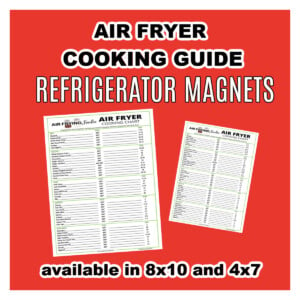 Don't forget to join our Easy Air Fryer Recipes Facebook Group!