Clearly You Don't Own An Air Fryer is a silly meme that's going around social media that softly mocks people who don't yet own an air fryer. Wondering why you SHOULD own an air fryer? Keep reading!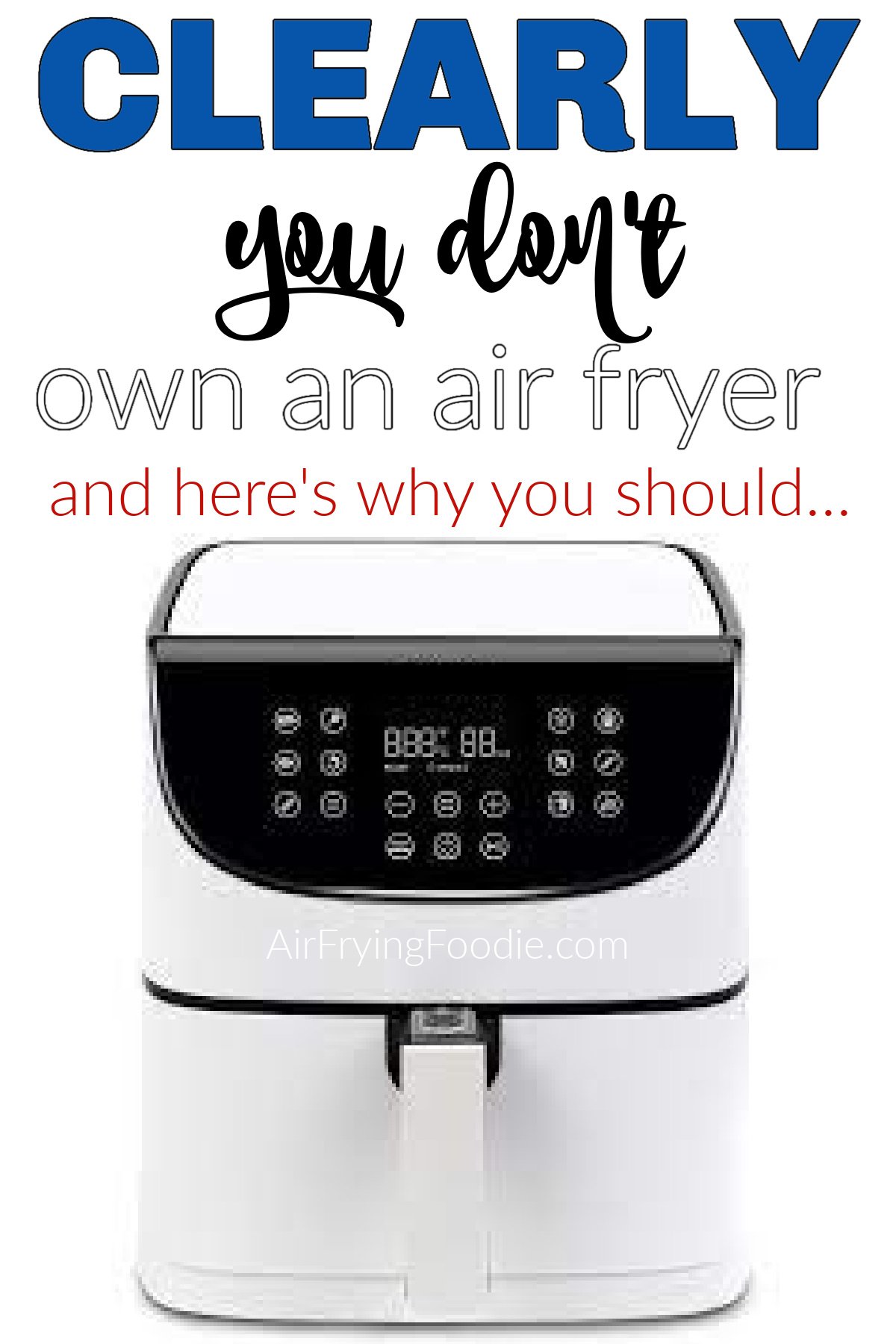 At Air Frying Foodie, we show you all of the reasons to own an air fryer. In fact, if you are on the fence about owning an air fryer, you should know that between Becky and myself we own 8 air fryers.
You're probably thinking, why do they have so many air fryers?
Well, when Air Fryers first started becoming mainstream, Becky and I were testing out the different brands to find what we thought was the best.
There are a lot of different types of air fryers. Basket style, oven style, and even some that are built into microwaves and oven/ranges.
Wondering what those results are for air fryers and what type would best fit you and your family? Check out this post on The Best Air Fryers.
One thing to note: not all air fryers cook the SAME. They all cook a little differently. Each recipe should be used as a guide - because something that cooks in my air fryer at 400 degrees Fahrenheit for 10 minutes may cook in your air fryer at 400 degrees F for 8 minutes.
We always recommend doing a check on recipes when you first get started to make sure your cook time doesn't need to be adjusted slightly.
Can I use Oil?
One of the misconceptions about air fryers is that they don't use oil. They DON'T use oil the way a deep fryer does, but you can still use a little oil in the air fryer.
In fact, you don't have to use oil at all, but sometimes spritzing a little oil on certain foods helps them crisp up even more with the air fryer.
You can find more information on that in our post The Best Oils For the Air Fryer.
Where Do I Start?
Once you've decided on an air fryer, you can get started right away.
Every air fryer should have an instruction manual that lets you know any basic steps you need to do once unpackaging, such as running a primer session before using the air fryer.
Once that's done, you might be wondering where to start?
We created a handy, printable cooking guide that we share free of charge that you can print and keep on your fridge.
Find the Air Fryer Cooking Guide here. You can also purchase a magnet form of the cooking guide in our store.
Air Fryer Recipes
One of the other things that keeps people from jumping on the air fryer bandwagon is that they aren't sure what they can MAKE in the air fryer.
True, when people first started using air fryers, they were using them to reheat foods or heat up frozen foods. While that's true, and some frozen foods even have the directions on the packaging, you can do so much more than use the air fryer for reheating.
Did you know you can also BAKE and make all types of recipes in the air fryer?
If you're wondering where to start and what you can make in the air fryer, check out this list of Beginner Air Fryer Recipes that shares over 100 recipes you can start making today.
Looking for more?
If so, join our Easy Air Fryer Recipes Group (with over a million Air Fryer Foodie Fans!) and share your photos! We love to see your creations.
Are you on Instagram? Follow along and TAG US @airfryingfoodie.
Have a Question or General Feedback?
Jump down to the COMMENT section and let us know! We would love to help and also love feedback on all of our posts.