These perfectly seasoned Air Fryer Pork Chops are golden brown, juicy, and full of flavor! With just a few ingredients, this easy recipe is done in less than 20 minutes, and almost no prep time. It's a perfect meal that everyone will love.
These delicious Pork Chops are going to be one of your favorite recipes. They are lightly seasoned so that you can easily add or change to your taste preferences. This is such a simple meat recipe for a weeknight dinner too.
For an easy dinner idea, add a delicious side dish of mashed potatoes, sweet potatoes or a baked potato, for a perfect pair every single time.
If you are looking for more easy pork recipes, try Air Fryer Country Style Ribs or this tender Air Fryer Pork Tenderloin. And if you're looking for something a little low carb, this air fryer pork chop recipe without breading is a good one, too!
A great dish to serve with these pork chops is this crispy air fryer eggplant.
Find this recipe along with over 35 others for the ULTIMATE list of Air Fryer Thanksgiving Recipes.
INGREDIENTS:
Thick Cut Pork Chops- 1-4 pork chops, Bone In or Boneless Chops
Black Pepper
Paprika
Garlic Powder
Onion Powder
Optional: season with a pinch of salt or your other favorite seasonings to taste.
BENEFITS OF EATING PORK CHOPS:
There is nothing better than a well-cooked pork chop. Because it is minimally processed it is an excellent source of protein and high in iron and zinc. Now that I know how easy it is to cook pork chops in the Air Fryer, I have added pork chops to my bi-weekly menu.
VARIATIONS:
Sometimes I enjoy eating a pork chop by itself and sometimes I cut it up or use it to make other dishes, it's a versatile meat that you can enjoy in so many ways. Here are some great ideas that you can use left over Air Fryer Pork Chops for or just to use after they have been cooked in the air fryer.
Pork salad
Nachos
Pizza
Jambalaya
Stew
Pasta shells
Casserole
Use BBQ sauce for coating, or your favorite dipping sauce of choice.
For extra flavor, change up the pork chop seasoning! Use your favorite seasoning mix, like McCormick's, or seasoning rub or try sprinkling with Italian seasoning, grated parmesan cheese, or coat with panko breadcrumbs before air frying. There are so many flavor combinations!
DIRECTIONS:
Preheat air fryer to 400 degrees F.
Pat pork chops dry with a paper towel. Combine the seasonings to a small bowl and then use your hands to rub the seasoning over the pork chops, fully covering the front, back, and sides of each chop.
Lightly spray basket with cooking spray or brush with olive oil, and then place seasoned pork chops in a single layer, in the air fryer basket. Air fry for 4-6 minutes at 400 degrees F.
After 6 minutes, flip the pork chops over and cook another 8-9 minutes, or until a meat thermometer show the internal temperature is 145 degrees F
To keep pork chops juicy, leave in air fryer and let pork chops rest for 1-2 minutes after cooking.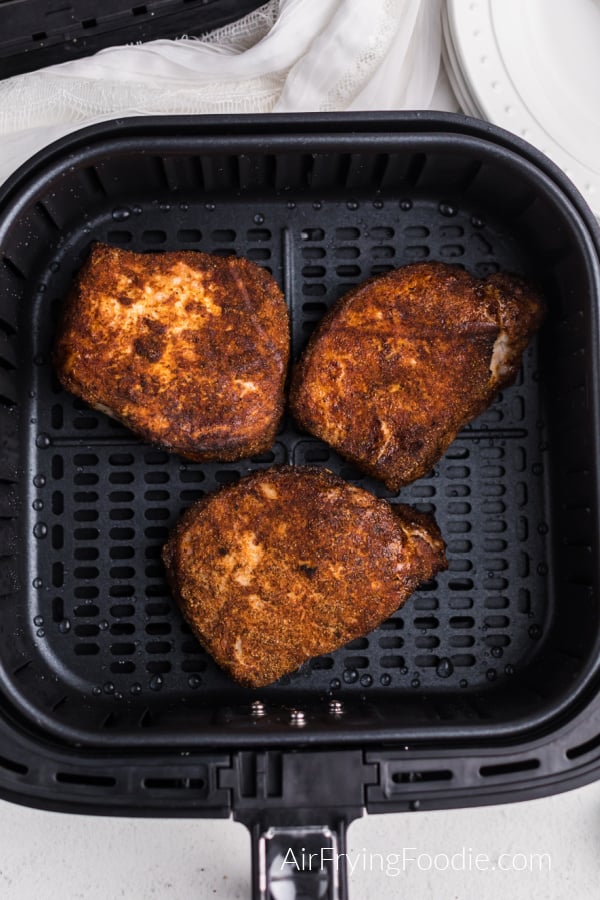 I make this recipe in my Cosori Air Fryer oven. Remember that every air fryer is different and cooking times may vary. Using an instant-read thermometer is the best way to determine doneness and prevent overcooking, which makes pork chops dry.
TIPS AND TRICKS FOR JUICY PORK CHOPS
Bone in pork chops tend to stay the juiciest.
Searing the outside of the pork chops before cooking, and then allowing the meat to "rest" after cooking to allow the juices to permeate into the meat again.
Do not overcook your dish, and pull the meat as soon as the internal temperature reaches 145 degrees Fahrenheit.
FAQs
What vegetables are a good side of the Pork Chops?
Pork chops are so versatile, almost any vegetable makes a great side dish! Green beans, broccoli, sweet potato fries, or just a simple kale salad, are a few of our favorites.
How do I store leftovers?
You can store pork chops in the refrigerator for up to 3 days in an airtight container. Consider dicing the meat and serving on nachos, or even pork tacos. They will usually stay good for 3 to 4 days in the refrigerator.
How can I tell if Pork Chop meat is bad?
If you purchase a large package and don't plan on using them immediately it's a good idea to freeze them, they will last in the freezer up to four months.
Do I need to preheat my Air Fryer to make pork chops?
I preheat the Air Fryer for this recipe before placing the pork chops inside to cook. This will help give that natural sear (without the skillet) when the pork chops enter the high heat. And it helps keep the meat juicy, while cooking evenly to an internal temperature of 145 degrees Fahrenheit.
MORE AIR FRYER RECIPES:
We Would Love to Hear From YOU!
Let Us Know What You Think!
Be sure to leave a review of this recipe and give it a star rating. It lets us know how we are doing and lets others know they should try it!
Tag Us In Your Photos! Are you on Facebook? If so, join our Easy Air Fryer Recipes Group (with hundreds of thousands of Air Fryer Foodie Fans!) and share your photos! We love to see your creations.
Are you on Instagram? Follow along and TAG US @airfryingfoodie.
Have a Question or General Feedback?
Jump down to the COMMENT section and let us know! We would love to help and also love feedback on all of our posts.
📖 Recipe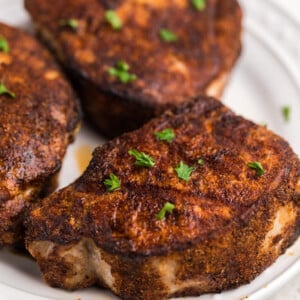 Air Fryer Pork Chops
These thick cut Air Fryer Pork Chops are one of my favorite dinner recipes and I make them often. You can't beat the juicy flavor of pork with this perfect blend of seasonings, all made quickly in the air fryer.
Ingredients
3

pork chops

thick cut

½

teaspoon

black pepper

¼

teaspoon

paprika

¼

teaspoon

garlic powder

¼

teaspoon

onion powder
Instructions
Preheat the Air Fryer to 400 degrees Fahrenheit.

Pat pork chops dry with a paper towel.

Combine the seasonings to a small bowl and then use your hands to rub the seasoning over the pork chops, fully covering the front, back, and sides of each chop.

Prepare the Air Fryer basket with non stick spray or parchment paper, and then line the pork chops in the bottom of the air fryer basket in a single layer. Leave room for air circulation between each pork chop.

Cook at 400 degrees for 6 minutes. Flip the pork chops and continue to cook for an additional 8-10 minutes. Use a meat thermometer to check the internal temperature has reached 145 degrees Fahrenheit before removing. If needed, add additional time in 2 minute increments.

To keep pork chops juicy, leave in air fryer and let pork chops rest for 1-2 minutes after cooking. Serve immediately with your favorite sides.
Notes
If cooking thinner pork chops, less than ½ inch thickness, air fry at the same temperature for 6 minutes, flip, and then air fry for an additional 6-7 minutes cook time, checking for doneness after 10 minutes.
Weight Watchers: 3 oz lean boneless pork chop approx. 2 points
KETO: C/1  P/29  F/9
Nutrition
Calories:
210
kcal
Carbohydrates:
1
g
Protein:
29
g
Fat:
9
g
Saturated Fat:
3
g
Trans Fat:
1
g
Cholesterol:
90
mg
Sodium:
65
mg
Potassium:
510
mg
Fiber:
1
g
Sugar:
1
g
Vitamin A:
20
IU
Vitamin C:
1
mg
Calcium:
12
mg
Iron:
1
mg
*Nutritional information is a calculated guesstimate. Please note that this can change with different brands and modifications you may make to the recipe. For the most accurate information, use a nutritional calculator with the exact brands and measurements you're using with each recipe.
©AirFryingFoodie 2023
Share this recipe!
Follow @AirFryingFoodie on Pinterest.