Making this amazing top round roast for dinner, is an easy meal. This delicious dinner can be cut and served with vegetables, or sliced to make roast beef sandwiches.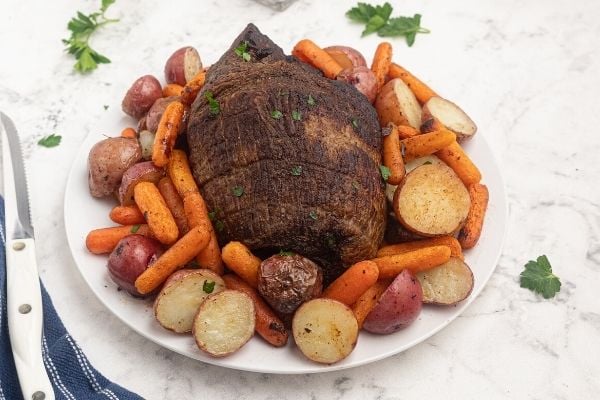 At our house, we serve traditional meat and potato meals more often than any other dish. Because who doesn't love a juicy slice of meat, with potatoes and carrots on the plate?
The first time I made this, I was a little hesitant to put a roast in the air fryer. But it cooked like a champ, and made for a delicious dinner. It was pretty easy to make too, with very little prep.
What you need to make this roast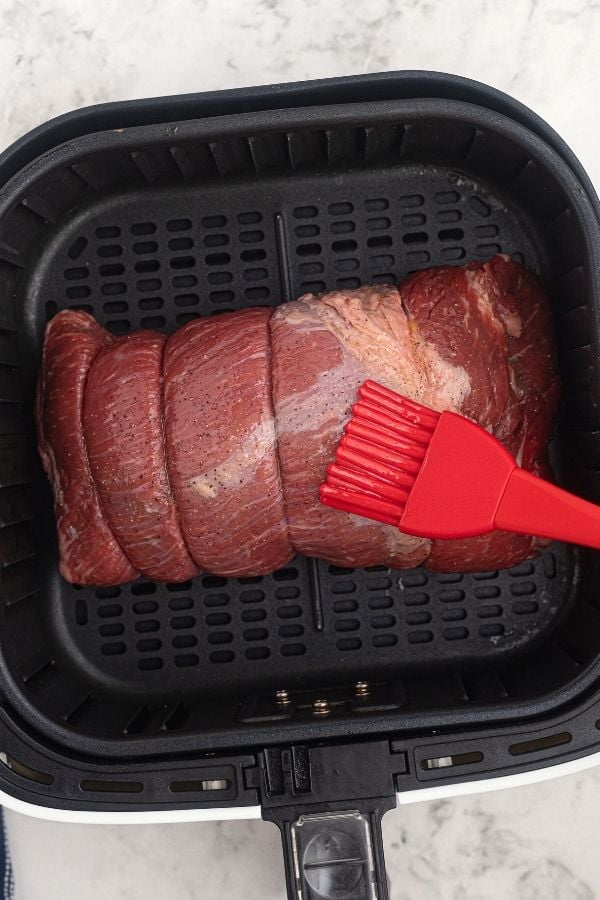 When I decided to try and make the roast in the air fryer, I wanted to keep it simple, so there are only five ingredients to make the main part of this dinner.
Beef Top Round Roast
salt
pepper
beef broth
mini potatoes
baby carrots
I served it with potatoes and carrots, but they don't have to be added, especially if you want the meat to be for roast beef sandwiches.
If you are looking for easy dinners, try these air fryer fish tacos, air fryer breaded shrimp, air fryer tortilla pizza, or this air fryer taco ring.
How to make roast in the air fryer
The roast I made is almost three pounds exactly, and came with a string around it. I cut the tie, and brushed olive oil on the top and bottom of the roast. Then I seasoned it with salt and pepper.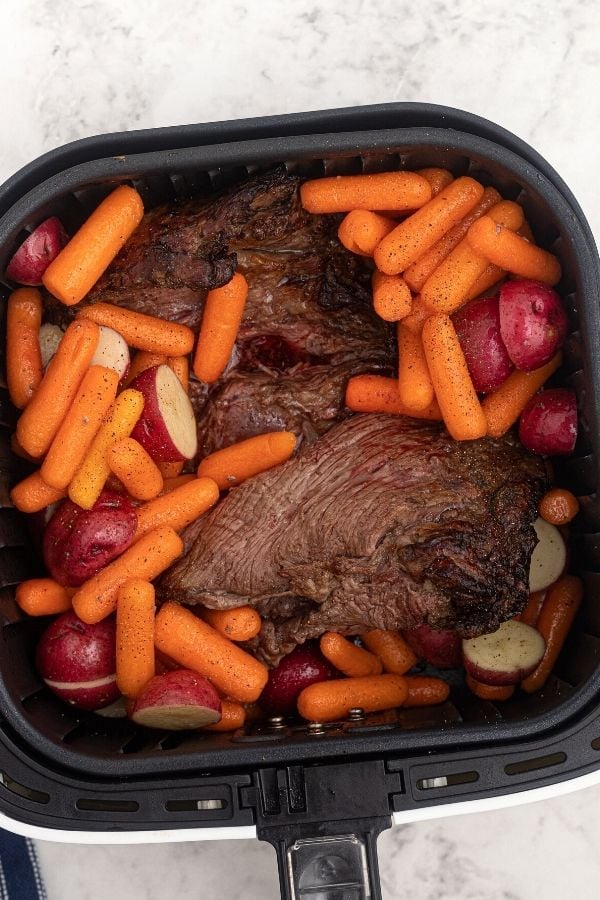 Once the roast has seasonings, place it in the basket and cook it at 400 degrees F for 25 minutes. Then, turn the roast over, and add seasoned potatoes and carrots, lightly coated in olive oil, to the basket.
Continue cooking the roast and vegetables together, for an additional 15 minutes. I use a meat thermometer, to check the internal cooking temperature of the roast, testing until it reaches 145 degrees F.
The mini potatoes and carrots are softened perfectly, so if you use large vegetables, they add a little extra time cooking. You can remove the roast, and let them cook for an additional 2-5 minutes on their own, until they reach the doneness your prefer.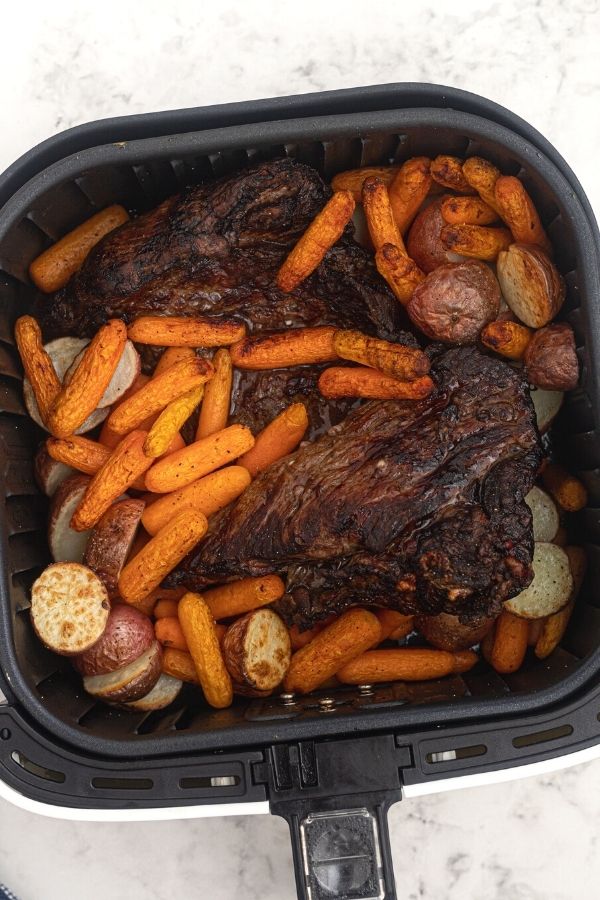 FAQ's About Cooking Roast in the Air Fryer
What oils can I use in air fryer?
I use olive oil when I prepare my basket, or foods for cooking. If you would like to find out more information about what oils are safe to use, read Best Oils For the Air Fryer.
How do I keep the roast juicy while cooking?
I use beef broth to baste the roast as it's cooking. You can also baste it after cooking, and let it rest in it's juices for 5-10 minutes after cooking.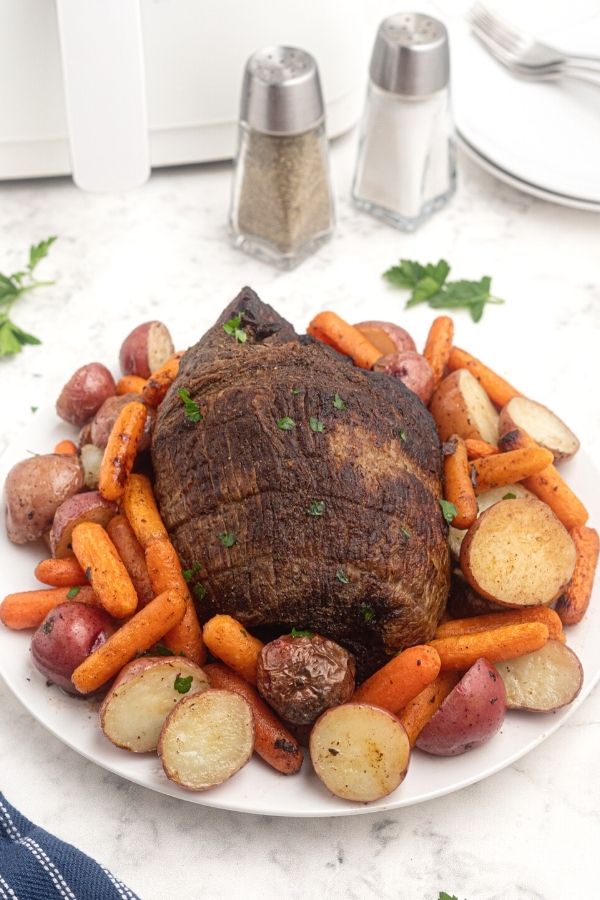 MORE AIR FRYER RECIPES:
📖 Recipe
Air Fryer Top Round Roast
An easy and delicious dinner, made with roast, potatoes and carrots, Perfect sliced and served, or sliced thin for roast beef sandwiches.
Ingredients
3

pound

Beef Top Round Roast

½

teaspoon

salt

¼

teaspoon

pepper

¼

cup

beef broth

16

ounces

mini potatoes

16

ounces

baby carrots
Instructions
Prepare the roast, by lightly coating it with olive oil, and sprinkling the salt and pepper to coat both sides.

Preheat the oven to 400 degrees Fahrenheit.

Place the roast in the basket, and cook at 400 degrees. Cook for 25-28 minutes.

While the roast is cooking, toss the carrots and potatoes in olive oil, salt and pepper. Let sit until the top of the roast is done cooking.

Once the roast has cooked the first 25-28 minutes, turn the roast over, baste with the beef broth, and add the prepared the carrots and potatoes. Return basket to air fryer and cook at 400 degrees for an additional 18-20 minutes.

Potatoes and carrots should be soft, and the internal temperature of the roast is 145 degrees. Allow the roast to rest for 5-10 minutes before serving.
Notes
This roast can be sliced and served for dinner, or thinly sliced for roast beef sandwich meat. My roast, was three pounds, and was rolled and tied with string. After cooking for about 28 minutes, I turned the roast over, and it opened to be a less thick. 
If you keep  your roast tied together, it may take a few extra minutes to cook in the center, so be sure to get internal temperature to 145 degrees. 
If meat finishes before the potatoes and carrots are softened to your liking, remove the meat to let it rest, and continue cooking the potatoes and carrots for an additional 5 minutes, or until they reach your preferred doneness. 
Nutrition
Calories:
2146
kcal
Carbohydrates:
121
g
Protein:
308
g
Fat:
49
g
Saturated Fat:
17
g
Cholesterol:
776
mg
Sodium:
22247
mg
Potassium:
6834
mg
Fiber:
23
g
Sugar:
25
g
Vitamin A:
62562
IU
Vitamin C:
714
mg
Calcium:
4016
mg
Iron:
36
mg
*Nutritional information is a calculated guesstimate. Please note that this can change with different brands and modifications you may make to the recipe. For the most accurate information, use a nutritional calculator with the exact brands and measurements you're using with each recipe.
©AirFryingFoodie 2023
Share this recipe!
Follow @AirFryingFoodie on Pinterest.