It's a fun name that makes my kids giggle but Air Fryer Monkey Bread is a delicious treat too! I love to make this gooey treat for long weekends at home or even a small get-together like book club or mom meetup.
I've always loved Monkey Bread as a fun snack but now that I can make it in the Air Fryer it's a game-changer. Air Fryer Monkey Bread is easy to put together and cooks quickly, in just about 45 minutes it's ready to enjoy.
So why is Monkey Bread called by that name? It originally came from the pastry being a finger food and eaten in pieces like a monkey would do.
That's why kids love this so much, it's easy and you can just have fun. Just have plenty of wet napkins ready because it gets sticky--but it's so worth it.
My daughter loves to help me with this recipe. We cut the biscuit dough together and it gives us time to chat while we get the recipe ready. It's a great time to find out about her day and things going on in her life.
I try to incorporate my kids into cooking as much as I can, not only does it give them cooking skills but is great for bonding time.
For more easy bread recipes, try air fryer Irish soda bread, air fryer Yorkshire pudding, air fryer ranch breadsticks, or these easy air fryer garlic knots.
Ingredients:
¼ cup white sugar
¼ cup brown sugar
1 can of biscuit dough
1 ½ cups powdered sugar
5-6 tablespoon heavy cream
½ teaspoon vanilla
How to make Air Fryer Monkey Bread:
Preheat the AF to 320 degrees.
Cut the biscuit dough into bite-sized pieces.
Add the biscuit dough, white sugar, and cinnamon to a ziplock bag and shake to cover well.
Place the biscuit mixture into a small bundt pan. Place the small bundt pan into the Air Fryer basket and bake for 18-20 minutes on 320 degrees Fahrenheit.
While that's baking, mix the heavy cream, powdered sugar, and vanilla until it's reached the consistency of a glaze.
Once the Air Fryer is finished cooking, remove the bundt pan from the basket and allow it to set for 5 minutes before flipping it onto a plate.
Flip the monkey bread onto a plate and then drizzle homemade powdered sugar glaze.
Serve warm!
If you love easy breakfasts, try these air fryer biscuits, air fryer bacon cinnamon rolls, air fryer kielbasa, or these fun air fryer Mickey cinnamon rolls. 
Pro Tips and FAQs
How do I store Air Fryer Monkey Bread?
It's best to store your Air Fryer Monkey Bread in an airtight container and put out of direct sunlight. Putting it in the refrigerator will cause it to harden.
Can I re-heat Air Fryer Monkey Bread?
You can put the entire loaf in the air fryer for 2-3 minutes or individual servings can be heated in the microwave in 30-second intervals.
Can I freeze Air Fryer Monkey Bread?
If it lasts that long you can freeze it up to 3 months. Thaw in the refrigerator overnight before reheating.
What kind of biscuit dough should I use?
You can use any of your favorites, I personally like the flaky layers but you can use whatever kind your family prefers.
Can I add nuts to my Air Fryer Monkey Bread?
Yes! You can add chopped nuts or pecans if that's what your family likes.
MORE EASY AIR FRYER RECIPES
📖 Recipe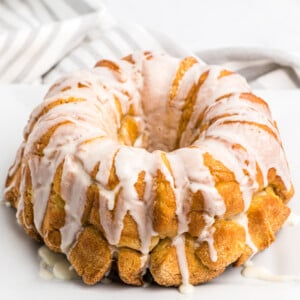 Air Fryer Monkey Bread
A fryer monkey bread is a delicious and easy snack made in the Air Fryer. Made with biscuit dough, granulated sugar, brown sugar, and topped with a delicious homemade glaze.
Ingredients
1

can

biscuit dough

¼

cup

granulated white sugar

¼

cup

brown sugar

1 ½

cups

powdered sugar

5

tablespoon

heavy cream

½

teaspoon

vanilla flavoring
Instructions
Preheat the Air Fryer to 320 degrees Fahrenheit.

Cut the biscuit dough into small pieces. Add the biscuit dough to a large plastic sealable bag. Add the granulated sugar and the brown to the biscuits, seal the bag closed, and then toss the bag to cover the dough in sugar.

Prepare a small bundt pan. Place the biscuit dough pieces into the bundt pan. Add the bundt pan to the basket of the air fryer and cook for 18-20 minutes.

Make the glaze while the monkey bread is baking. Add the powdered sugar, heavy cream, and vanilla flavoring to a small mixing bowl. Mix until the consistency is that of a glaze. Add more heavy cream if you would like a thinner glaze.

Remove the monkey bread from the air fryer once it's finished cooking. Set the bread aside and allow it to cool for 5 minutes. After 5 minutes, flip the monkey bread out of the bundt pan onto a serving plate and then top it with the homemade glaze.
Notes
It's normal for the bottom of the monkey bread to be brown since it is exposed to the circulating air the most. 
Like nuts? Add ¼ cup chopped almonds or pecans to the biscuit dough mixture before baking. 
Nutrition
Calories:
254
kcal
Carbohydrates:
42
g
Protein:
3
g
Fat:
9
g
Saturated Fat:
2
g
Cholesterol:
9
mg
Sodium:
367
mg
Potassium:
98
mg
Fiber:
1
g
Sugar:
25
g
Vitamin A:
93
IU
Vitamin C:
1
mg
Calcium:
27
mg
Iron:
1
mg
*Nutritional information is a calculated guesstimate. Please note that this can change with different brands and modifications you may make to the recipe. For the most accurate information, use a nutritional calculator with the exact brands and measurements you're using with each recipe.
©AirFryingFoodie 2023
Share this recipe!
Follow @AirFryingFoodie on Pinterest.