Air Fryer Cheesecake is the creamiest and easiest way to make cheesecake! This creamy sweet treat is done in less than 15 minutes!
Once you try making this delicious dessert in the air fryer, you will be so proud of your finished product. No more sagging or cracked tops after baking.
Making Air Fryer Cheesecake
I will admit that I love to bake everything. Making this dessert was always something I would put on the bottom of my list. I love to eat it, and all of the delicious flavors and toppings you can make with it. But the worry of baking problems was always something I disliked about making cheesecake.
When I was growing up, my mom would make no-bake cheesecakes. I never understood why until I was older and tried baking it for the first time. Seeing it sink in the middle was so disappointing.
The next time I tried to make a cheesecake, it cracked on top. They always tasted delicious, but I like to pretend I'm a fancy chef, so presentation is everything. That's why an air fryer cheesecake is my new best friend.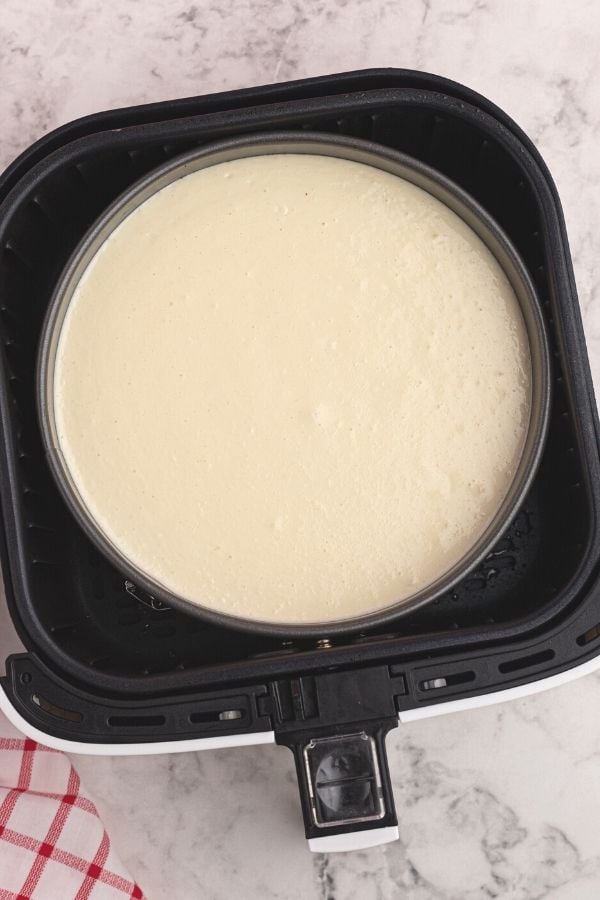 How to make Cheesecake in the Air Fryer
The beauty of making the cheesecake in the air fryer, is that depending on your type of air fryer, you can place your springform pan directly in the basket.
I used a Cosori brand air fryer to make this cheesecake. My 8-inch springform pan fit nicely into it. It is a little tricky taking it out of the basket while it's hot, so let it sit for a few minutes after cooking, and use a hot pad to lift it out.
I used a chocolate graham cracker crust for this cheesecake because I knew I was going to top it with fresh strawberries and I wanted the two flavors with my cheesecake. But you can use any cookie or graham cracker flavor to make this crust.
After you combine the crumbs and the melted butter, be sure to press it tightly into the bottom of the lined pan. Beat the cream cheese, eggs, vanilla, and sweetened condensed milk until it is smooth and creamy. Pour it over the crust.
Place the pan in the basket, and cook it for about fifteen minutes. A few things to keep in mind, is that the cheesecake will still have a little jiggle to it until it's chilled, and it may have a light golden top from the air fryer.
FAQ's about making cheesecake in the air fryer
Do I have to bake it with water around it?
That is the correct way to bake this delicate dessert in the oven. But not in the air fryer.
What can I use if I don't have a springform pan?
You can use any size baking pan that fits in your air fryer. Just be sure to line it with parchment paper for easy removal after cooking.
How long does it take for the cheesecake to set?
Let the cheesecake sit in the refrigerator for at least 6-8 hours, if not overnight. Although I will admit, we have not been able to wait that long, so we freeze it for about 2 hours, until it is firm enough to cut.
MORE AIR FRYER RECIPES:
📖 Recipe
Air Fryer Cheesecake
A creamy and delicious cheesecake, cooked in the air fryer.
Equipment
Air Fryer

8 Inch Springform Pan

Food Processor
Ingredients
2

cups

crushed graham crackers

½

cup

unsalted butter

melted

24

ounces

cream cheese

softened

14

ounces

sweetened condensed milk

2

large

eggs

1

teaspoon

vanilla
Instructions
Prepare the pan by lining the bottom with a circle of parchment paper, and then lightly butter the insides of the pan walls so the cheesecake will easily be removed after cooking.

Crush the graham crackers in the food processor, until they are fine crumbs.

Pour them into a large bowl, and stir in the melted butter to mix with the crumbs.

Pour the mixture into the prepared springform pan, pressing the crust firmly to the bottom of the pan. Set the pan aside while making the filling.

In a large bowl, or using a stand mixer, beat the cream cheese until it is smooth.

Add in the eggs, sweetened condensed milk, and vanilla. Continue beating on medium speed until it is smooth and creamy.

Pour the filling over the crust and spread it evenly with a spatula or spoon.

Place the springform pan in the basket of the air fryer. Cook at 300 degrees Fahrenheit for 15 minutes.

Remove from the basket and allow the cheesecake to chill to set, for about 6-8 hours, or overnight.
Notes
The cheesecake will be a little jiggly and soft when it is done cooking. It will firm  up once it cools. 
Be sure to line the pan, and then butter the sides of the wall of the pan. The first time I made this cheesecake, I didn't butter the sides and the cheesecake stuck a little bit. 
Nutrition
Calories:
667
kcal
Carbohydrates:
48
g
Protein:
12
g
Fat:
48
g
Saturated Fat:
27
g
Trans Fat:
1
g
Cholesterol:
187
mg
Sodium:
504
mg
Potassium:
363
mg
Fiber:
1
g
Sugar:
35
g
Vitamin A:
1697
IU
Vitamin C:
1
mg
Calcium:
252
mg
Iron:
2
mg
*Nutritional information is a calculated guesstimate. Please note that this can change with different brands and modifications you may make to the recipe. For the most accurate information, use a nutritional calculator with the exact brands and measurements you're using with each recipe.
©AirFryingFoodie 2023
Share this recipe!
Follow @AirFryingFoodie on Pinterest.