Air Fryer Sugar Cookies with Reese's Pieces, are so easy to make! I love using my air fryer and wanted to try something new, so I grabbed a favorite sugar cookie recipe and stirred in the Reese's Pieces. The cookies were ready to eat in 5 minutes and turned out perfectly!
I love freshly baked sugar cookies. You can add any extras to them, like candies, chips, frosting, or even leave them plain. I added Reese's Pieces to mine, because we love all things peanut butter!
Why make sugar cookies in the air fryer?
There are so many reasons to make these sugar cookies in the air fryer! I live in a hot climate, so being able to make cookies without heating up my kitchen is always a bonus. The clean up in the air fryer is a snap too.
If I don't have a lot of time, I can make these cookies in small batches. I have made this cookie dough, and scooped about a dozen cookies, then wrapped the dough to cook the rest later. It was perfect.
It is easy to fit seven or eight cookies in the basket at a time. I could probably add a few more, but I like to have room for the cookies to spread as they cook. But with just five minutes needed to cook, I have cookies ready in no time at all!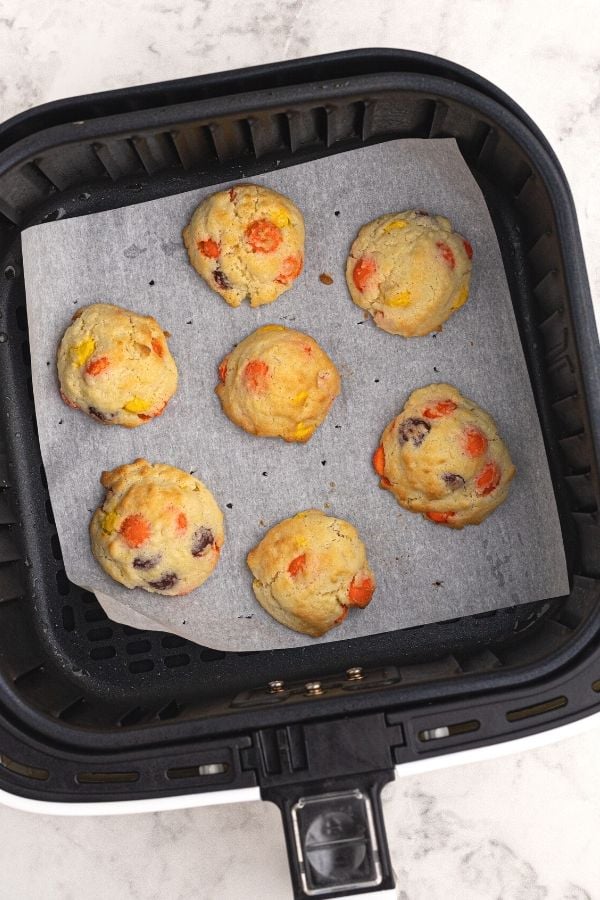 How to make Air Fryer Sugar Cookies
This recipe is so easy to make, and uses ingredients you will probably have on hand. The only thing that will change will be what you decide to mix in to the cookie.
If you love cookies, try Air Fryer Monster Cookies or Air Fryer Gingerbread Cookies!
Beat together the butter and sugar. Add in the vanilla and eggs once the sugar and butter is fluffy. Then add in the flour and baking powder. Once they are all mixed together, you will have a nice soft dough. Stir in the Reese's Pieces, or whatever extras you want in your cookies.
Scoop the dough onto a piece of parchment paper. I cut the paper to fit into my basket and then poke a few holes in the bottom so the air can flow.
Cook at 370 degrees Fahrenheit for 5 minutes. The first time you make this recipe, I would start at 4 minutes and then add a minute at a time.
Depending on your type of air fryer, they may need 5 or 6 minutes. The cookies are done when they are golden brown on top and bottom and can be scooped straight out of the basket.
FAQ's about Air Fryer Sugar Cookies
Can you put parchment paper in the air fryer?
Yes. I place the parchment paper in the air fryer underneath the food. Do not preheat the oven with just parchment paper in the basket.
Can I make this recipe with other candies?
I have used this recipe with M and M's, and chocolate chips. They both worked perfectly. Feel free to let us know what you add to these cookies!
MORE AIR FRYER DESSERTS:
Air Fryer Sugar Cookies
Easy soft sugar cookies made in the air fryer in just minutes.
Ingredients
1

cup

unsalted butter

two sticks

¾

cup

sugar

1

teaspoon

vanilla

2

large

eggs

2

cups

all purpose flour

2

teaspoon

baking powder

1 ½

cups

Reese's Pieces Candy
Instructions
Cut a piece of parchment paper to fit the air fryer basket. Poke holes in the parchment paper to allow for air flow. Set the basket aside until the dough is prepared.

In a large bowl, combine the butter and the sugar. Mix on medium speed until combined.

Add in the vanilla and the eggs. Continue to mix for an additional 30 seconds.

Slowly add in the flour and baking powder, mixing together until a soft dough forms. Use a rubber spatula to scrape the sides of the bowl if necessary.

Stir in the candy pieces, evenly mixing them into the dough.

Scoop or spoon small balls of the dough onto the prepared parchment paper inside of the air fryer basket. Leave about ½ inch in between cookies.

Cook at 370 degrees Fahrenheit for 4-6 minutes, until cookies are golden on the top of bottom. Remove from basket and allow cookies to cool.
Nutrition
Serving:
2
g
Calories:
273
kcal
Carbohydrates:
29
g
Protein:
3
g
Fat:
16
g
Saturated Fat:
10
g
Trans Fat:
1
g
Cholesterol:
72
mg
Sodium:
85
mg
Potassium:
39
mg
Fiber:
1
g
Sugar:
13
g
Vitamin A:
518
IU
Calcium:
52
mg
Iron:
1
mg
*Nutritional information is a calculated guesstimate. Please note that this can change with different brands and modifications you may make to the recipe. For the most accurate information, use a nutritional calculator with the exact brands and measurements you're using with each recipe.
©AirFryingFoodie 2023
Share this recipe!
Follow @AirFryingFoodie on Pinterest.