These delicious peanut butter cookies are made with just a handful of ingredients and in just a few minutes with the Air Fryer. You'll love how easy it is to make a small batch of cookies when you're cravings suddenly hit.
Peanut Butter cookies are one of my favorite things to make and to eat. Growing up my Mom made them on special occasions and my brother and I always fought over who got the last one.
My Mom would let me help her make them because it was something that I couldn't mess up. I enjoy making these with my daughter now and we love packaging them up and giving them as gifts for special occasions.
If you love making cookies in the air fryer, you might also love these Air Fryer Chocolate Chip Cookies, Gingerbread Cookies, and Monster Cookies!
Cookies are such a great treat because they are already portioned out into servings so you can have just that taste of something sweet. Unless you are having a rough day then a serving may be a little more than normal. They are great for kids and adults alike because everyone loves cookies.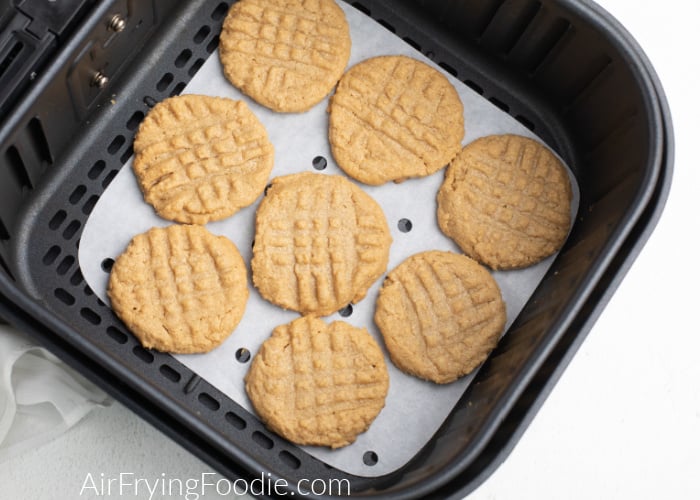 If you want to have a little something special with your peanut butter cookies you could always serve them up with something extra, like one of these that we like to add occassionally:
Warm the cookie and add a scoop of ice cream
Put chocolate syrup and whipped cream on top and make a sundae
What do you need to make Air Fryer Peanut Butter Cookies
This recipe only calls for 3 ingredients and it is so easy to put together and make, especially with the Air Fryer. I like that I know exactly what is going into my cookies and it's not over the top ingredients. It couldn't be any easier and you'll have dessert in just minutes.
How to make Air Fryer Peanut Butter Cookies
Do not preheat the Air Fryer for this recipe.
Mix the peanut butter, sugar and egg until you have a creamy consistency, do not over mix.
Cover the bottom of the Air Fryer basket with parchment paper.
Drop the cookie dough in rounded teaspoons full onto the air fryer parchment paper. If desired, use a fork to mash marks onto the tops of the cookies.
Put the basket into your air fryer and cook at 400 degrees for 4-7 minutes or until the cookies are golden brown.
Remove the basket from the Air Fryer but leave the cookies in the basket to cool slightly before taking them out.
Enjoy!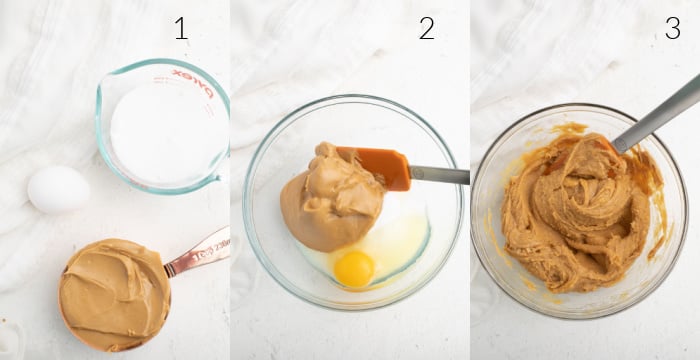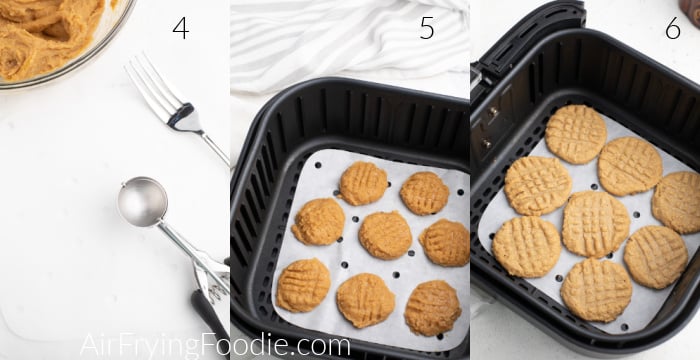 PRO TIPS:
Check the cookies because not all Air Fryers cook the same. You don't want to overcook them.
Allow the cookies to cool in the basket for a minute or two before transferring them to a cooling rack. They'll crumble if you try to move them too soon.
FAQs:
How can you tell when the Air Fryer Peanut Butter cookies are done?
You want to cook them until the edges are a light brown, don't overcook them or they will fall apart.
Why do you put fork marks in peanut butter cookies?
You don't have to do this, it is something that each person may or may not do but it started because the original Pillsbury recipe they instructed to press the cookies with fork tines. The reason is that peanut butter cookie dough is dense and unpressed, each cookie may not cook evenly.
How should I store Air Fryer Peanut Butter cookies?
Store them in an airtight container for 3-5 days.
What brand of peanut butter should I use?
You can use any brand that you prefer but I do suggest using a brand name for the consistency. It is best to use a regular creamy peanut butter and not the natural type of peanut butter for making cookies.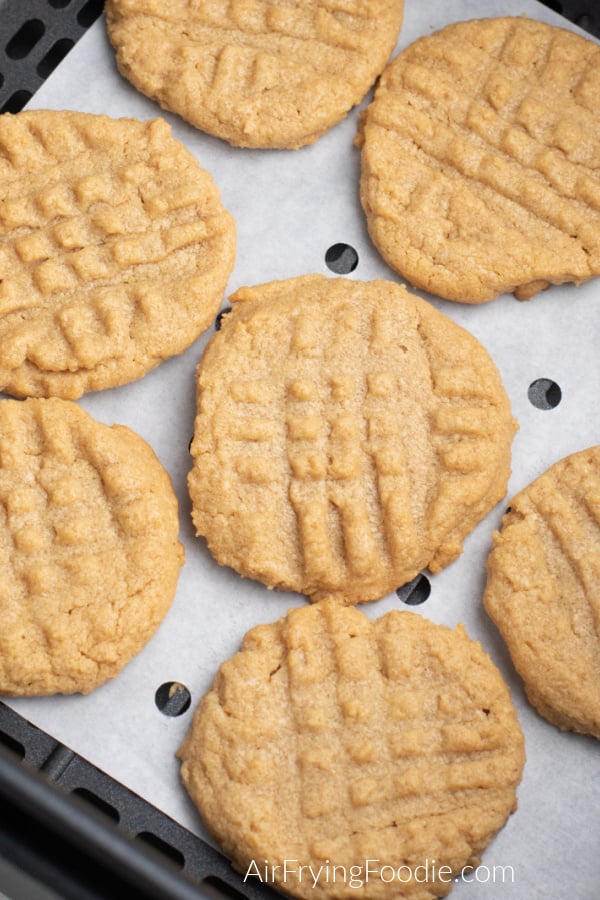 MORE AIR FRYER DESSERT RECIPES:
📖 Recipe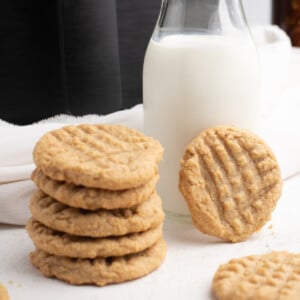 Air Fryer Peanut Butter Cookies
3 Ingredient Air Fryer Peanut Butter Cookies are a delicious and easy treat when you're craving a last minute snack.
Ingredients
1

cup

peanut butter

creamy

1

cup

granulated white sugar

1

egg
Instructions
Mix the peanut butter, egg, and sugar in a medium sized mixing bowl.

Add a piece of parchment paper to the bottom of the Air Fryer basket.

Use a 1 inch cookie scoop and scoop the cookie dough onto the parchment paper. Use a fork and add mash marks.

Place the basket into the Air Fryer and cook for 4-5 minutes at 400 degrees Fahrenheit until they are lightly golden brown.

Remove the Air Fryer basket and allow the cookies to cool for a few minutes before removing them and placing them on a cooling rack.
Notes
Make sure to allow the cookies to cool in the Air Fryer basket before removing them to a cooling rack. 
Store the peanut butter cookies in an airtight container for up to 4 days. 
Serve with milk or ice cream. 
Refrigerate leftover dough for up to 3 days in an airtight container to be used later. 
Nutrition
Calories:
98
kcal
Carbohydrates:
10
g
Protein:
3
g
Fat:
6
g
Saturated Fat:
1
g
Trans Fat:
1
g
Cholesterol:
7
mg
Sodium:
52
mg
Potassium:
72
mg
Fiber:
1
g
Sugar:
9
g
Vitamin A:
10
IU
Calcium:
6
mg
Iron:
1
mg
*Nutritional information is a calculated guesstimate. Please note that this can change with different brands and modifications you may make to the recipe. For the most accurate information, use a nutritional calculator with the exact brands and measurements you're using with each recipe.
©AirFryingFoodie 2023
Share this recipe!
Follow @AirFryingFoodie on Pinterest.