Whether it's the super bowl, playoffs, or any of your favorite games, we have a GREAT list of snacks, finger foods, and easy air fryer recipes that are perfect for family gatherings and game days.
I love using my air fryer for game days, and this list of Air Fryer Super Bowl recipes is one of the best.
We've put together our favorite wings, finger foods, and snacks that will have everyone excited.
If you're looking for more ideas, check out our list of Air Fryer Recipes for Beginners, where we share over 100+ of our favorite easy air fryer recipes.
If you're looking for foods that have fewer carbs, check out these Keto Air Fryer Recipes, and this great list of Air Fryer Weight Watchers recipes. You're sure to find the perfect dish to serve at your next super bowl party.
Super Bowl Recipes for the Air Fryer
Game day is always a big deal around my house, and the air fryer makes everything fast and easy.
Not only that but using the air fryer helps us cut down on the extra carbs and extra calories.
How does it do that?
Air fryers aren't like deep fryers, they don't take a basket full of oil.
Air fryers cook foods and "air fry" them by circulating hot air from a heating element. This helps crisp up the food on the outside, while cooking it fully and keeping things juicy on the inside.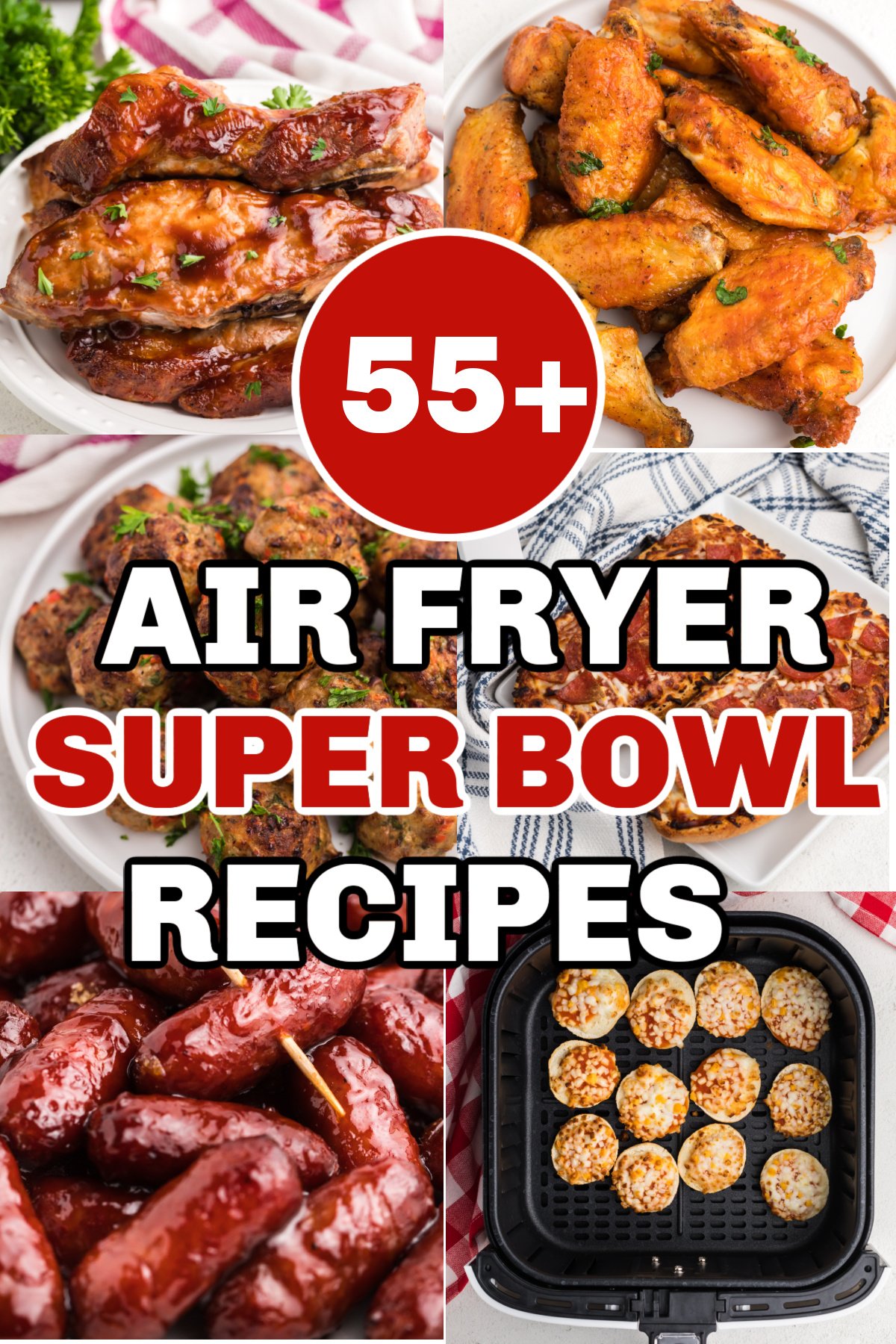 Can you use oil in an air fryer?
Yes! You can still use your favorite oils in the air fryer, but the oil is generally sprayed onto the foods directly.
You can check out this article here on the best oils to use for the air fryer.
If you're still looking for healthy ideas in the air fryer, check out this list of Healthy Air Fryer Recipes.
We've got you covered with everything you need when it comes to the air fryer.
Check out this amazing list below of our favorite air fryer foods to make for the Super Bowl!
For more inspiration, make sure to check out our Easy Air Fryer Recipes Facebook group. There are hundreds of thousands of people in there every single day!
Best Air Fryer Super Bowl Foods
Now let's get started with our favorite recipes for game day. You'll probably find several to make, and we promise they are all EASY and DELICIOUS!
We Would Love to Hear From YOU!
Let Us Know What You Think!
Tag Us In Your Photos! Are you on Facebook? If so, join our Easy Air Fryer Recipes Group (with hundreds of thousands of Air Fryer Foodie Fans!) and share your photos! We love to see your creations.
Are you on Instagram? Follow along and TAG US @airfryingfoodie.
Have a Question or General Feedback?
Jump down to the COMMENT section and let us know! We would love to help and also love feedback on all of our posts.