Satisfy your salty snack craving in just minutes with Air Fryer Tortilla Chips. Only a few simple ingredients are needed to make crispy perfect chips to dip into salsa or top with melted cheese.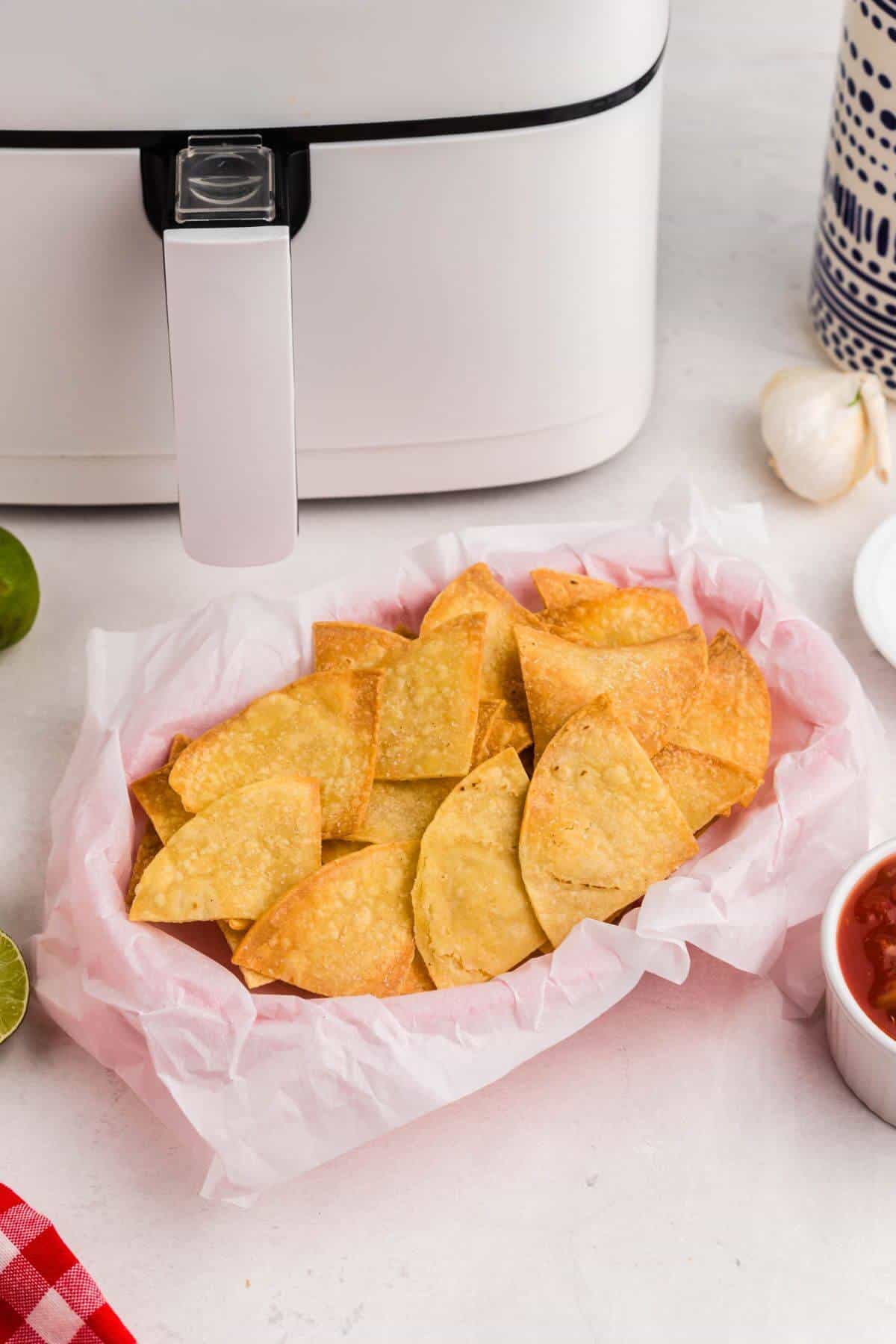 These tortilla chips go great as nachos, served next to other delicious appetizers like Air Fryer Jalapeño Poppers, Air Fryer Enchiladas, and Chicken Street Tacos.
Jump to:
If you love Mexican food, you may enjoy this list of Mexican Recipes for the Air Fryer.
WHY YOU LOVE THIS RECIPE
Making these golden brown, crispy chips is so easy. All you need are corn tortillas, olive oil, and a sprinkle of salt, and can be done with just a couple minutes of prep time. You can even add your favorite seasonings for extra flavor!
These fun tortilla triangles are such an easy snack or appetizer, and they are easy to make into small servings, avoiding eating store-bought chips from the bag! They are perfect for dipping too! Just grab your favorite guacamole or homemade salsa, and you've got an instant crispy and salty snack!
INGREDIENTS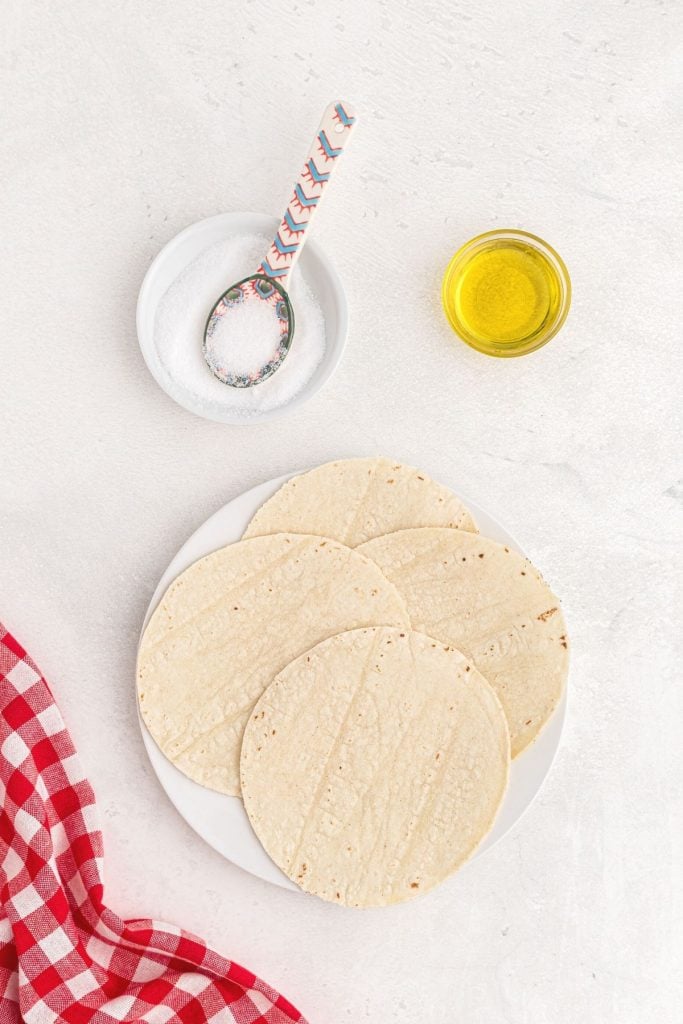 4-6 Tortillas- I use 5.5 inch round corn tortillas, like Mission Tortillas, and they are the perfect size for air frying chips
Olive Oil or Avocado Oil-or use a spray oil
Kosher Salt-I use a light sprinkle, but you can also use a coarse salt, or none at all, to taste preference.
INSTRUCTIONS
STEP 1
Use a sharp pizza cutter or sharp knife and cut the tortillas into triangles. (You can cut the tortillas before or after brushing with oil)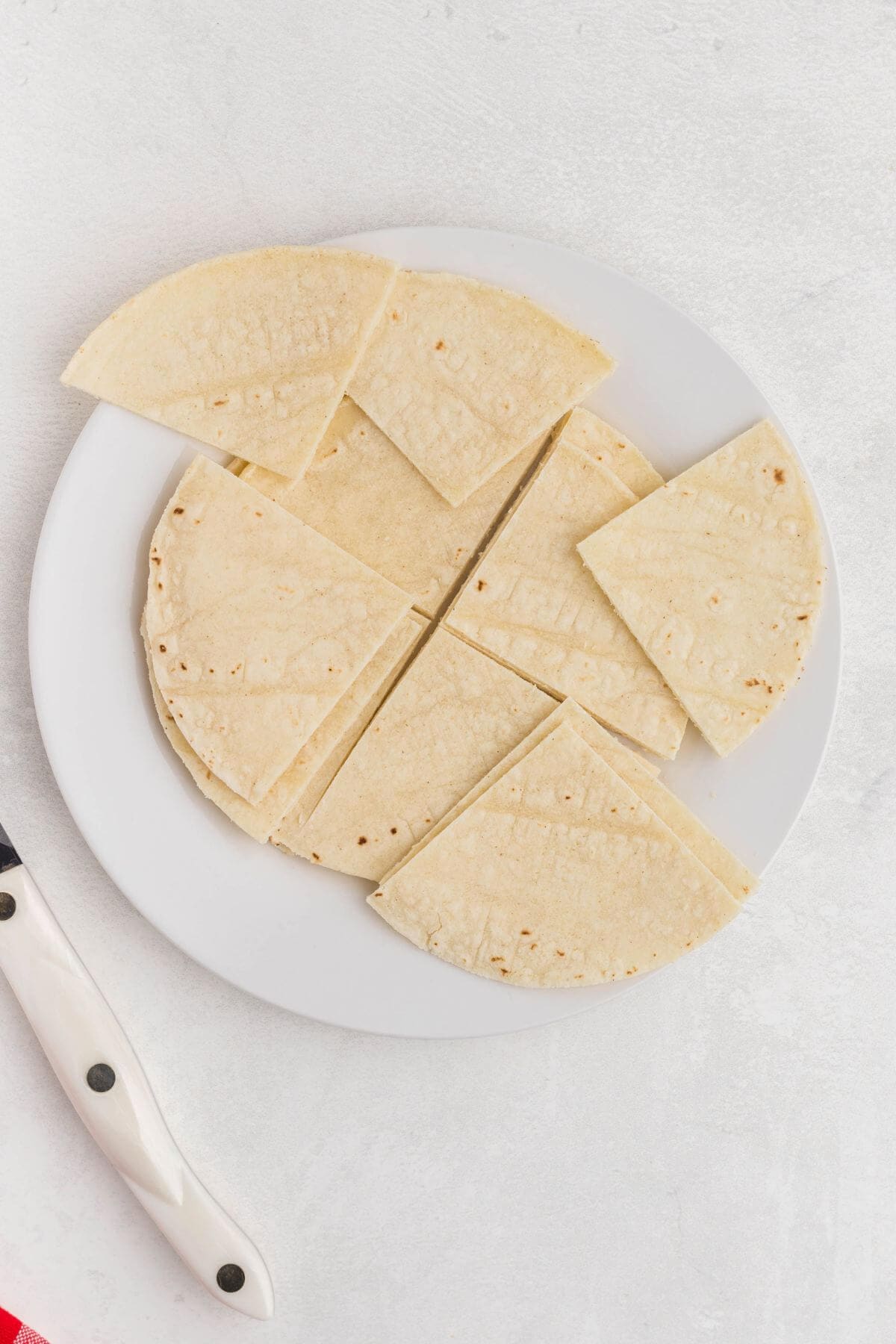 STEP 2
Use a pastry brush to gently brush tortillas with oil or spray with olive oil cooking spray, until each piece is coated. 
STEP 3
Place tortilla wedges into the air fryer basket, laying them in a single layer, without stacking or overlap. Sprinkle the tortilla pieces with salt or any other seasonings you may wish to use.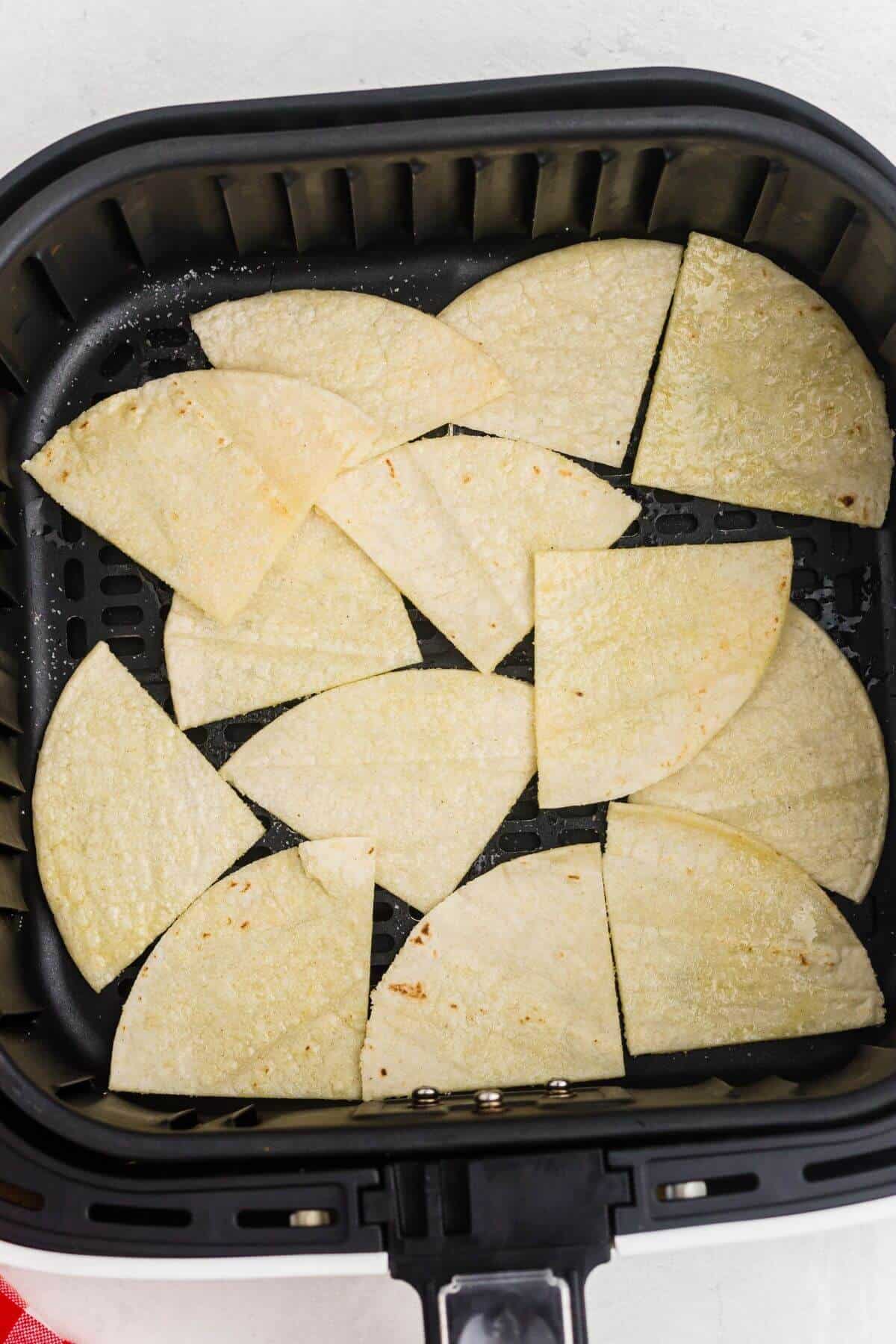 STEP 4
Working in batches, air fry at 350 degrees Fahrenheit for 6-8 minutes, turning the chips at the 3 or 4 minute mark. Chips will be golden brown and crispy when done.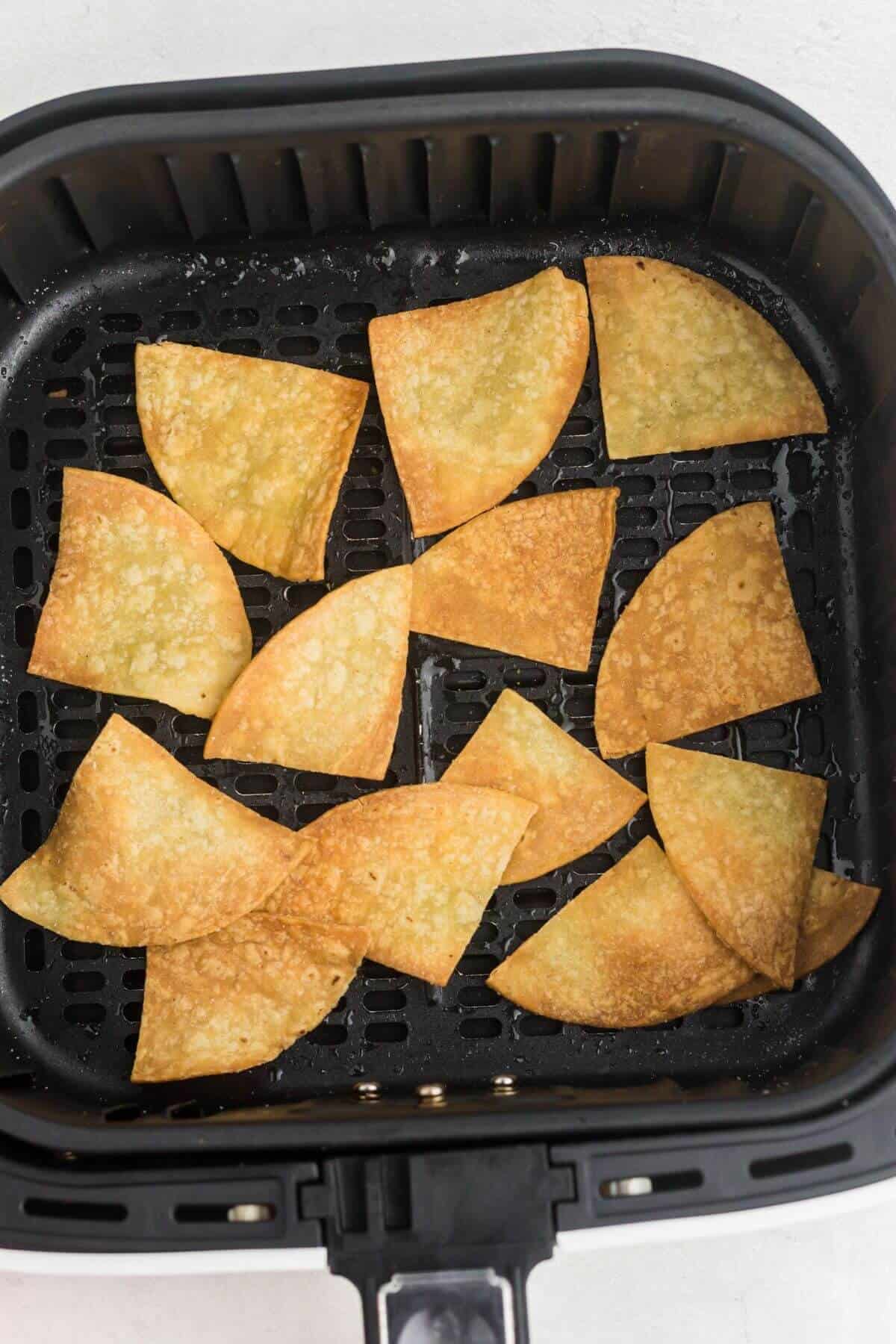 Looking for the BEST accessories to use with your air fryer? We've put together this list of our favorite Air Fryer Accessories.
EXPERT TIPS
I make this recipe in my Cosori Air Fryer. Depending on your air fryer oven size and wattages, you may need to add 1-2 minutes extra time.
These chips can be stored for a few days, but because they are best when they are first made, you can just make small batches at a time.
FLAVOR VARIATIONS
The best thing about making these homemade chips is that you can easily change the flavor combinations! For a perfect snack, try one of our variations!
Type of Tortillas: Use flavored or low-carb tortillas to change the flavor of your chips. Mission tortillas have a garden spinach and herb flavor, as well as a dried tomato basil tortilla. 
Spicy Tortilla Chips: For bolder flavors, add a sprinkle of chili powder, garlic powder, cayenne pepper, paprika, or even chili flakes on the chips with oil, before air frying.
Sweet Chips: Follow this recipe for Air Fryer Cinnamon Sugar Tortilla Chips! They are crispy and golden-brown with just the right amount of sweet flavors. These are delicious with a mango salsa or fruit salsa! You can also sprinkle with kettle corn seasoning, or with a pumpkin spice mixture.  
Nachos: For a cheesy flavor, drizzle or dip into your favorite cheese sauce, or for a healthier alternative, sprinkle with nutritional yeast. 
Salad or Soup Topping: These chips make a delicious topping when crumbled into small pieces. Just crumble or crush into small pieces, and then add to a hot bowl of chicken tortilla soup, tomato soup, or over  a dinner salad filled with taco meat.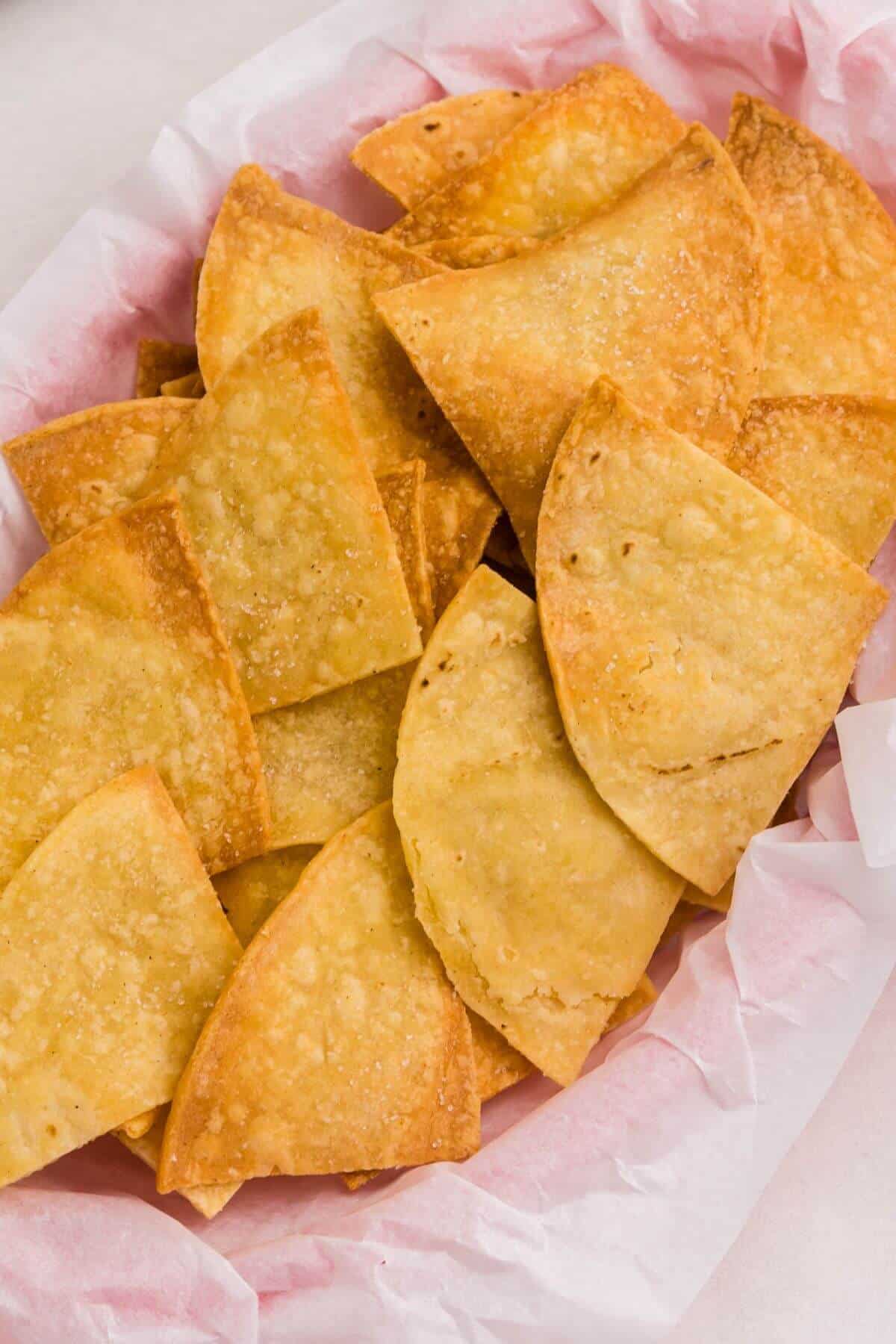 STORING
Keep the cooked chips stored in a sealed bag or airtight container at room temperature. They should be fresh for a few days. I keep them in a Ziploc bag for easy on the go snacking.
If they lose their crispness, you can reheat them in the air fryer for additional 2-3 minutes cook time until they are crispy again.
FAQ's
Can I make these chips with flour tortillas?
The first time I made flour tortilla chips in the air fryer, they weren't the crispiest chips, and need less time cooking or they burn. Corn tortillas make much better crunchy chips. 
Does it matter what size of tortillas I use?
I use smaller tortillas, but if you have leftover tortillas that are another size, you can absolutely use them. For larger tortillas, you will just have to make a few more batches. 
Are you new to air fryers? If you are, we have a great article about What is an Air Fryer. It talks about what you can make, how to use it, and more.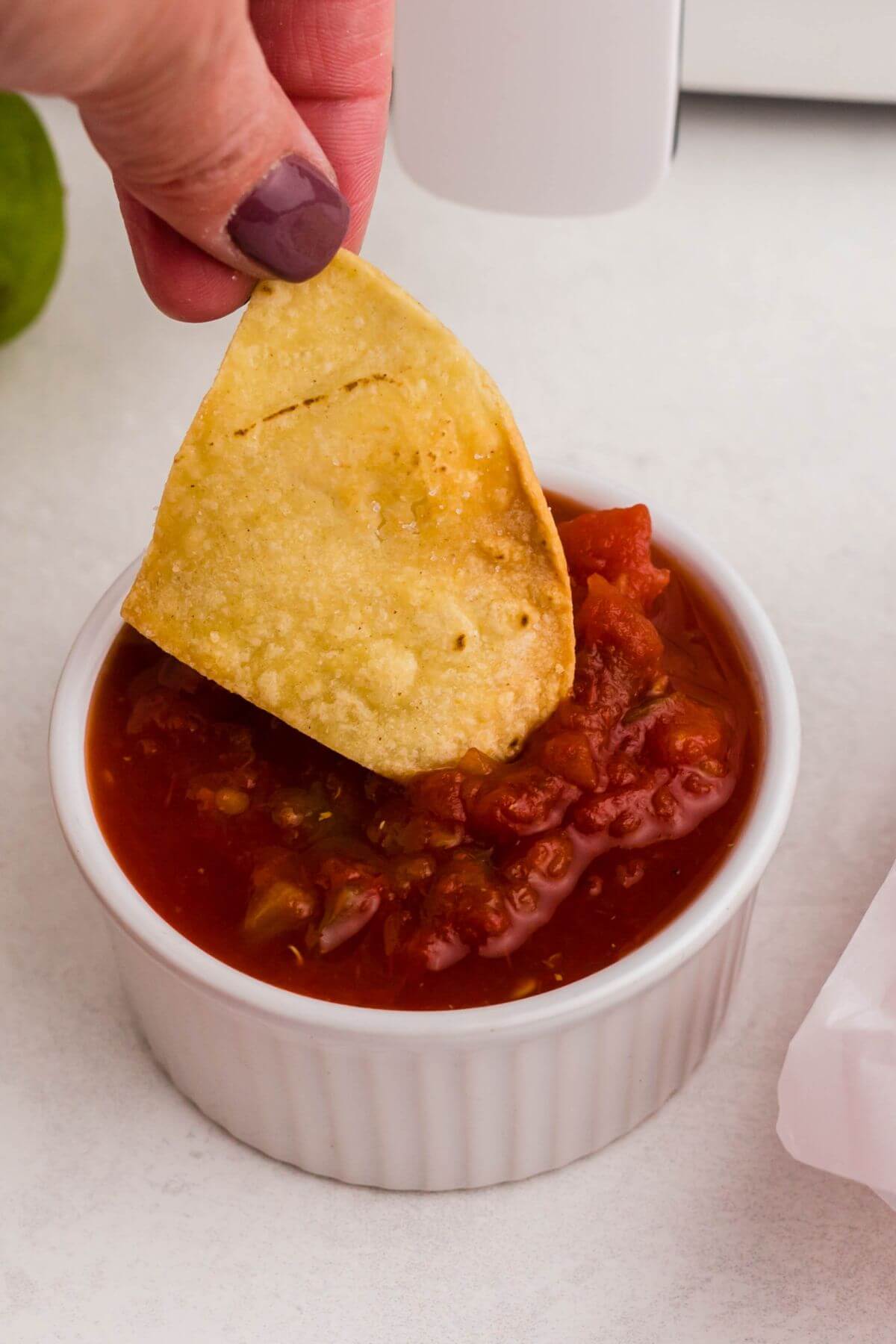 MORE AIR FRYER SNACK RECIPES:
We Would Love to Hear From YOU!
Let Us Know What You Think!
Be sure to leave a review of this recipe and give it a star rating. It lets us know how we are doing and lets others know they should try it!
Looking for a hardcover book of recipes? Check out the retailers where you can order our Air Frying Cookbook, Air Fryer All Day! 
Tag Us In Your Photos! Are you on Facebook? If so, join our Easy Air Fryer Recipes Group (with over a million Air Fryer Foodie Fans!) and share your photos! We love to see your creations.
Like to watch TikTok? Follow along with our recipes on TikTok @airfryingfoodie.
Are you on Instagram? Follow along and TAG US @airfryingfoodie.
Have a Question or General Feedback?
Jump down to the COMMENT section and let us know! We would love to help and also love feedback on all of our posts.
📖 Recipe
Air Fryer Tortilla Chips
Only a few ingredients are needed to make these Air Fryer Tortilla Chips to dip into salsa or top with melted cheese.
Ingredients
4

corn tortillas

small

1

tablespoon

olive oil

½

teaspoon

salt
Instructions
Use a pizza cutter or sharp knife and cut the tortillas into triangles.

Using a pastry brush, or oil spray, brush or spray a light coating of oil onto the tortilla triangles.

Place tortilla wedges into the air fryer basket, laying them in a single layer, without overlap. 

Sprinkle tortilla pieces with salt or other seasonings you may wish to use. 

Working in batches, air fry at 350 degrees Fahrenheit for 7-9 minutes, turning the chips halfway through cooking time. Chips will be golden brown and crispy when done. 
Notes
When air frying, remember that the cook time may vary depending on type of air fryer, and size and type of tortilla pieces. If using larger tortillas, cooking time may need to be adjusted by a couple minutes. Placing the tortilla slices in a single layer helps them to cook evenly and become crispy. For additional flavors, you can use additional spices and seasonings. A few bolder flavors you can add would be: curry powder ,white cheddar popcorn powder, or a light sprinkle of chili powder. You can also add a simple boost of flavor by adding garlic powder, cinnamon, a dash of lime juice and then season with salt before air frying. 
Nutrition
Calories:
88
kcal
Carbohydrates:
12
g
Protein:
1
g
Fat:
4
g
Saturated Fat:
1
g
Polyunsaturated Fat:
1
g
Monounsaturated Fat:
3
g
Sodium:
302
mg
Potassium:
48
mg
Fiber:
2
g
Sugar:
1
g
Vitamin A:
1
IU
Calcium:
21
mg
Iron:
1
mg
*Nutritional information is a calculated guesstimate. Please note that this can change with different brands and modifications you may make to the recipe. For the most accurate information, use a nutritional calculator with the exact brands and measurements you're using with each recipe.
©AirFryingFoodie 2023
Share this recipe!
Follow @AirFryingFoodie on Pinterest.