Air Fryer Cinnamon Sugar Tortilla Chips dish are crispy and golden-brown with just the right amount of sweetness. These homemade chips make the perfect snacks for kids of all ages.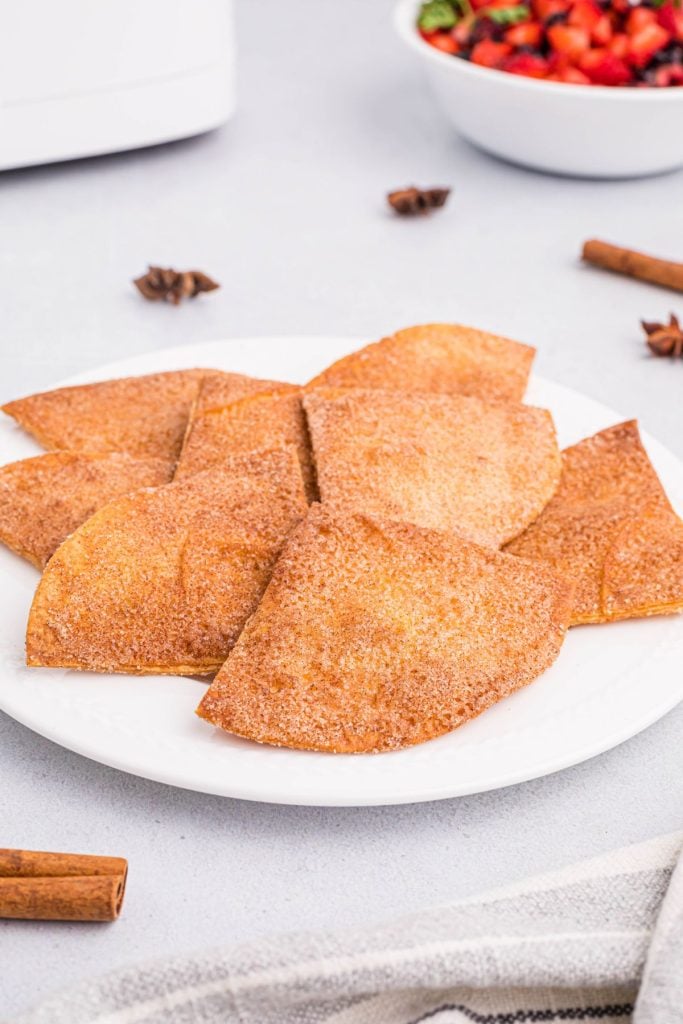 All you need is a handful of ingredients to make this quick snack. In just 10 minutes you can be munching on these incredibly sweet chips with fresh berries.
CINNAMON SUGAR TORTILLA CHIPS IN AIR FRYER
You will love this recipe because they are so simple to make. Enjoying these chips anytime throughout the day are going to be delicious.
This is a sweet treat that the kids will be happy to eat for an after-school snack. These are perfect as a finger food for a party appetizer or delicious dessert with diced fruit and ice cream.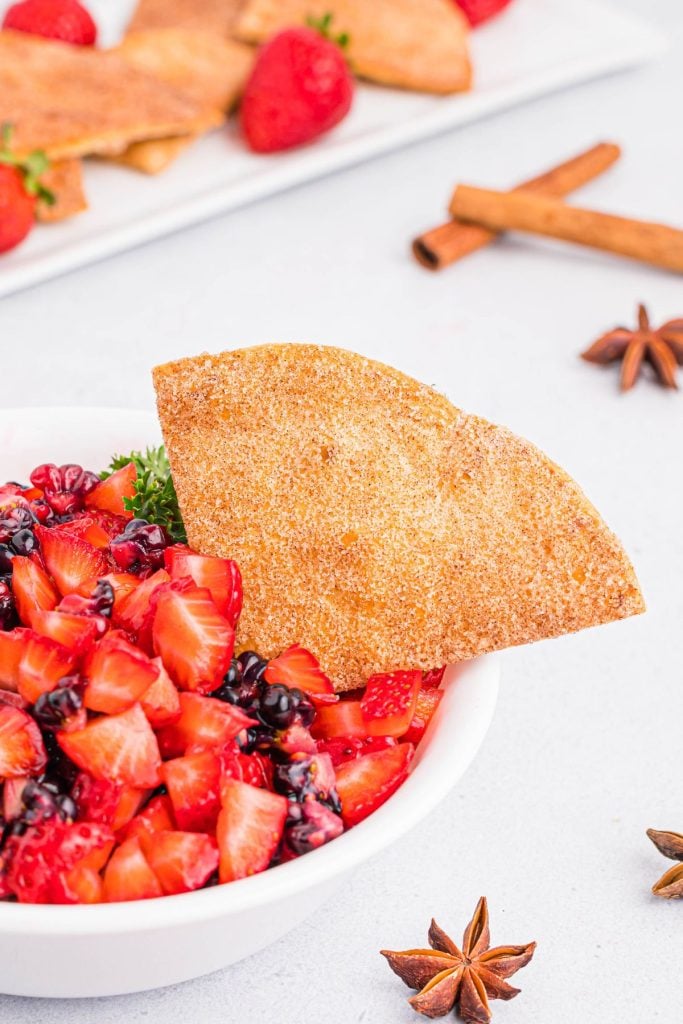 Cinnamon Sugar Chips are so good with ice cream or chopped fresh fruits. Chips are also delicious with a drizzle of melted chocolate or honey over the tops. Another nice crunchy topping is nuts that have been seasoned with warm spices.
I love using tortillas to make my own Air Fryer Taco Shells and Air Fryer Tortilla Chips. These cinnamon sugar chips are just as yummy, and are perfect when I want a sweet treat in a hurry!  
For another fun air fryer snack, try making this Air Fryer Popcorn!   
WHAT YOU NEED TO MAKE CINNAMON TORTILLA CHIPS IN AIR FRYER: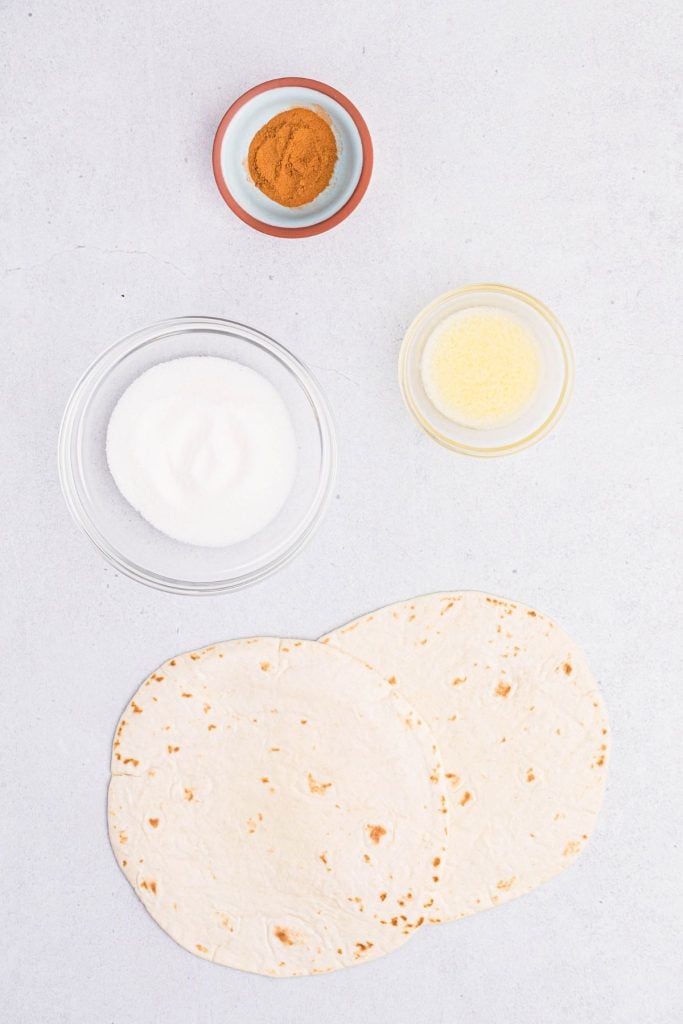 Optional Additional Flavors: Brown sugar, melted honey, ground nutmeg, pumpkin pie spice or agave nectar.
HOW TO MAKE CINNAMON SUGAR TORTILLA CHIPS IN AIR FRYER:
I make this recipe in my Cosori 5.8 qt. air fryer. Depending on your air fryer, size and wattages, cooking time may need to be adjusted 1-2 minutes.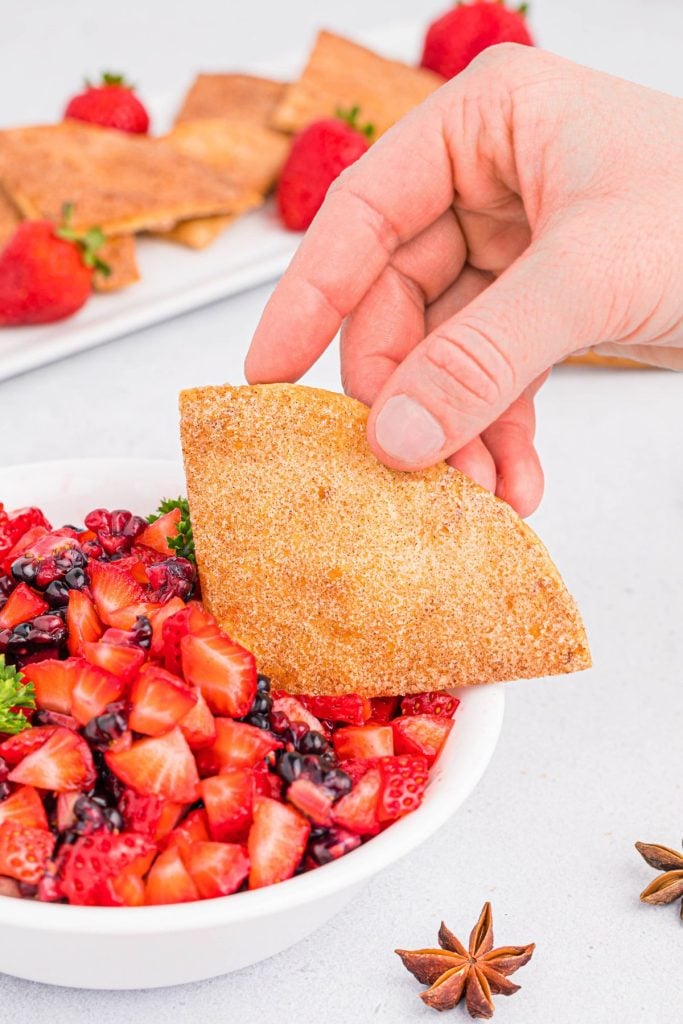 FAQ's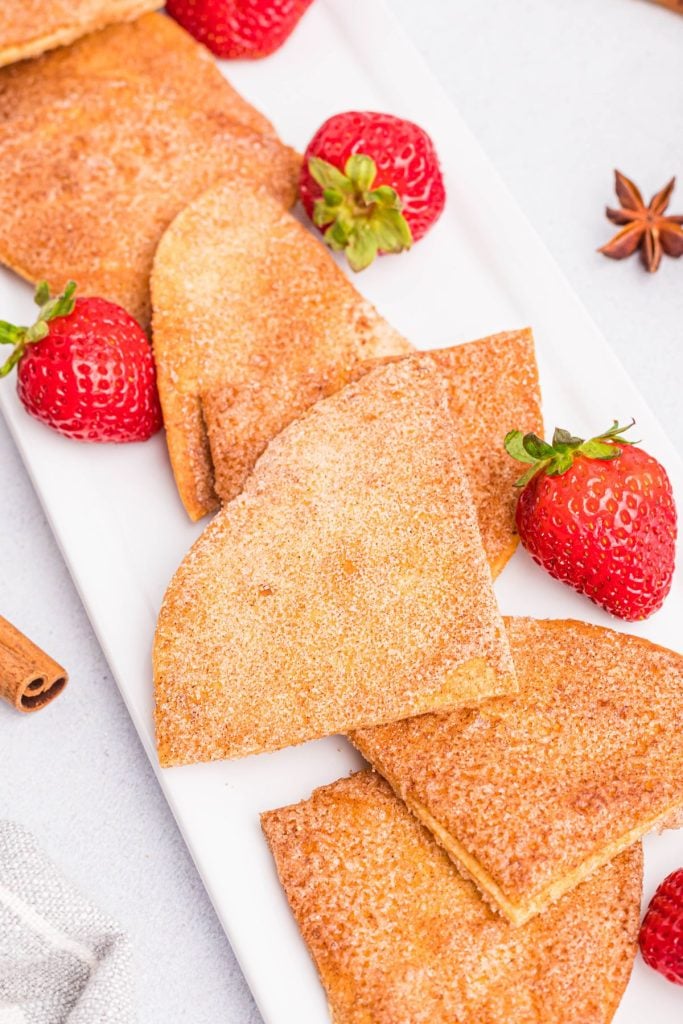 MORE AIR FRYER RECIPES:
We Would Love to Hear From YOU!
Let Us Know What You Think!
Be sure to leave a review of this recipe and give it a star rating. It lets us know how we are doing and lets others know they should try it!
Tag Us In Your Photos! Are you on Facebook? If so, join our Easy Air Fryer Recipes Group (with hundreds of thousands of Air Fryer Foodie Fans!) and share your photos! We love to see your creations.
Are you on Instagram? Follow along and TAG US @airfryingfoodie.
Have a Question or General Feedback?
Jump down to the COMMENT section and let us know! We would love to help and also love feedback on all of our posts.