We've put together a list of our favorite Air Fryer Memorial Day Recipes. Don't sweat it out on the grill when you can enjoy the cool air inside! You'll find recipes for steaks, chicken, sausage, peppers, ribs, and more.
We've even broken down the recipes into main dishes, appetizers, sides, and desserts. Find your favorite Memorial Day recipes with ease.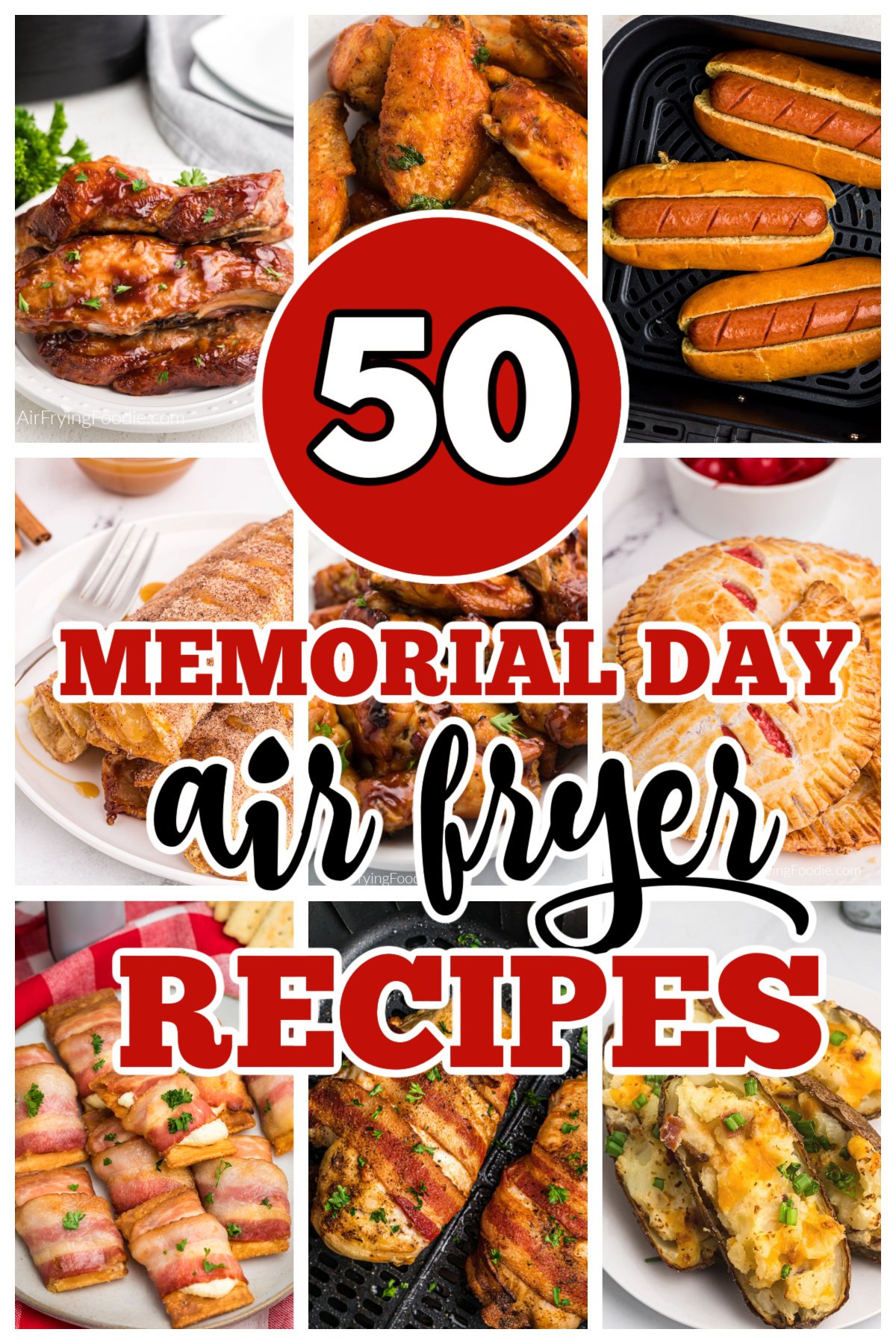 Memorial Day is a day to show pride and remembrance in the United States for our fallen soldiers who have died in service.
One of the ways we celebrate their lives and history is by coming together, with friends and family, and remembering their sacrifices.
Most people show their support and togetherness by sharing their love of food and community.
That's why we decided to share our favorite air fryer recipes that are perfect for Memorial Day. It's already hot in Louisiana in May, so if we can, we will skip the grill and stay in the cool air.
Enjoy these Memorial Day recipes, and remember to honor those who have served and given their lives for our freedoms. 🙂
We've broken down the recipes below into different categories: main dishes, appetizers, side dishes, and desserts.
Air Fryer Memorial Day Recipes - Main Dishes
We've broken out some of the best main dishes to make in the air fryer for this upcoming Memorial Day.
Air Fryer Appetizers for Memorial Day
While you're waiting on other things to cook, serve up some of our favorite appetizers.
Memorial Day Air Fryer Side Dishes
Now that some of our favorite main dishes are out of the way, check out this great list of side dishes. You can make all of these easily in the air fryer this Memorial Day.
Easy Air Fryer Desserts for Memorial Day
Now that we have the meals figured out, check out some of these amazing desserts. All perfect for the upcoming Memorial Day holiday.
We hope you enjoy this list of recipes that are great for the summer, and perfect for a Memorial Day gathering.
We Would Love to Hear From YOU!
Let Us Know What You Think!
Tag Us In Your Photos! Are you on Facebook? If so, join our Easy Air Fryer Recipes Group (with over a million Air Fryer Foodie Fans!) and share your photos! We love to see your creations.
Like to watch TikTok? Follow along with our recipes on TikTok @airfryingfoodie.
Are you on Instagram? Follow along and TAG US @airfryingfoodie.
Have a Question or General Feedback?
Jump down to the COMMENT section and let us know! We would love to help and also love feedback on all of our posts.