Air fryer potatoes are a perfect addition to every meal. After cooking them in the air fryer, they are a crispy and delicious side dish, and can't be easier to make!
Making Potatoes in the Air Fryer
Making potatoes in the air fryer just makes life so much easier. Normally, making side dishes to go with the family meals, isn't something we want to spend a lot of time preparing and cooking. Life is just too stressful already!
These air fryer potatoes have almost no prep, other than cutting them in half, and drizzling them with oil and seasonings. They are ready in about 15 minutes, and can be served with any main course.
If you are looking for more potato recipe ideas, try making these easy air fryer steak fries, air fryer potato wedges, and air fryer tater tots.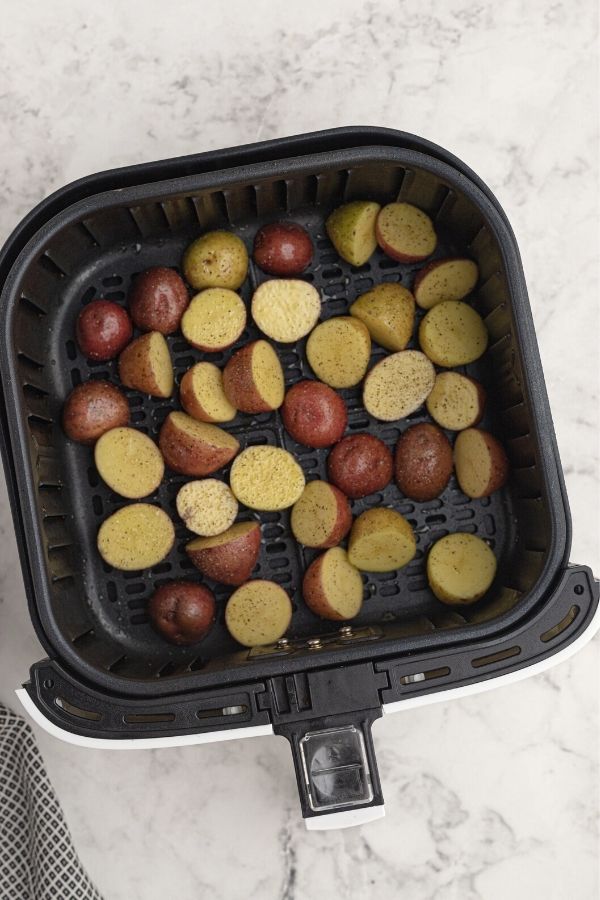 How to make potatoes in the air fryer
Cut the baby potatoes in half. About one pound of potatoes was more than enough for four people to eat with dinner. Since I was able to find a three pound bag at the store, I just set the rest of the potatoes aside for future dinners.
I rinsed the potatoes and then put in a large bowl. I drizzled about a tablespoon of olive oil on them, along with salt and pepper, and that was it! Feel free to add any other seasonings you want to try, but honestly, these potatoes were perfect with just the basics! For seasoning ideas, check out McCormick.
Place them in the air fryer basket and cook at 400 degrees F for 15 minutes. Be sure to shake the basket after seven or eight minutes. Serve them while they are hot.
For more easy side dishes, try these air fryer Red Robin steak fries, air fryer scallops, air fryer Babybel cheese, or these air fryer armadillo eggs. 
FAQ's about potatoes in the air fryer
Why are my potatoes not crispy?
Potatoes should be dry when placing them in the air fryer. Even though we drizzle them with oil, that should be a very light drizzle, using just enough olive oil to allow for any seasonings to stick to the potatoes.
Do I need to use a roast setting for these potatoes?
I didn't use a special setting to cook these potatoes. I cooked them at 400 degrees for 15 minutes, and shook the basket after about eight minutes. Different brands and models of air fryers have settings just for roasting, but I didn't use a roasting feature on my air fryer, and these potatoes were cooked and crispy.
Do I need to place the potatoes in a dish to cook them in the basket?
I placed my potatoes directly in the basket, without a dish or parchment paper and they cooked perfectly, without sticking.
What pairs with small potatoes?
Really, the answer is EVERYTHING! Roast, pork, chicken, ribs, steak, or salmon, go perfectly with roasted potatoes. Although I only seasoned them with salt and pepper, they can be seasoned with almost anything. They can also be topped with extras, like sour cream, chopped bacon, chives, or cheese.
MORE AIR FRYER RECIPES:
📖 Recipe
Air Fryer Potatoes
Easy to make air fryer potatoes.
Ingredients
1

pound

small potatoes

1

Tablespoon

olive oil
Salt and Pepper, or other desired seasonings
Instructions
Rinse and pat the potatoes dry. Cut in halves.

Toss the potatoes with about one tablespoon of olive oil, and desired seasonings. I used about ¼ teaspoon of salt and pepper.

Place in the air fryer basket and cook for 15 minutes at 400 degreesFahrenheit . Shake the basket after 7 or 8 minutes.
Notes
Weight Watchers: approx 1 point per potato
Nutrition
Calories:
118
kcal
Carbohydrates:
20
g
Protein:
2
g
Fat:
4
g
Saturated Fat:
1
g
Sodium:
7
mg
Potassium:
477
mg
Fiber:
2
g
Sugar:
1
g
Vitamin A:
2
IU
Vitamin C:
22
mg
Calcium:
14
mg
Iron:
1
mg
*Nutritional information is a calculated guesstimate. Please note that this can change with different brands and modifications you may make to the recipe. For the most accurate information, use a nutritional calculator with the exact brands and measurements you're using with each recipe.
©AirFryingFoodie 2023
Share this recipe!
Follow @AirFryingFoodie on Pinterest.