These air fryer hash browns are a favorite breakfast side dish. After being cooked in the air fryer, they are so golden brown and crispy. All you need are premade patties and an air fryer.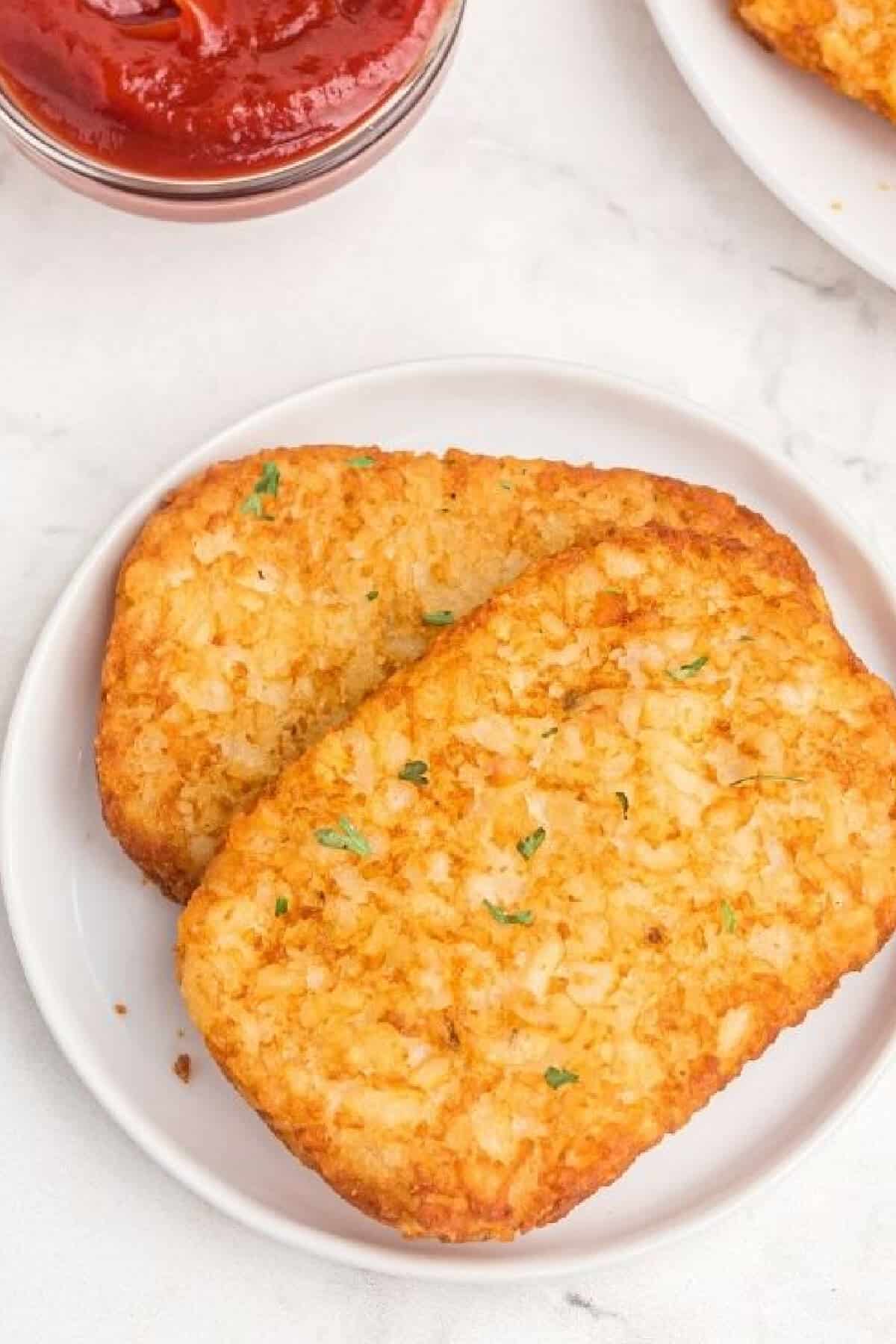 If you are looking for more amazing recipes for quick breakfasts, you will love our air fryer sausage, breakfast potatoes, egg bites, home fries, french toast, and blueberry muffin bites.
Jump to:
Why I Love Air Fryer Hash Browns
One of my favorite childhood memories is getting a hash brown patty to go with my pancakes from McDonald's. They were always a treat, especially when we were doing a family road trip.
Now that I have an air fryer, I can make them whenever I want, and without the unhealthy grease. These frozen hash browns are so crispy, you will want to eat them every morning. They also make a delicious quick snack.
Ingredients
frozen hash browns. I love to use my local store brand and the Ore Ida brand, but there are many great brands in your grocer's freezer section to choose from.
I like to keep my breakfast fast and easy so when I need a quick breakfast, I use frozen hash browns. That's why you will love this recipe. All you need is your air fryer and hash brown patties.
I use a Cosori Air Fryer to make these hash browns. It is 5.8 quart, and the basket is just the right size for 4-6 patties.
Besides an air fryer, all you need to make these are the frozen hash brown patties. I used a local store brand, Signature Select. There are other amazing brands like Ore-Ida, and they are delicious too!
These crispy patties are just another frozen food made even easier by air frying.
If you're in a hurry to make these delicious hash browns, find all of our tips and tricks and simple steps in the printable recipe card below the post.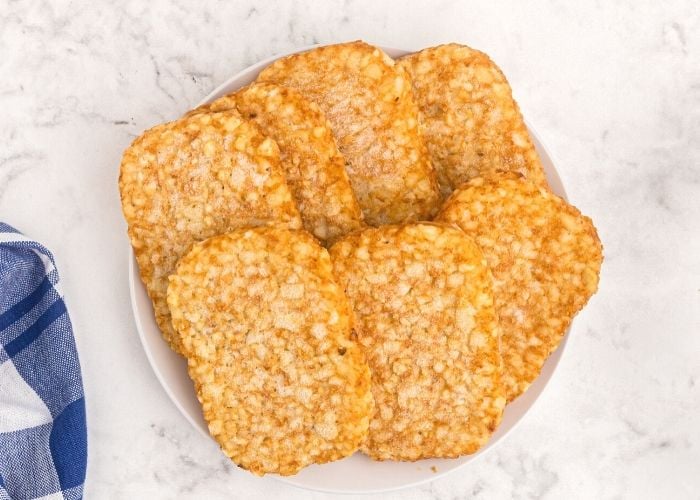 How to make Hash Browns in the Air Fryer
Step 1
To begin, place the frozen patties in a single layer in the air fryer basket, or on the air fryer tray. Keep them in an even layer, do not let them overlap or stack.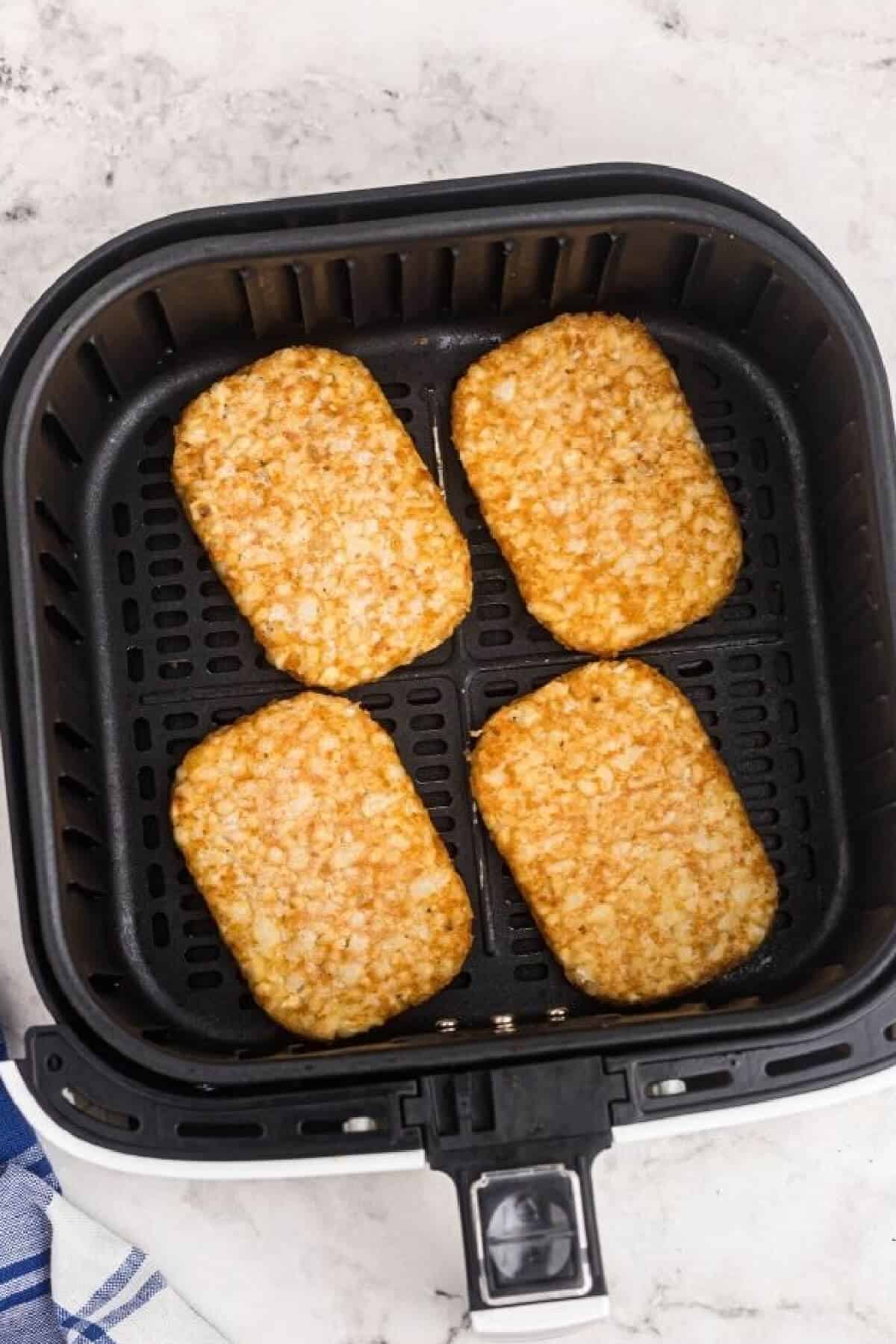 Step 2
Cook at 400 degrees Fahrenheit for 10-12 minutes.
Step 3
Once they are golden brown in color, remove the patties from the fryer with a spatula.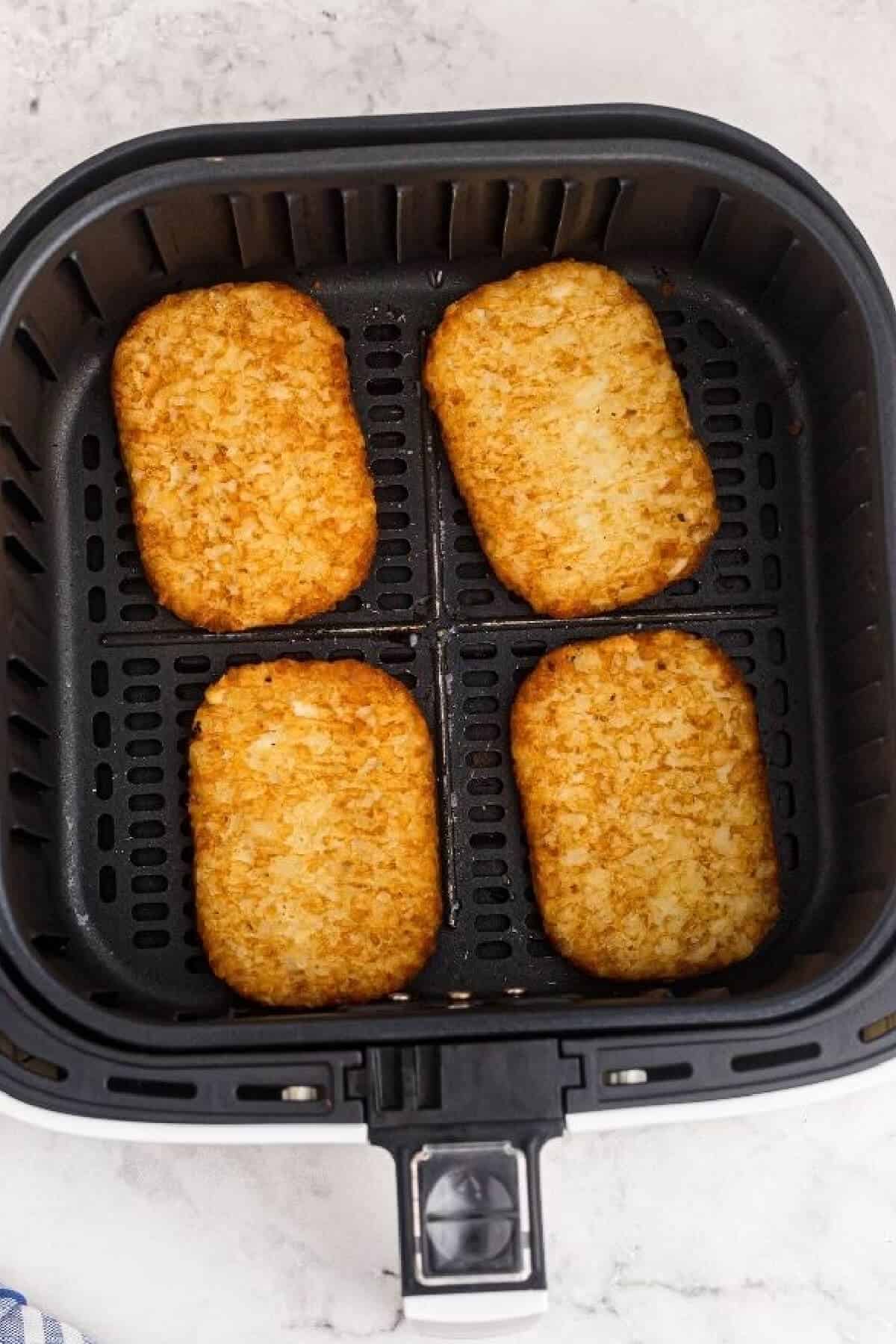 Step 4
You can serve them as flat patties, or crumble them for shredded hash browns.
Tips
I cooked mine at exactly 10 minutes, and flipped them over at the 5 minute mark. If you like extra crispy hash browns, add an additional 2-3 minutes.
There is no need to coat the hash brown patties with olive oil because they are already cooked and will have some oil on them.
Keep in mind, because there are so many types of air fryer models, cooking times may vary. The first time you make hash browns, you may want to start your cook time with 8-10 minutes and then add 2-3 minutes.
For more delicious breakfasts, check out this air fryer omelette, air fryer English muffins, air fryer granola, or air fryer soft boiled eggs!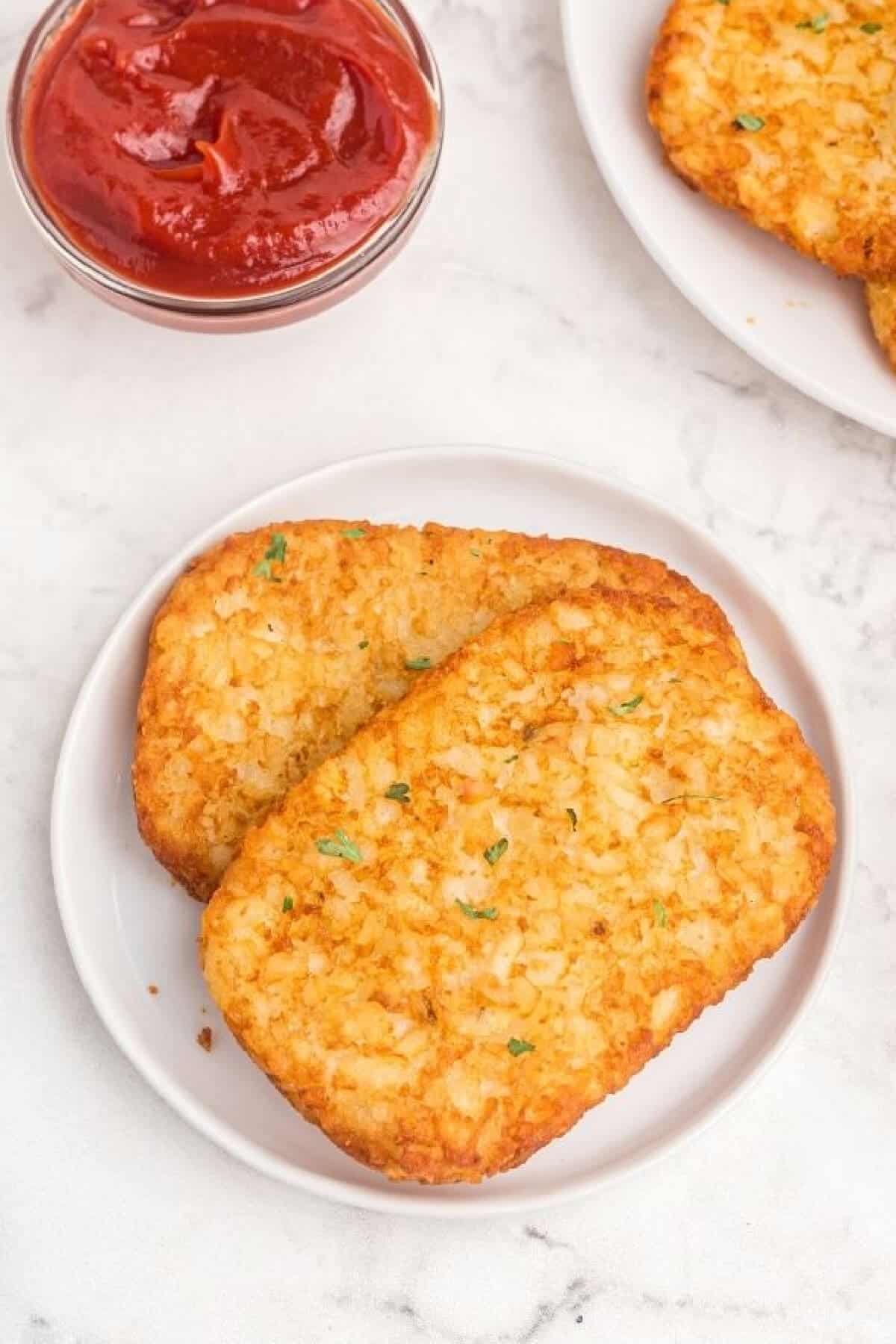 Variations
Seasonings. Add flavor with seasonings such as onion powder, garlic powder, ground black pepper, or even red pepper flakes.
Sauce. Use different sauces to enhance the flavors such as ketchup, syrup, or your favorite hot sauce.
Toppings. Add toppings to hash browns such as fresh fruit, grilled onions and peppers, or bacon and cheese.
Homemade. If you don't have frozen hash browns and want to make homemade hash browns, grab some russet potatoes, shred them, soak them in cold water to remove the starches. Make sure to remove as much water as possible by squeezing the shredded potatoes in a paper towel. Form into patties, spray with olive oil or avocado oil, and air fry at 400 degrees Fahrenheit for 12-15 minutes, flipping them halfway through the cooking time.
Serving
Serve these hash brown patties with your favorite main meals or for breakfast. It's a great option for a dinner side dish or for breakfast.
Storage and Reheating
Leftovers. Store leftover patties in an airtight container for 4-7 days.
Reheating. To reheat hash browns, repeat the cooking process, but cut the cooking time to 5 minutes.
FAQs
What can I serve with hash browns for breakfast?
Hash browns complement every breakfast menu. For a complete breakfast, you can add air fryer eggs, breakfast sausage links, and toast. Of course, it's also fun to have breakfast for dinner.
Can I stack the hash browns to cook them all at once?
When making a batch of hash browns, it's not a good idea to stack them in the air fryer basket. The air fryer needs to be able to circulate the air, which is how the food gets cooked. If the air can't be circulated, your hash browns may not cook evenly and won't be crispy. For the best hash browns, keep them in a single layer. 
How can I add more flavor to frozen hash browns?
Add seasoning to the hash browns when air frying. Melt a little butter, brush on the hash browns half way through cooking, and then sprinkle the desired seasonings. 
You and the whole family will enjoy these crispy air fryer hash browns. Making them from frozen in the air fryer is the fastest and an easy way to get these on the table quickly. It's one of our favorite recipes with frozen potatoes!
Say goodbye to the frying pan and cooking oil because the air fryer is going to do all of the hard work for you.
Looking for more great recipes? We've got you covered. If you love potatoes, check out a few more of our favorite air fryer potato recipes.
More Air Fryer Potato Recipes
Are you new to air fryers? If you are, we have a great article about What is an Air Fryer. It talks about what you can make, how to use it, and more.
Looking for the BEST accessories to use with your air fryer? We've put together this list of our favorite Air Fryer Accessories.
We Would Love to Hear From YOU!
Let Us Know What You Think!
Be sure to leave a review of this recipe and give it a star rating. It lets us know how we are doing and lets others know they should try it!
Looking for a hardcover book of recipes? Check out the retailers where you can order our Air Frying Cookbook, Air Fryer All Day!
Tag Us In Your Photos! Are you on Facebook? If so, join our Easy Air Fryer Recipes Group (with over a million Air Fryer Foodie Fans!) and share your photos! We love to see your creations.
Like to watch TikTok? Follow along with our recipes on TikTok @airfryingfoodie.
Are you on Instagram? Follow along and TAG US @airfryingfoodie.
Have a Question or General Feedback?
Jump down to the COMMENT section and let us know! We would love to help and also love feedback on all of our posts.
📖 Recipe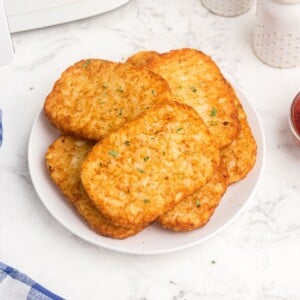 Air Fryer Hash Browns
Air fryer hash brown patties are an easy breakfast side dish. Golden and crispy, and all you need are an air fryer and frozen patties.
Ingredients
4

Hash Brown Patties

Frozen
Instructions
To begin, place the frozen patties in air fryer basket, or on the air fryer tray. Do not let them overlap or stack.

Cook at 400 degrees F for 10-12 minutes. 

Flip the patties halfway through cooking. For crispier patties, add an additional 2-4 minutes cooking time.
Nutrition
Calories:
1
kcal
Carbohydrates:
1
g
Protein:
1
g
Fat:
1
g
Saturated Fat:
1
g
Polyunsaturated Fat:
1
g
Sodium:
1
mg
Potassium:
3
mg
Fiber:
1
g
Vitamin C:
1
mg
Calcium:
1
mg
Iron:
1
mg
*Nutritional information is a calculated guesstimate. Please note that this can change with different brands and modifications you may make to the recipe. For the most accurate information, use a nutritional calculator with the exact brands and measurements you're using with each recipe.
©AirFryingFoodie 2023
Share this recipe!
Follow @AirFryingFoodie on Pinterest.