Air Fryer Sausage Links are a delicious addition to breakfast. You can make links or patties, and they can be directly cooked straight from the freezer!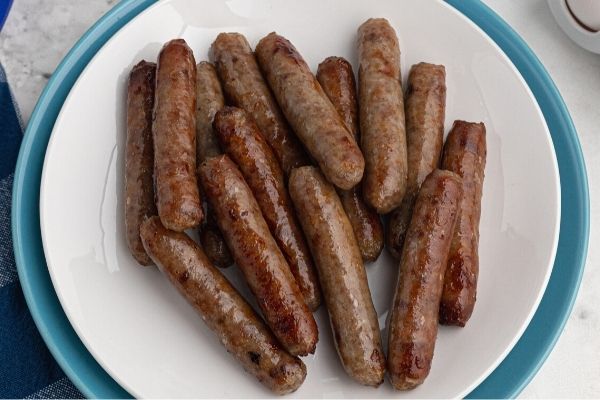 If you love having sausage links with your breakfast, cooking them in the air fryer will be a game changer for your mornings. They cook to perfection in under 15 minutes.
Air Fryer Sausage Links for breakfast
Growing up, I remember the fun times our family had camping. I don't remember the first time I tried sausage links, but I remember them as part of our family camp outs.
My dad would make a fire, and we would cook them on a stick or skewer, or sometimes, he would cook them in a frying pan, directly over the fire. Which is why I was excited to try them in my air fryer.
I wanted to keep the flavor and crispness of the sausage, but without the sogginess of a microwave, or the splatter from the frying pan on the stove top. The air fryer sausage links checked all the boxes!
If you need an easy breakfast side dish, these Air Fryer Frozen Biscuits are an easy way to make golden fluffy biscuits in minutes! With just a few simple steps, these warm and flaky biscuits can be on your table, straight from the freezer. Another great side are these air fryer hash browns.
You might also enjoy this recipe for Italian Sausage in the Air Fryer.
Looking for more recipes? Check out this list of over 100 Air Fryer Recipes for Beginners.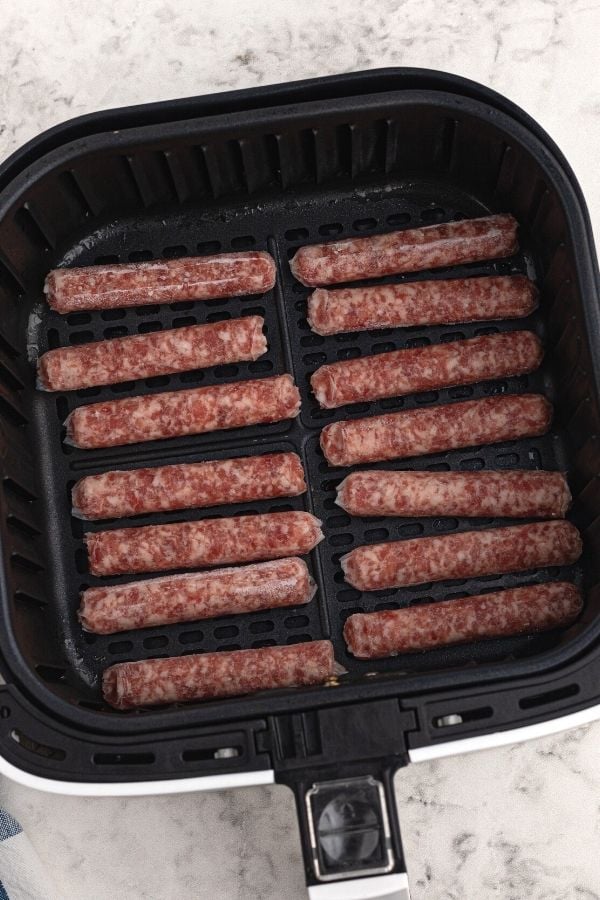 How to make Air Fryer Sausage Links
I used one pound of Farmer John sausage links. I keep them frozen so it is easier to keep them on hand for when we want them. One pound of links was 14 sausages, and they easily fit into my Cosori Air Fryer.
Preheat the oven to 370 degrees Fahrenheit. After removing the frozen sausage links from the packaging, break them apart. Place them in the air fryer basket, without stacking them.
Cook at 370 degrees Fahrenheit for about 12-15 minutes, turning them over half way through cooking. Total cooking time may vary my a minute or two, depending on how crispy you like your sausage links. Allow a few extra minutes if you have thicker sausage links, or if you are placing more than one package in the basket.
Remove from the oven and serve while they are hot.
For more easy air fryer breakfasts, try air fryer soft boiled eggs, air fryer chicken sausage, air fryer bacon wrapped avocado, or air fryer sausage patties.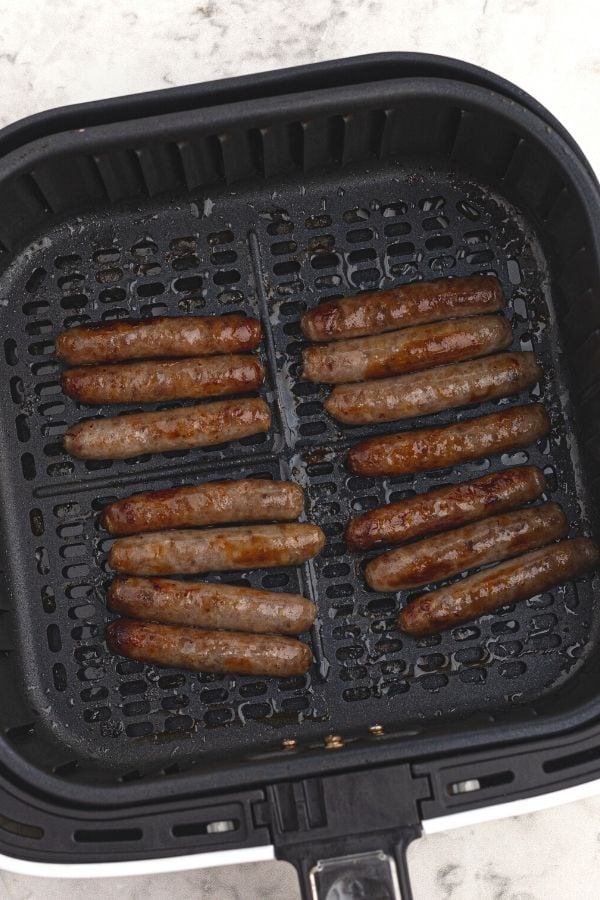 FAQ's about Air Fryer Sausage Links
How do I know if the sausages are done?
Cook the sausages until they are well browned on the outside. You can cut into one to make sure it is thoroughly cooked on the inside.
Do I need spray the basket first?
No. The sausage links came right off the basket when I cooked them, and clean up was very easy!
How do I know they are done?
Sausage should not have any pink on the inside when you cut or bite into it. If it is still pink, cook it a few more minutes.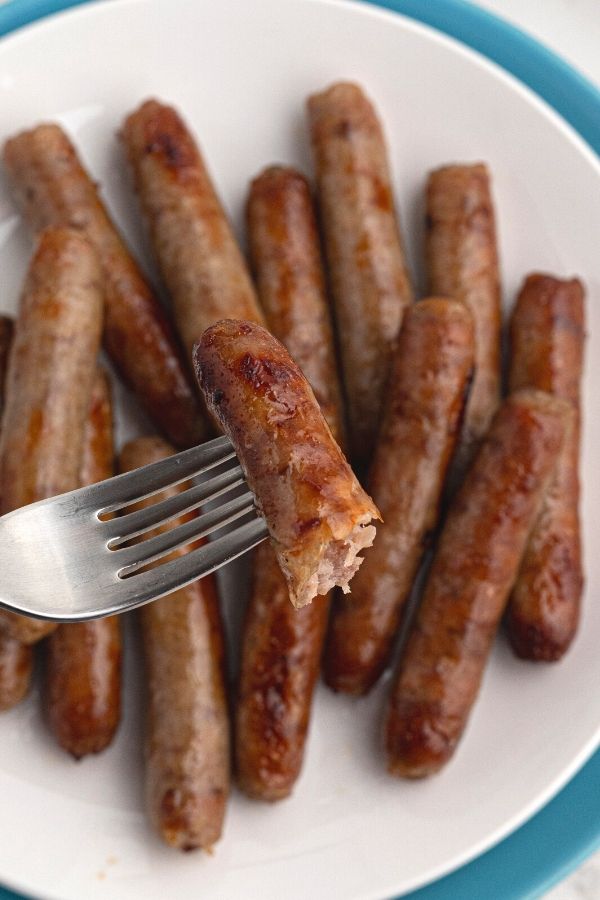 MORE AIR FRYER RECIPES:
📖 Recipe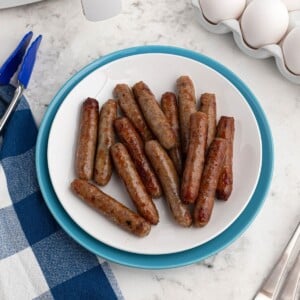 Air Fryer Sausage Links
Easy Air Fryer Sausage Links are crispy and ready to eat in minutes.
Instructions
Preheat the air fryer to 370 degrees Fahrenheit .

Remove sausage links from packaging and break apart.

Place the links in the air fryer basket, without stacking.

Cook at 370 degrees F for 12-15 minutes, depending on preferred crispness.
Notes
If you are cooking thawed sausage links in your air fryer, shorten the cooking time by about five minutes. 
Nutrition
Serving:
3.5
links
Calories:
180
kcal
Carbohydrates:
2
g
Protein:
10
g
Fat:
14
g
Saturated Fat:
4.5
g
Cholesterol:
35
mg
Sodium:
430
mg
Calcium:
2
mg
Iron:
2
mg
*Nutritional information is a calculated guesstimate. Please note that this can change with different brands and modifications you may make to the recipe. For the most accurate information, use a nutritional calculator with the exact brands and measurements you're using with each recipe.
©AirFryingFoodie 2023
Share this recipe!
Follow @AirFryingFoodie on Pinterest.