These air fryer hash browns are a favorite breakfast side dish. After being cooked in the air fryer, they are so golden brown and crispy. All you need are premade patties and an air fryer.
One of my favorite childhood memories is getting a hash brown patty to go with my pancakes from McDonald's. They were always a treat, especially when we were doing a family road trip.
Now that I have an air fryer, I can make them whenever I want, and without the unhealthy grease. These frozen hash browns are so crispy, you will want to eat them every morning. They also make a delicious quick snack.
If you are looking for more amazing recipes for quick breakfasts, you will love our air fryer sausage, breakfast potatoes, egg bites, and blueberry muffin bites.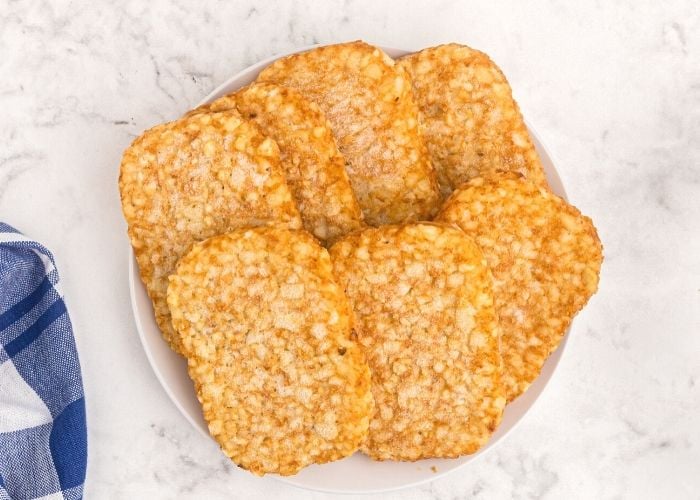 What you need to make Air Fryer Hash Browns
I like to keep my breakfast fast and easy so when I need a quick breakfast, I use frozen hash browns. That's why you will love this recipe. All you need is your air fryer and hash brown patties.
I use a Cosori Air Fryer to make these hash browns. It is 5.8 quart, and the basket is just the right size for 4-6 patties.
Besides an air fryer, all you need to make these are the frozen hash brown patties. I used a local store brand, Signature Select. There are other amazing brands like Ore-Ida, and they are delicious too!
How to make Hash Browns in the Air Fryer
These crispy patties are just another frozen food made even easier by air frying. To begin, place the frozen patties in air fryer basket, or on the air fryer tray. Do not let them overlap or stack. Cook at 400 degrees Fahrenheit for 10-12 minutes.
Click Here to Get the Top Ten Air Fryer Questions Answered
Once they are golden brown color, remove the patties from the fryer with spatula. You can serve them as flat patties, or crumble them for shredded hash browns.
Notes:
I cooked mine at exactly 10 minutes, and flipped them over at the 5 minute mark. My husband likes very crispy hash browns, so I add an additional 2-3 minutes.
There is no need to coat the hash brown patties with olive oil, because they are already cooked and will have some oil on them.
Keep in mind, because there are so many types of air fryer models, cooking times may vary. The first time you make hash browns, you may want to start you cook time with 8-10 minutes and then add 2-3 minutes.
Store leftover patties in an air-tight container for 4-7 days. To reheat hash browns, repeat the cooking process, but cut the cooking time to 5 minutes.
CLICK HERE to grab the BEGINNERS BOOK of recipes for the Air Fryer!!
FAQ's
What can I serve with hash browns for breakfast?
Hash browns complement every breakfast menu. For a complete breakfast, you can add eggs, breakfast sausage, and toast. Of course, it's also fun to have breakfast for dinner.
Can I stack the hash browns to cook them all at once?
When making a batch of hash browns, it's not a good idea to stack them in the air fryer basket. The air fryer needs to be able to circulate the air, which is how the food gets cooked. If the air can't be circulated, your hash browns may not cook evenly and won't be crispy.
MORE AIR FRYER RECIPES: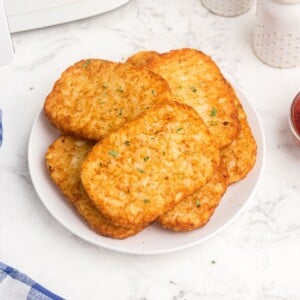 Air Fryer Hash Browns
Air fryer hash brown patties are an easy breakfast side dish. Golden and crispy, and all you need are an air fryer and frozen patties.
Ingredients
4

Hash Brown Patties

Frozen
Instructions
To begin, place the frozen patties in air fryer basket, or on the air fryer tray. Do not let them overlap or stack.

Cook at 400 degrees F for 10-12 minutes. 

Flip the patties halfway through cooking. For crispier patties, add an additional 2-4 minutes cooking time.
Nutrition
Calories:
1
kcal
Carbohydrates:
1
g
Protein:
1
g
Fat:
1
g
Saturated Fat:
1
g
Polyunsaturated Fat:
1
g
Sodium:
1
mg
Potassium:
3
mg
Fiber:
1
g
Vitamin C:
1
mg
Calcium:
1
mg
Iron:
1
mg
*Nutritional information is a calculated guesstimate. Please note that this can change with different brands and modifications you may make to the recipe. For the most accurate information, use a nutritional calculator with the exact brands and measurements you're using with each recipe.
©AirFryingFoodie 2023
Share this recipe!
Follow @AirFryingFoodie on Pinterest.