Air Fryer Chicken Meatballs are delicious, and I mean a DELICIOUS meal. Made with ground chicken breast, parmesan cheese, mozzarella cheese, marinara sauce, and more. It's a fun twist on chicken parmesan and one that's made quick and easy in the Air Fryer.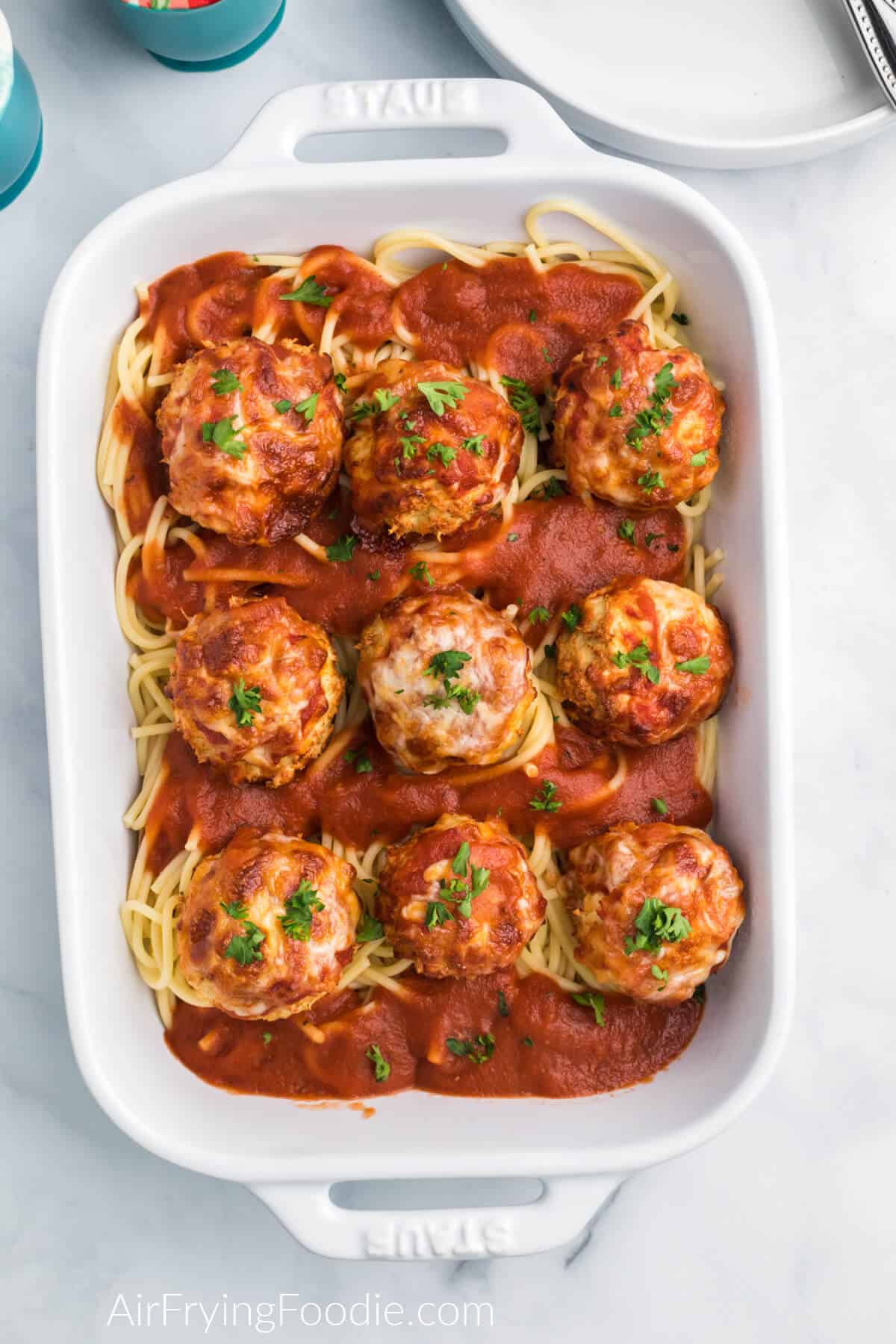 Why I Love This Chicken Meatballs Recipe
Sometimes we need to just go to one of the classic meals that you never get tired of, comfort foods that remind you of growing up and home. Some of my favorite comfort food meals are chicken parmesan, meatloaf, and pretty much any type of chicken casserole.
This is one of those meals that reminds me of those classic dishes but is also quick and easy to make. Another favorite are these air fryer meatballs using lean ground beef.
If you are looking for more easy dinner ideas, try these air fryer fish tacos, air fryer breaded shrimp, air fryer tortilla pizza, or this air fryer taco ring.
Jump to:
These days I try to find healthier alternatives to my favorite meals, and these chicken meatballs is one of my favorites.
Ground chicken breast is a great choice if you are looking for something leaner than ground beef It's also packed full of protein and lighter in fat and calories.
What's the Difference
I was concerned that the ground chicken would taste too different than the ground beef, but it's actually quite awesome. It is light and also produces less fat. Even my kids didn't mind the difference, and that's the true test.
Taste is definitely not sacrificed with these juicy chicken meatballs.
Want to make these as plain chicken meatballs? Skip the last steps in this recipe and omit the marinara sauce and cheese. You will still make perfectly juicy chicken meatballs.
If you choose marinara and cheese, this recipe uses two different types of cheeses: mozzarella and parmesan.
The best part? This dish is made with simple ingredients you probably already have on hand.
Head down to the bottom of this post for the full printable recipe card with some of our favorite tips and tricks to make this dish the best.
Ingredients
Ground Chicken Breast. I use lean ground chicken breast for this recipe.
Bread crumbs. Choose your favorite, but I will use both regular breadcrumbs and panko breadcrumbs for a crispier texture.
Egg. Helps keep things together.
Italian seasoning. Adds the perfect amount of flavor.
Ground black pepper. The main staple for seasonings.
Parmesan cheese. To add additional flavor that's light and not overpowering.
Marinara sauce. Enhances the flavors of the meatballs.
Mozzarella cheese. That extra cheesy flavor that pairs well with marinara sauce and parmesan cheese.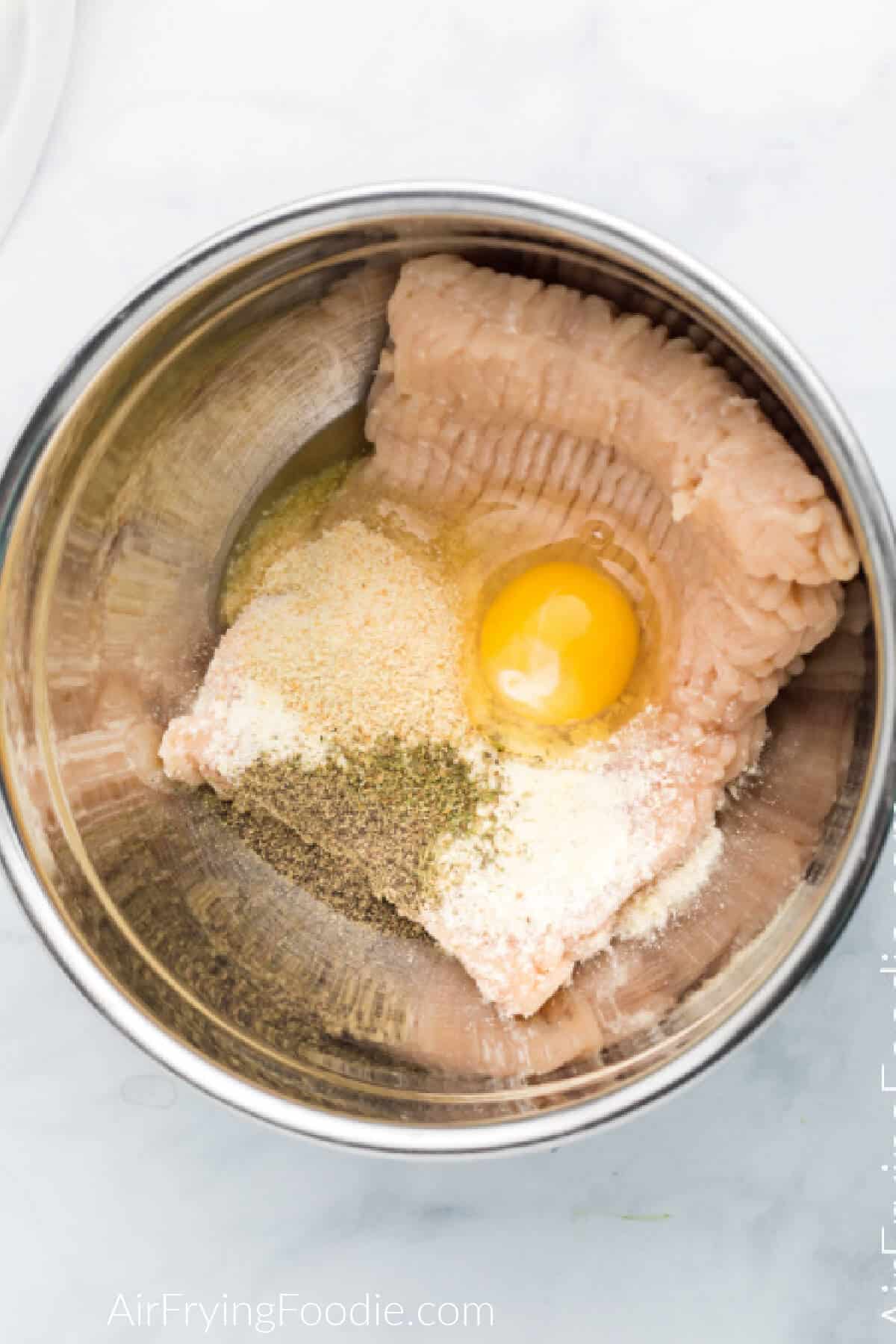 In addition to being a healthier choice of meat, cooking these homemade meatballs in the Air Fryer will save a lot of time. In about 15 minutes you have a delicious air fryer chicken meatballs recipe that your family will love.
How to make Chicken Meatballs in the Air Fryer
Step 1
Combine the mozzarella and parmesan cheese and set aside.
Step 2
Mix the chicken, bread crumbs, egg, and seasonings together in a large bowl to make the meatball mixture.
Step 3
Roll the meat mixture into nine 2" balls. Place them on a baking sheet until all of the meatballs are finished.
Step 4
Add the meatballs in a single layer in the air fryer basket.
Step 5
Air fry at 350 degrees Fahrenheit for 10-12 minutes, flipping them halfway through.
Step 6
Top each meatball with a teaspoon of marinara sauce.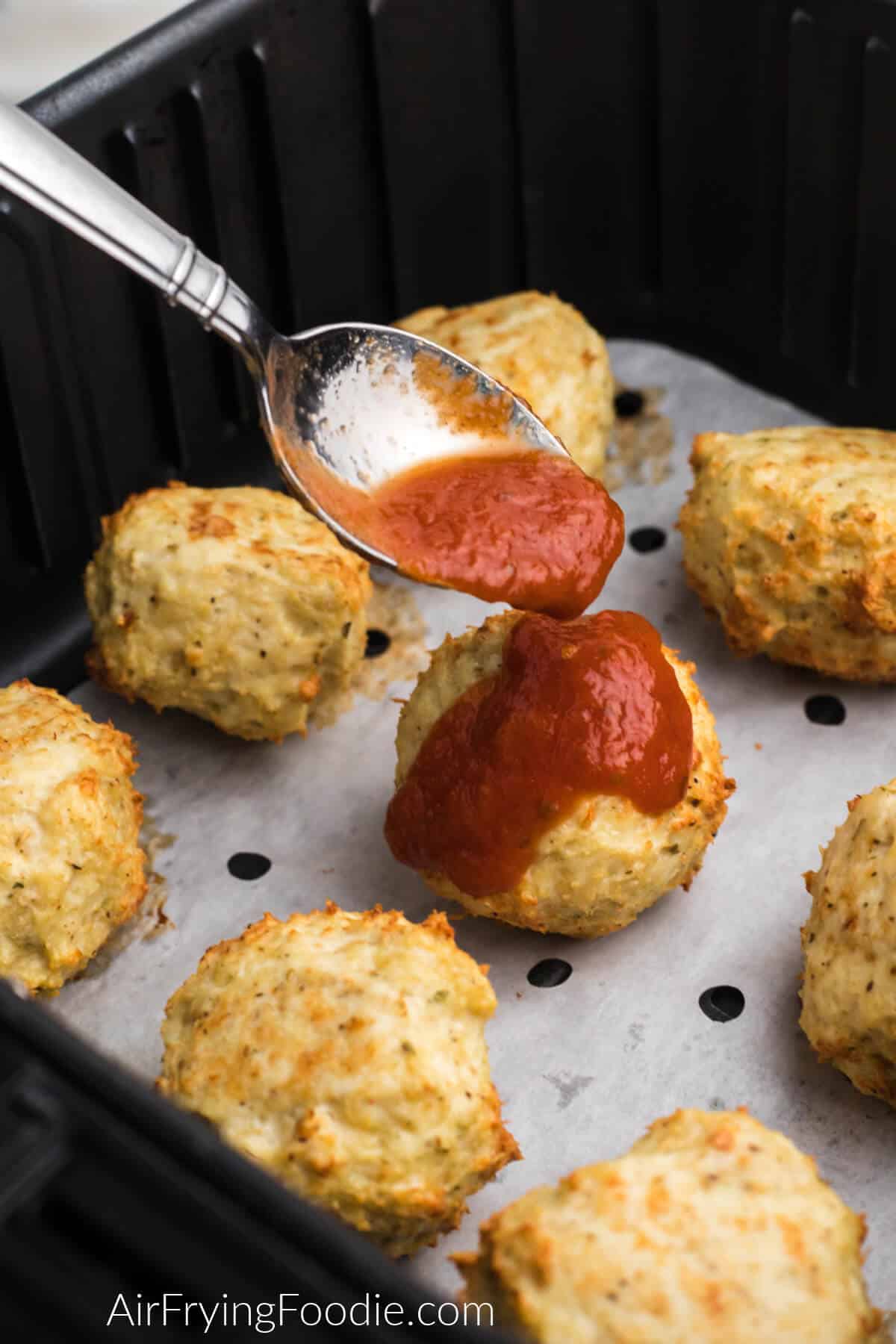 Step 7
Then top each with the parmesan and mozzarella cheese mixture.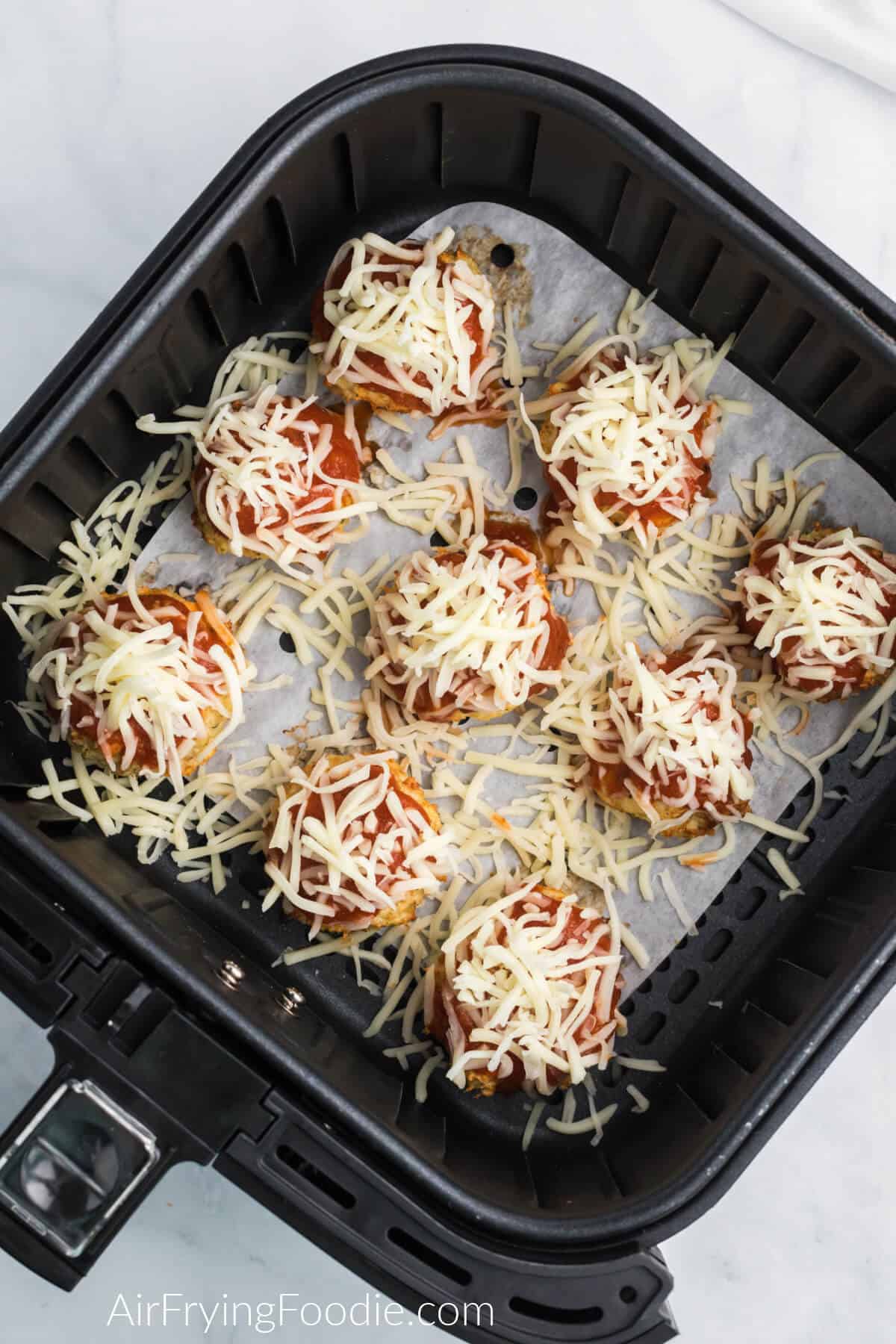 Step 8
Cook for an additional 2 minutes until the cheese is melted and starting to turn a golden brown.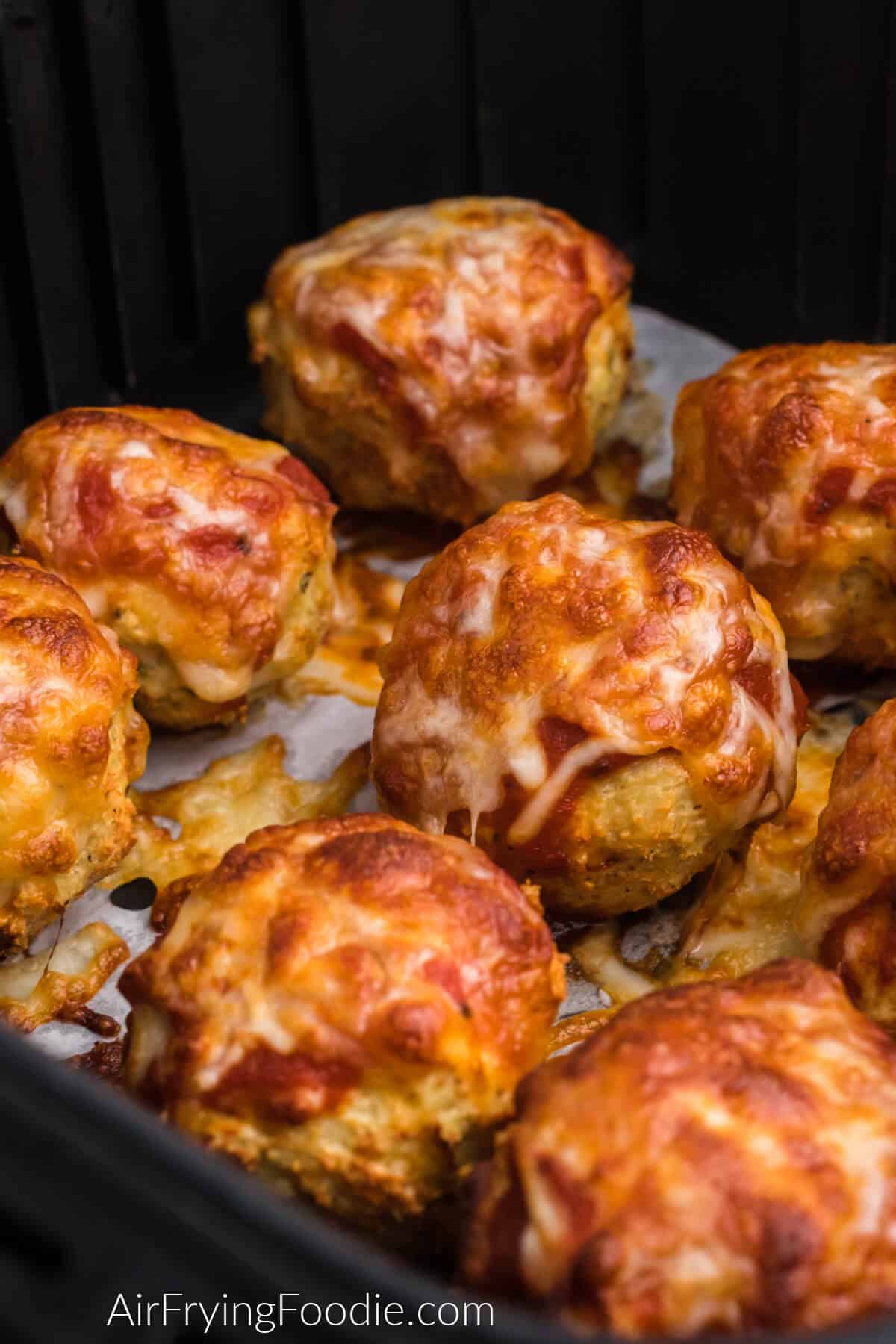 Serve over spaghetti noodles, zucchini noodles, or as a meatball sub with additional marinara sauce.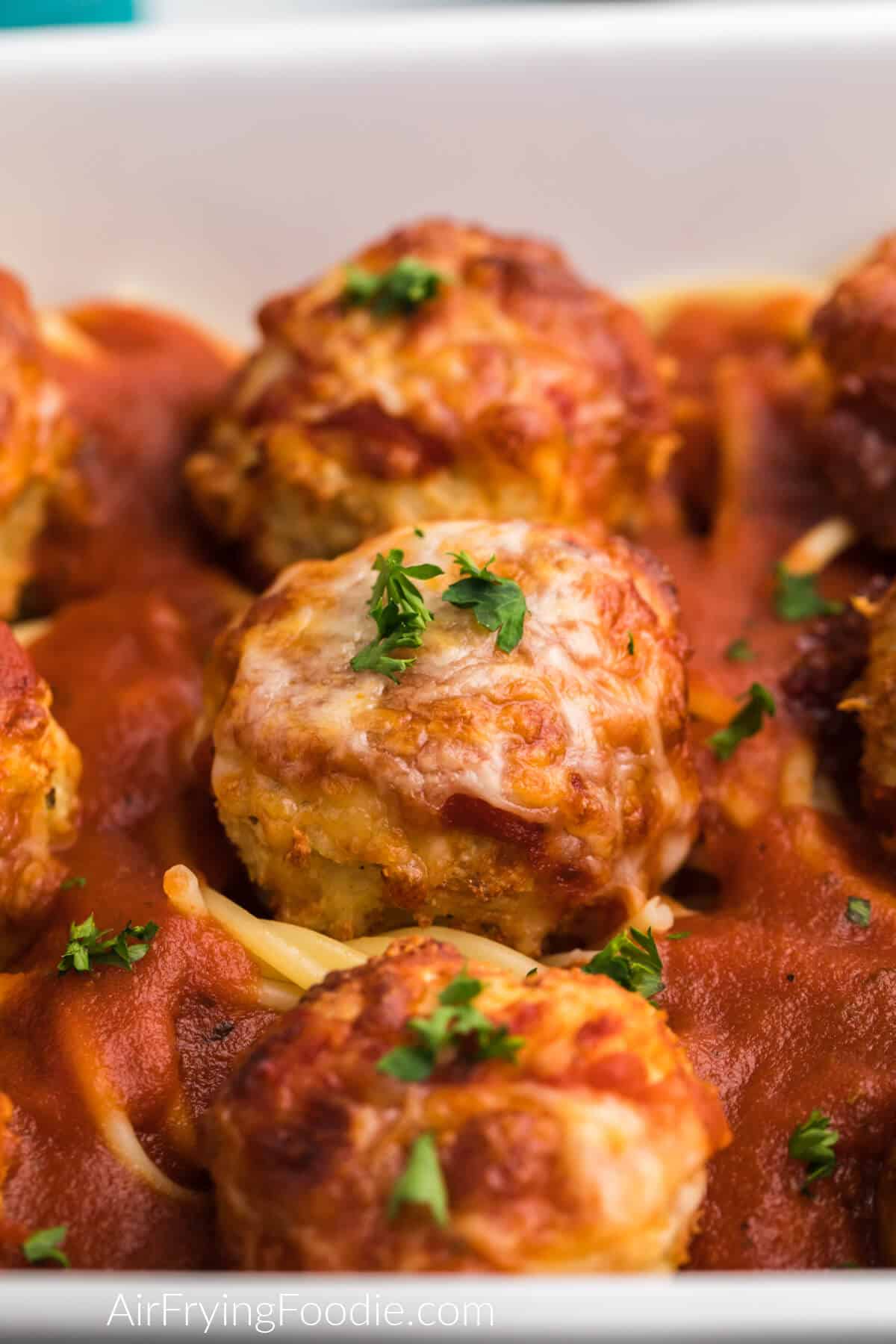 Tips
This easy chicken meatballs recipe was made using my Cosori air fryer. If you are using a different brand of air fryer, you may need to adjust the cooking time and temperature for this recipe. 
Make sure the internal temperature reaches 165 degrees F (74 degrees C) with a digital meat thermometer.
When making meatballs, use a cookie scoop. It's a great way to ensure you're getting everything even so it cooks perfectly.
Don't "pack" the meatballs, you want to make sure they have enough room for air circulation which helps the dish cook evenly.
Double this recipe for these juicy meatballs and save the leftovers for meal prep.
Use olive oil, cooking spray, silicone liners, or parchment paper to help with easy cleanup.
Variations
Meats. Don't have chicken on hand? Use ground turkey, ground pork, or lean ground beef to make these meatballs.
Seasonings. Change the flavors by adding different seasonings such as onion powder, garlic powder, or red pepper flakes.
Storing and Reheating
Storing. Store leftover meatballs in an airtight container in the refrigerator for up to 3-4 days. 
Freezing. If freezing, make the chicken meatballs without adding marinara or cheese. Freeze in a freezer bag or freezer-safe container for up to 1 month.
Reheating. Reheat leftover chicken meatballs in the air fryer at 350 degrees F for 3 minutes, or until heated through.
Chicken Parmesan Meatballs are done once the internal temperature reaches 165 degrees F or 74 degrees C. It is important to make sure that all meats are cooked to the correct temperature to ensure food safety.
My meat thermometer is one of the most important kitchen tools that I have.
FAQ's
What temperature do I cook chicken parmesan meatballs in the Air Fryer?
Cook the meatballs on 350 degrees Fahrenheit for 10-12 minutes, adding the marinara and cheese during the last 2 minutes.
How do I serve chicken parmesan meatballs?
I like to serve these meatballs in a dish over spaghetti noodles and sauce. You can also eat them in hoagie rolls like meatball subs, by themselves with toothpicks as appetizers, or even on mini slider buns.
Can I make plain air fryer chicken meatballs?
Yes! These chicken meatballs are customizable. Skip the marinara and cheese if you are looking for a basic chicken meatball recipe.
These delicious air fryer chicken meatballs are an easy weeknight meal that the whole family will enjoy. You can make these as a main dish or as finger foods for an appetizer. Either way, this homemade chicken meatballs recipe is sure to be a new favorite dish.
MORE AIR FRYER CHICKEN RECIPES
Are you new to air fryers? If you are, we have a great article about What is an Air Fryer. It talks about what you can make, how to use it, and more.
Looking for the BEST accessories to use with your air fryer? We've put together this list of our favorite Air Fryer Accessories.
We Would Love to Hear From YOU!
Let Us Know What You Think!
Be sure to leave a review of this recipe and give it a star rating. It lets us know how we are doing and lets others know they should try it!
Looking for a hardcover book of recipes? Check out the retailers where you can order our Air Frying Cookbook, Air Fryer All Day!
Tag Us In Your Photos! Are you on Facebook? If so, join our Easy Air Fryer Recipes Group (with over a million Air Fryer Foodie Fans!) and share your photos! We love to see your creations.
Like to watch TikTok? Follow along with our recipes on TikTok @airfryingfoodie.
Are you on Instagram? Follow along and TAG US @airfryingfoodie.
Have a Question or General Feedback?
Jump down to the COMMENT section and let us know! We would love to help and also love feedback on all of our posts.
📖 Recipe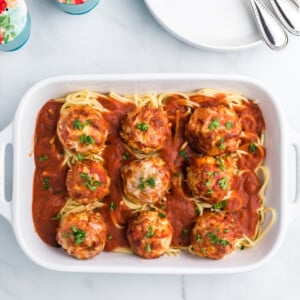 Air Fryer Chicken Parmesan Meatballs
Chicken Parmesan Meatballs are AMAZING in the Air Fryer. Made with ground chicken breast, marinara sauce, mozzarella cheese, parmesan cheese, and more. You'll love how easy this is to make, and how many different ways you can serve it!
Ingredients
1

lb

ground chicken breast

1

cup

breadcrumbs

1

egg

1

tablespoon

Italian seasoning

1

teaspoon

ground black pepper

½

cup

parmesan cheese

¾

cup

marinara sauce

½

cup

shredded mozzarella cheese
Instructions
Mix the chicken, breadcrumbs, paremsan cheese, egg, and seasoning in a small mixing bowl.

Prepare the air fryer basket with a piece of parchment paper or nonstick cooking spray.

Roll the chicken mixture into nine 2" meatballs.

Place the meatballs onto the prepared Air Fryer basket in a single layer, leaving room in between the meatballs. (Do not preheat the air fryer for this recipe.)

Cook on 350 degrees Fahrenheit for 12 minutes, flipping the meatballs halfway through. Add marinara sauce on top of each chicken meatball and then top with mozzarella cheese. Cook on 350 for an additional 2 minutes.

Serve over noodles, in a hoagie bun, on sliders, or as an appetizer.
Notes
Store leftover meatballs in an airtight container for up to 3 days. 
Reheat the meatballs in the Air Fryer at 350 degrees for 2-3 minutes until warmed to your liking. 
Serve chicken parmesan meatballs on a bed of spaghetti, a hoagie roll, on sliders, or alone as an appetizer. 
Nutrition
Calories:
391
kcal
Carbohydrates:
24
g
Protein:
33
g
Fat:
18
g
Saturated Fat:
7
g
Trans Fat:
1
g
Cholesterol:
158
mg
Sodium:
810
mg
Potassium:
857
mg
Fiber:
3
g
Sugar:
4
g
Vitamin A:
475
IU
Vitamin C:
3
mg
Calcium:
309
mg
Iron:
4
mg
*Nutritional information is a calculated guesstimate. Please note that this can change with different brands and modifications you may make to the recipe. For the most accurate information, use a nutritional calculator with the exact brands and measurements you're using with each recipe.
©AirFryingFoodie 2023
Share this recipe!
Follow @AirFryingFoodie on Pinterest.