This Air Fryer Chicken Parmesan is such an easy meal but your family will think that it took hours to cook. This dish is completely cooked in just 10 minutes.
That means less time in the kitchen and more family time.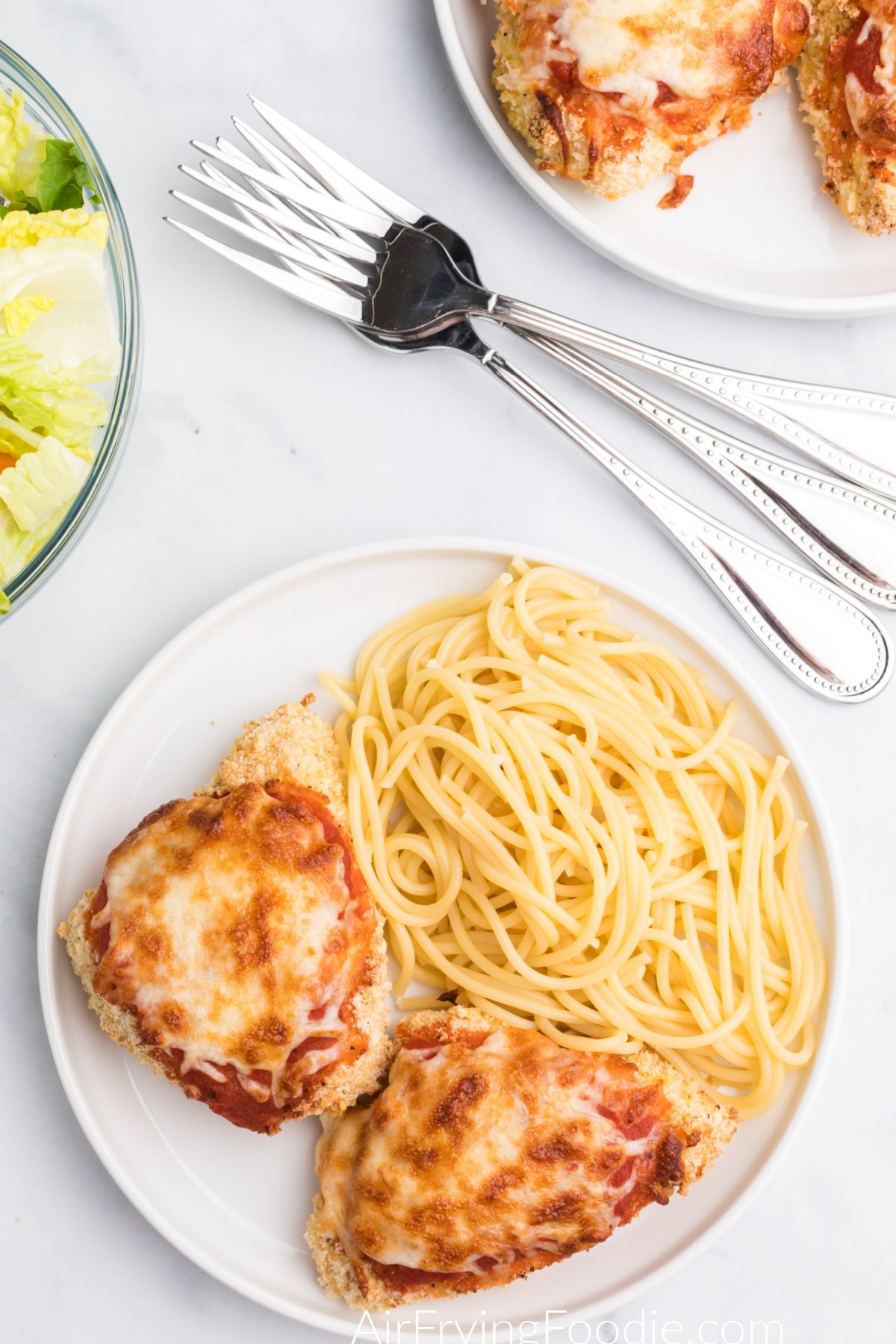 Why I Love This Recipe
I love a traditional chicken parmesan, and this air fryer chicken parmesan is one of my new favorite ways to make this recipe a healthier way.
If you love juicy chicken breasts and delicious fried chicken, this is an easy recipe you and your whole family will enjoy.
If you're a part of our Facebook group, you know we have an obsession with Air Fryers. In fact, I have three of them. I use the air fryer for just about everything I make these days. It's simple, easy, and everything always turns out great.
I love Chicken Parmesan, it is one of my top favorite meals but I don't like the time that it takes to cook it. By the time I get everything put together, I'm too tired to enjoy it.
I do order it at my favorite restaurants, but that gets expensive. That's why I love this great recipe that is quick and easy. I also love how healthy it is! The chicken parmesan tastes like it's fried but it's done completely without oil.
If you like this easy air fryer chicken parmesan, you might also enjoy our air fryer eggplant parmesan.
Looking for more recipes? Check out this list of over 100 Air Fryer Recipes for Beginners.
Jump to:
Ingredients
Chicken Breasts. Boneless skinless chicken breasts.
Plain Breadcrumbs. Part of the crispy coating for the chicken breasts.
Italian Seasoning. Adds the perfect flavor to this recipe.
Panko Breadcrumbs. Helps give this chicken parmesan an extra crispy texture.
Marinara Sauce. This seasoned sauce is the perfect topping to the breaded chicken.
Mozzarella Cheese. Mix with parmesan cheese for a delicious, gooey cheese combination.
Parmesan Cheese. Added in with the mozzarella cheese.
Large eggs. Part of the dredging process to make the coating stick to the chicken.
The mixture of panko and plain breadcrumbs will make a lighter and crunchier chicken and you can add your favorite Italian seasoning.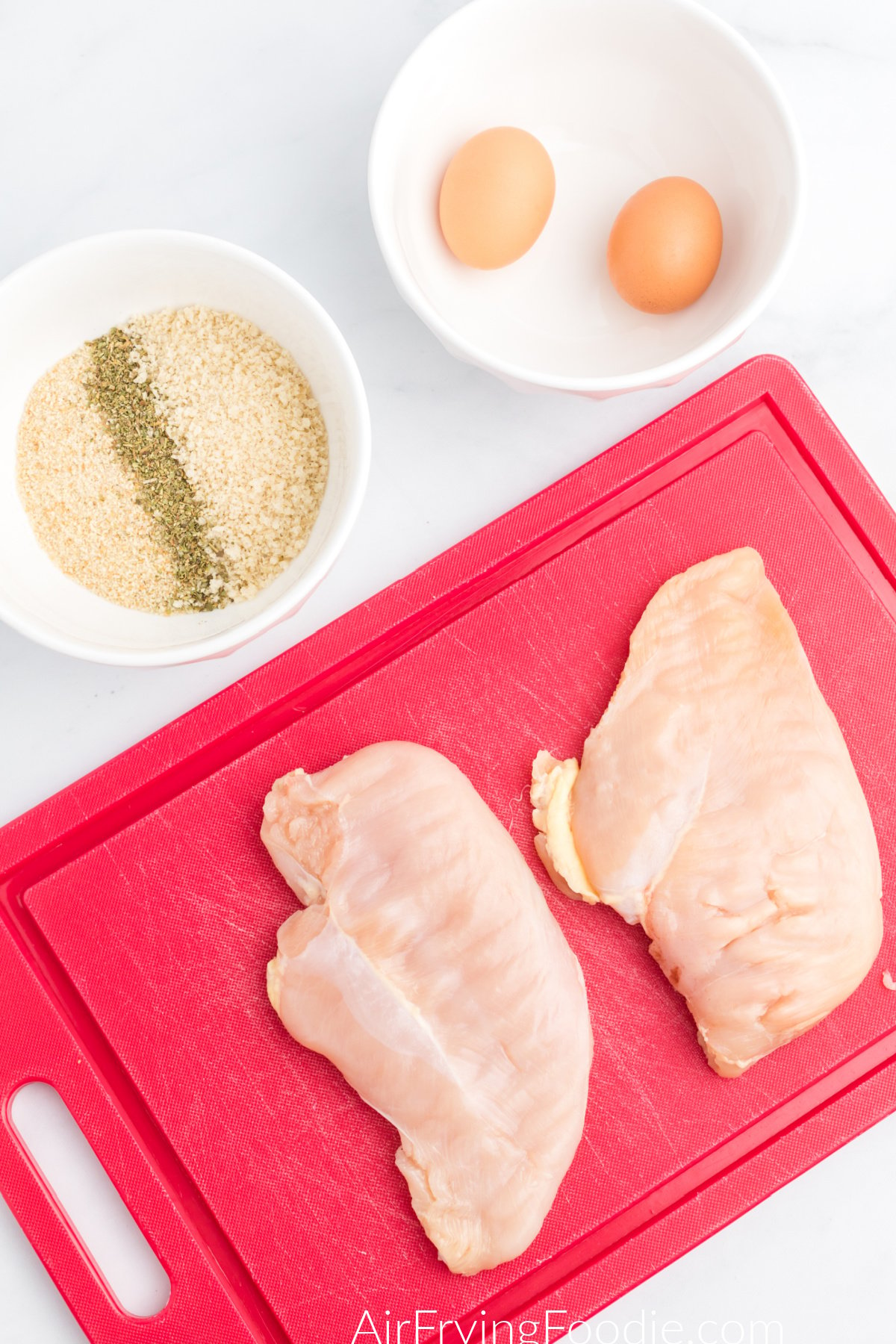 How to make Chicken Parmesan in the Air Fryer
Step 1
Preheat your Air Fryer to 350 degrees Fahrenheit.
Step 2
Slice the chicken breasts in half. Place them into a sealable bag and pound them down to about ½" thickness. Make sure they are all an even thickness.
Step 3
Mix the plain breadcrumbs, panko bread crumbs, and Italian seasoning together in a bowl.
Step 4
In another shallow bowl whisk eggs until mixed well.
Step 5
Dip the chicken cutlets into the eggs then cover well with the breadcrumb mixture.
Step 6
Spray the coated chicken pieces with cooking spray.
Step 7
Place the chicken in a single layer in the air fryer basket.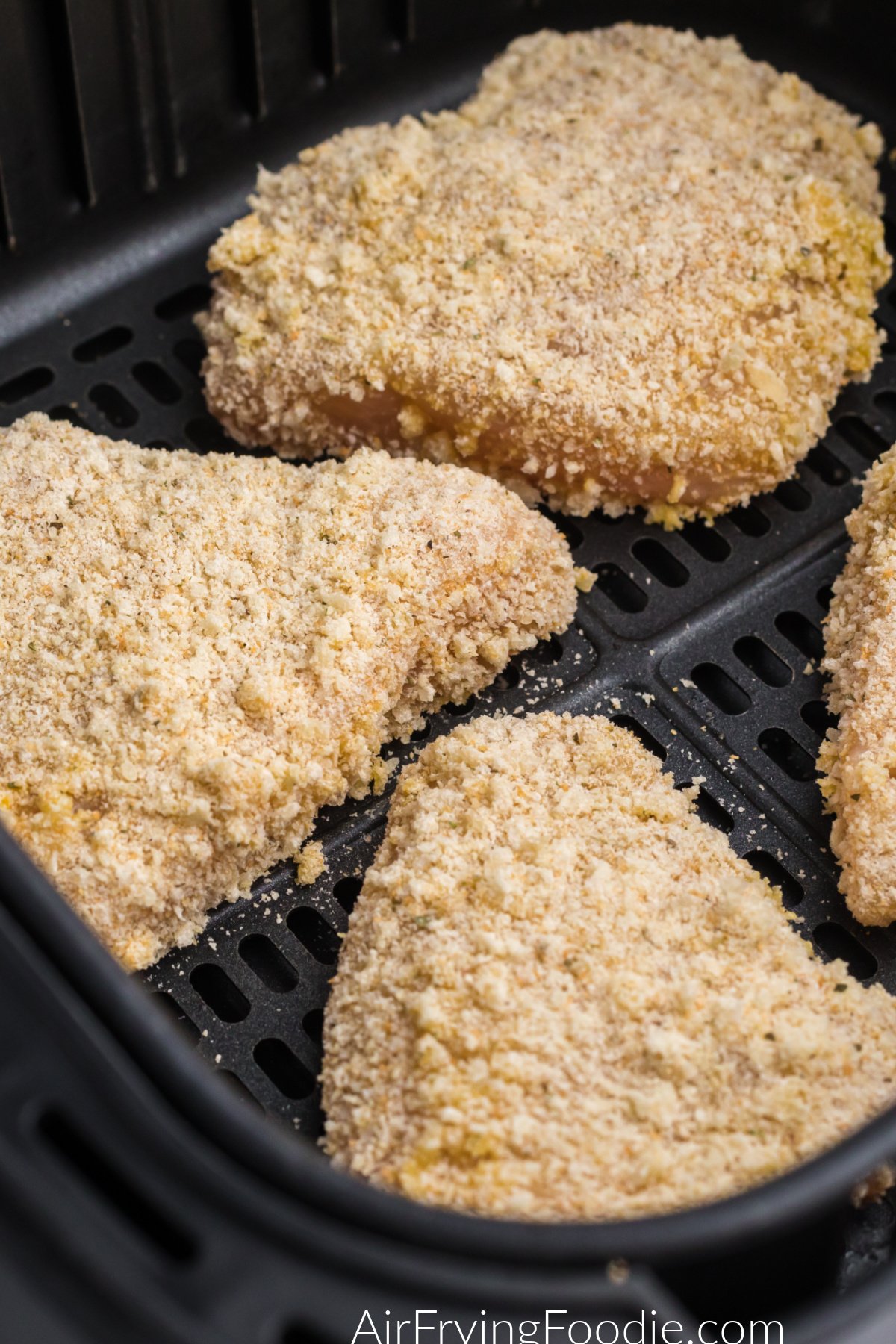 Step 8
Air fry the chicken on 350 degrees Fahrenheit and cook for 6-8 minutes.
Step 9
Top the chicken with the marinara sauce and cheese, then air fry for an additional 5 minutes of cooking time. Remove when the cheese is melted and turning golden brown and a meat thermometer shows the internal temperature of the chicken has reached 165 degrees F.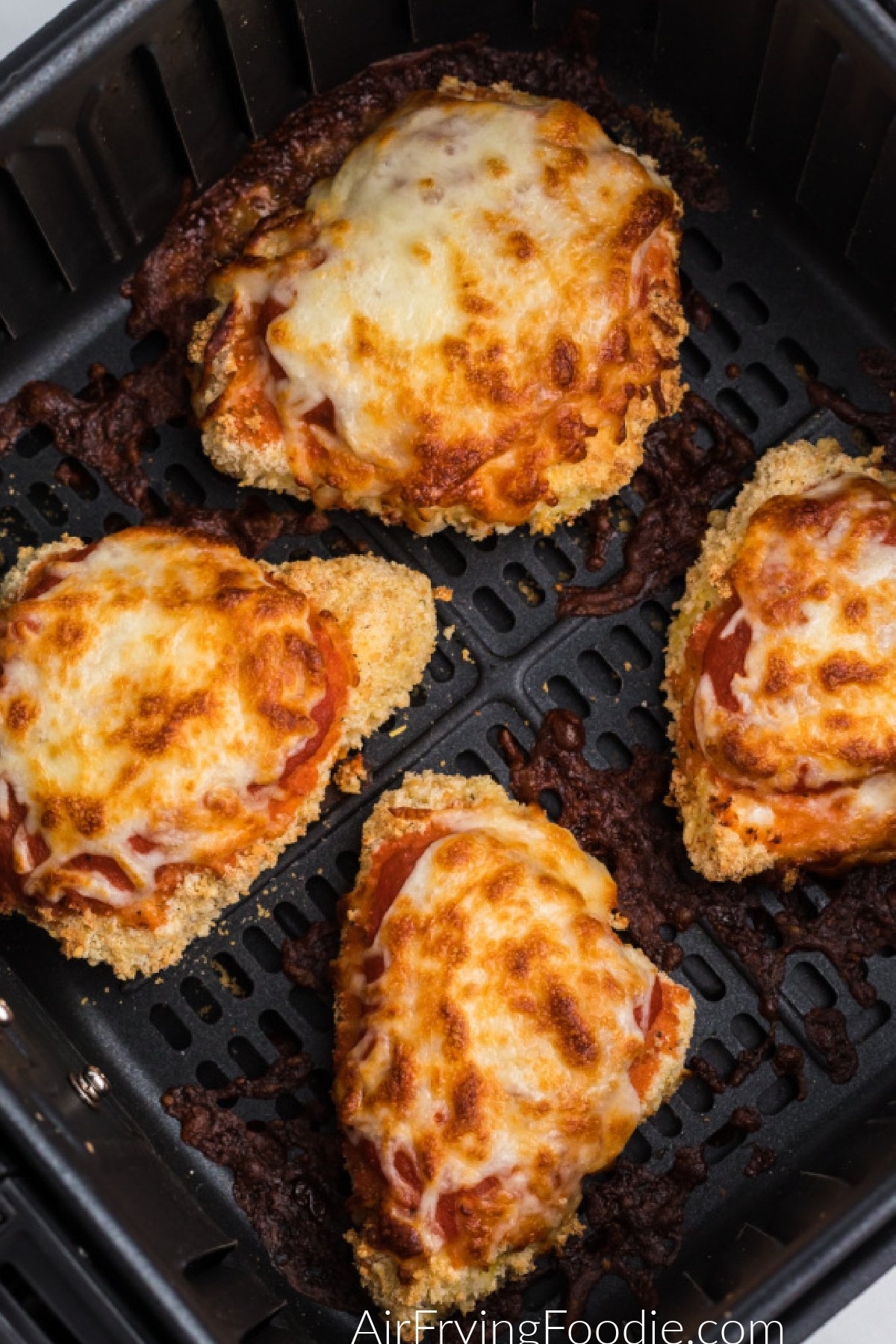 Step 10
Top with fresh basil and serve with your favorite pasta or veggies and enjoy!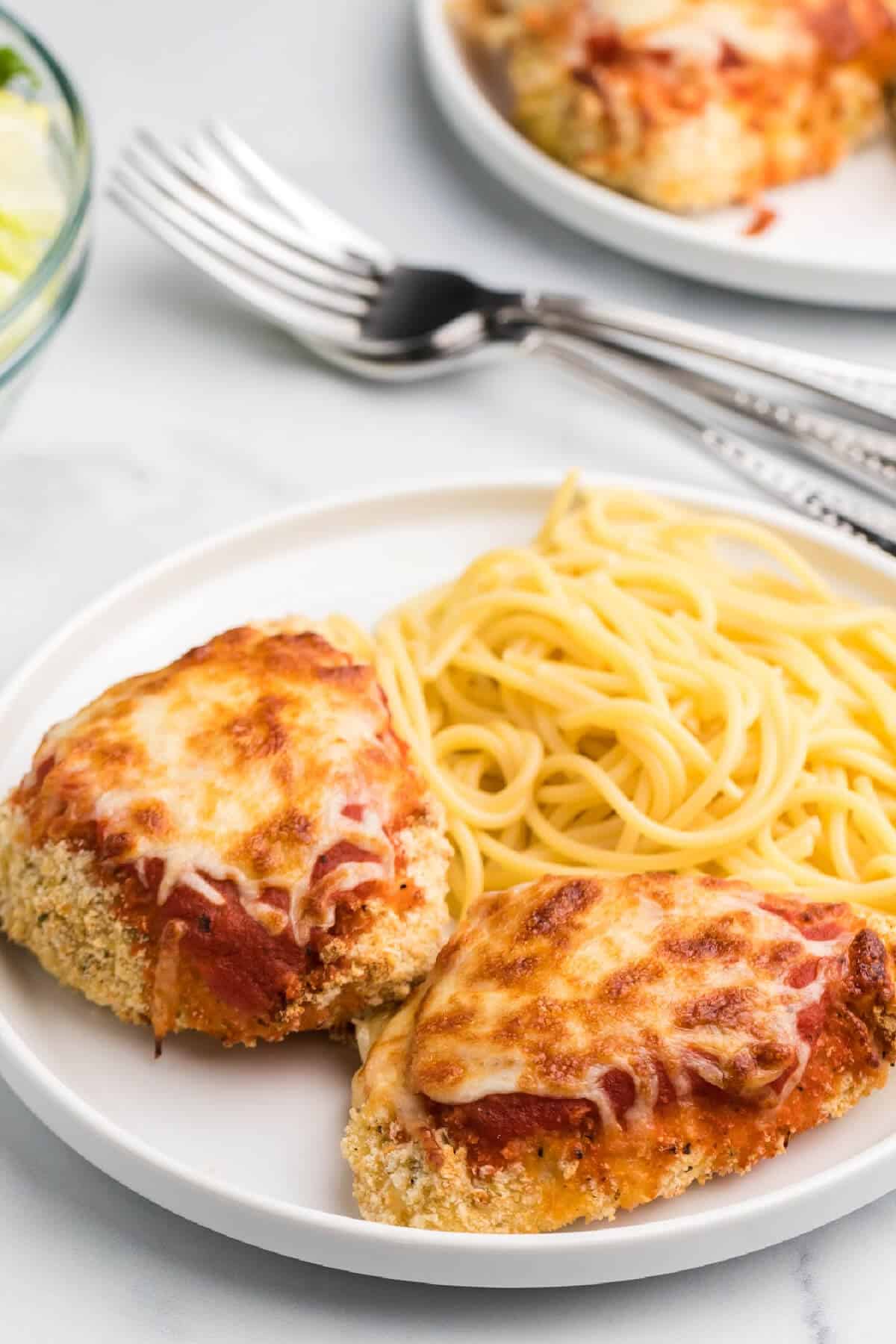 Expert Tips
All Air Fryers are different and can cook differently due to different wattages and output. You may need to add more or less cook time to this recipe depending on what brand air fryer you are using.
Make sure each piece of chicken is pounded down to an even thickness so they cook evenly.
Set up a dredging station like an assembly line for the egg wash and breadcrumbs.
Make sure to spray the coated chicken with olive oil or avocado oil before air frying to help give it that golden, crispy coating.
Variations
chicken. if you don't have chicken breasts on hand and want to make this dish, you can also use different pieces of chicken such as chicken tenders, thin cutlets, or even boneless chicken thighs.
lighter version. Looking for a lighter version that doesn't include the cheese or tomato sauce? Try making this air fryer parmesan crusted chicken. It's another great version we love to make.
Side Dishes
I love my side dishes as much as I like my chicken parmesan. Here are a few of my favorite sides that go well with this dish:
spaghetti noodles
alfredo noodles
zucchini noodles
grilled vegetables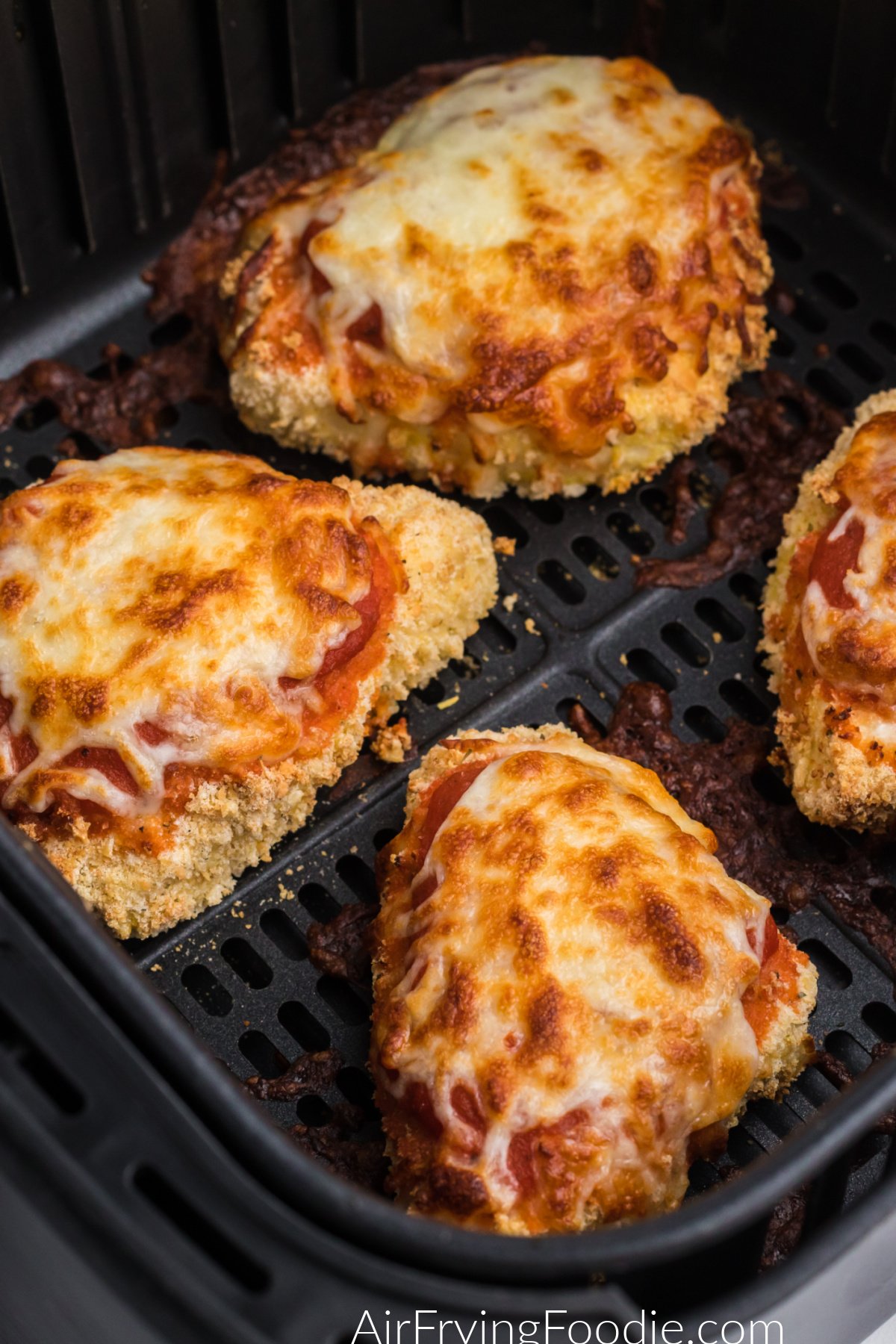 Storage and Reheating
Storage. Store leftover chicken parm in an airtight container in the refrigerator for up to 3-4 days. 
Reheating. To reheat, place the chicken back into the air fryer, and heat at 350 degrees Fahrenheit for 2-3 minutes, or until heated through.
FAQs
What time and temperature do I cook chicken parmesan in the Air Fryer?
Chicken parmesan should be cooked at 350 degrees Fahrenheit in the Air Fryer over 10 - 12 minutes.
What breading do I use for chicken parmesan?
Use a mixture of Panko and plain bread crumbs with Italian seasoning for breading.
Does Chicken Parmesan taste as good in the Air Fryer as it does fried?
YES! Chicken parmesan is just as delicious, but WAY easier when made in the air fryer. You will be done with this dish from the air fryer in just 10 minutes.
What ingredients are needed to make chicken parmesan?
Chicken parmesan is made with boneless, skinless chicken breasts that are cut in halves, then pounded down to about ½" thickness. Then coated with egg, a panko mixture of bread crumbs, seasoning, and marinara sauce. 
What seasonings can I use for chicken parmesan?
I love to use Italian seasoning, but you can also make your own seasoning mixtures with garlic powder, black pepper, salt, and more. You can also add seasoning to all purpose flour and add an additional coat to make the chicken even crispier.
Do I need flour for this recipe?
You can use flour if you prefer, but for an extra crispy coating I recommend using breadcrumbs and panko breadcrumbs for this recipe. If you decide to use flour, add the Italian seasoning to the flour, and then also add ½ teaspoon of ground black pepper for additional seasoning. 
This is such an easy dinner and a healthier chicken parmesan recipe without the deep frying or a lot of oil.
I hope you enjoyed this easyair fryer chicken parmesan recipe! If you are looking for more easy and fun Air Fryer recipes, make sure you head over to our Facebook group where thousands of people share their favorite Air Fryer tips, tricks, and recipes.
MORE AIR FRYER CHICKEN RECIPES
Are you new to air fryers? If you are, we have a great article about What is an Air Fryer. It talks about what you can make, how to use it, and more.
Looking for the BEST accessories to use with your air fryer? We've put together this list of our favorite Air Fryer Accessories.
We Would Love to Hear From YOU!
Let Us Know What You Think!
Be sure to leave a review of this recipe and give it a star rating. It lets us know how we are doing and lets others know they should try it!
Looking for a hardcover book of recipes? Check out the retailers where you can order our Air Frying Cookbook, Air Fryer All Day!
Tag Us In Your Photos! Are you on Facebook? If so, join our Easy Air Fryer Recipes Group (with over a million Air Fryer Foodie Fans!) and share your photos! We love to see your creations.
Like to watch TikTok? Follow along with our recipes on TikTok @airfryingfoodie.
Are you on Instagram? Follow along and TAG US @airfryingfoodie.
Have a Question or General Feedback?
Jump down to the COMMENT section and let us know! We would love to help and also love feedback on all of our posts.
📖 Recipe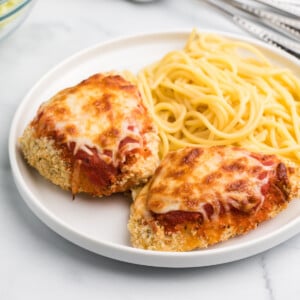 Air Fryer Chicken Parmesan
Air Fryer Chicken Parmesan is a delicious and easy dish that's made in just 10 minutes. You'll love how easy and healthy this dish is, and you'll never guess it wasn't fried!
Ingredients
2

chicken breasts

cut in halves

½

cup

bread crumbs

½

cup

panko

½ cup

parmesan cheese

2

tablespoon

Italian seasoning

2

eggs

4

tablespoon

marinara sauce

4

tablespoon

mozzarella cheese
Instructions
Preheat the Air Fryer to 350 degrees Fahrenheit.

Take both chicken breasts and cut them in half. Use a meat masher and pound down the chicken breasts until they are about ½"-1" thick.

Mix the panko, breadcrumbs, and Italian seasoning in a small bowl. Whisk the eggs together in a separate bowl.

Dip each piece of chicken into the egg mixture and then dredge the chicken in the breadcrumb mixture. Place them on the prepared air fryer basket in a single line.

In a small bowl, mix together the mozzarella and parmesan cheese.

Cook the chicken at 350 degrees Fahrenheit for 7 minutes. Top each piece of chicken with 1 Tablespoon of marinara sauce and 1 Tablespoon of mozzarella and parmesan cheese mixture. Place the basket back into the air fryer and cook for an additional 5 minutes.

Serve with your favorite sides.
Notes
This recipe was made with a Cosori air fryer. All Air Fryers cook differently. Your brand of Air Fryer be different than mine and could take more time or less time for this recipe, depending on the wattage. You may need to add additional cooking time if your air fryer cooks at a lower power wattage. 
Store any leftover chicken parmesan in an airtight container in the refrigerator for up to 3 days. Reheat in the air fryer on 350 for 2 minutes, or until the chicken is heated through. 
Serve chicken parmesan with sides such as spaghetti noodles, Alfredo noodles, zucchini noodles, or roasted vegetables. 
Serve leftovers with your favorite sides, or also on a bun as a chicken parmesan sandwich. 
Nutrition
Calories:
298
kcal
Carbohydrates:
18
g
Protein:
33
g
Fat:
10
g
Saturated Fat:
4
g
Trans Fat:
1
g
Cholesterol:
166
mg
Sodium:
490
mg
Potassium:
582
mg
Fiber:
2
g
Sugar:
2
g
Vitamin A:
361
IU
Vitamin C:
2
mg
Calcium:
174
mg
Iron:
3
mg
*Nutritional information is a calculated guesstimate. Please note that this can change with different brands and modifications you may make to the recipe. For the most accurate information, use a nutritional calculator with the exact brands and measurements you're using with each recipe.
©AirFryingFoodie 2023
Share this recipe!
Follow @AirFryingFoodie on Pinterest.