Air fryer twisted bacon comes out with a perfect crisp, but also has just the right amount of softness in the curls. This new trend is definitely a fun way to make bacon, and now we can share how it's done in the air fryer.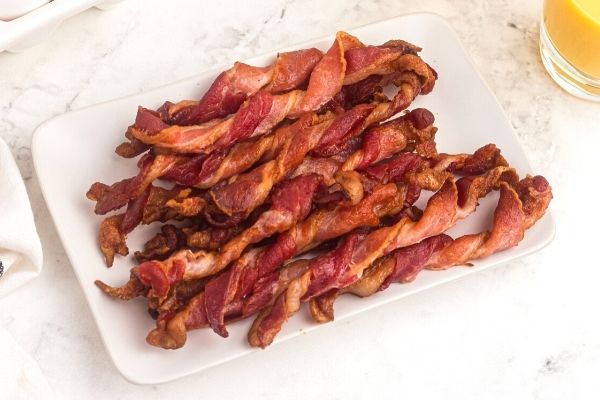 Twisted Bacon is all over the internet. The first video looks to be from Abby Durlewanger, the creator behind the @houseofketo TikTok account, so we have to thank her for starting this fun trend.
Although she bakes the bacon in a traditional oven, we have to take it one step further and cook it in the air fryer because, well, we love our air fryer!
Not only that, but this makes the perfect side to serve with our air fryer pancakes.
I love making bacon in my Cosori 5.8 Quart and my Dash 2 Quart air fryers. The bacon comes out so perfect and crispy. Because of this, making the twisted bacon in anything other than my air fryer, wasn't even an option.
What you need to make Twisted Bacon in the Air Fryer
Besides your air fryer, you really only need bacon. I like using air fryer parchment paper with holes, only because it makes for an easier clean up. But you absolutely don't need it.
If you have a tray air fryer, you will need a small baking sheet with rimmed edges. The last thing you want to happen is for the grease to drip over the pan edges.
How to make Twisted Bacon
All you need to make this recipe is a good pound of bacon. I use Oscar Meyer, because they still package bacon in 16 ounces, for a true pound.
Among the brands of bacon, there are a variety of flavored bacon, like hickory smoked, honey smoked, peppered, and more. So you can choose your favorite flavor to make these delicious bacon snack sticks.
To prepare the bacon, all you have to do is hold an end in each hand and twist going in the opposite directions. Then, place each twisted piece side by side in the air fryer basket, or on the air fryer tray.
Click Here to Get the Top Ten Air Fryer Questions Answered
Normally, when you make bacon in the air fryer, you lay the pieces out without touching or stacking. But with these strips, you can lay them close together.
Once you have them in the basket, cook at 350 degrees Fahrenheit for 13-15 minutes, until the bacon reaches your desired crispness.
FAQ's
Why does my air fryer smoke when I make bacon?
We learned in our research, that the fat in bacon will cause it to smoke if it reaches a higher temperature. So we cook the bacon at 350 degrees to help prevent smoking.
How long can I store unused bacon?
If you don't cook the entire package, you can wrap unused bacon in an airtight container and store in the refrigerator for up to 7 days. Cooked bacon, can be stored the same way, for up to 5 days.
MORE AIR FRYER RECIPES:
📖 Recipe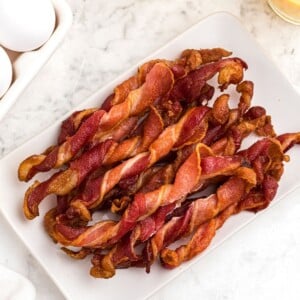 Air Fryer Twisted Bacon
Air fryer twisted bacon comes out with a perfect crisp, and yet, also has a just the right amount of softness in the curls.
Instructions
Holding each side of the piece of bacon, turn until completely twisted.

Repeat until all strips of bacon are twisted, placing each piece in the air fryer basket, or on a baking tray with rimmed edges.

Air fry at 350 degrees F for 13-15 minutes until bacon reaches desired crispness.
Notes
One pound of bacon has about 18 slices. Serving size is 2 slices. 
Weight Watchers 3 points
KETO C/0 P/5  F/7
Nutrition
Serving:
2
slices
Calories:
80
kcal
Protein:
5
g
Fat:
7
g
Saturated Fat:
2.5
g
Polyunsaturated Fat:
1
g
Monounsaturated Fat:
3
g
Cholesterol:
15
mg
Sodium:
320
mg
*Nutritional information is a calculated guesstimate. Please note that this can change with different brands and modifications you may make to the recipe. For the most accurate information, use a nutritional calculator with the exact brands and measurements you're using with each recipe.
©AirFryingFoodie 2023
Share this recipe!
Follow @AirFryingFoodie on Pinterest.