This Air Fryer Halibut recipe makes juicy fish filets full of flavor and spice. All you need is a few simple ingredients, and you can will have a classic fish family favorite.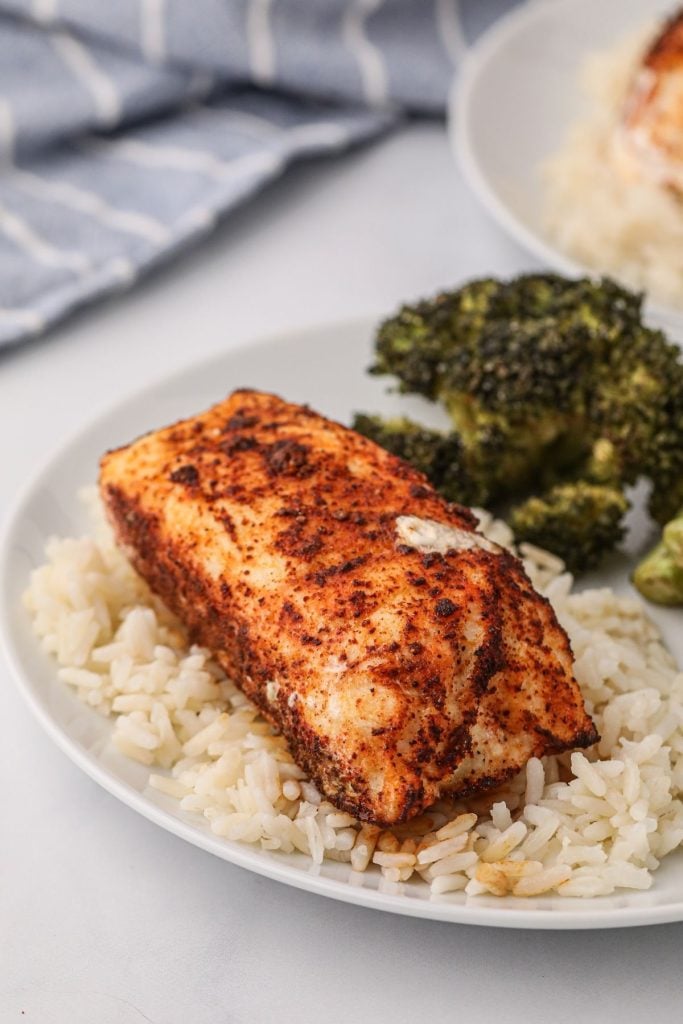 Why You'll Love This Air Fryer Fish Recipe
Halibut is a white fish, low in carbohydrates and calories, but packed with protein. You will love this healthy fish dinner recipe for several reasons.
Because there is almost no prep time, it is perfect for busy people who want to eat healthily but don't have a ton of time to prep meals. This fish recipe is a fantastic dish that is perfect for a busy weeknight meal.
If you are looking for more fresh fish recipes for the air fryer, you will love our healthy recipes for Tilapia Filets , Catfish, and Swai Fish.
Ingredients Needed to Make Air Fryer Halibut
Halibut Fillets- I use 2 filets-6 ounces each, fresh halibut filets
Olive Oil- or Olive Oil Spray
Chili Powder-for an extra bit of heat, you can use cayenne pepper
Paprika
Kosher Salt
Black Pepper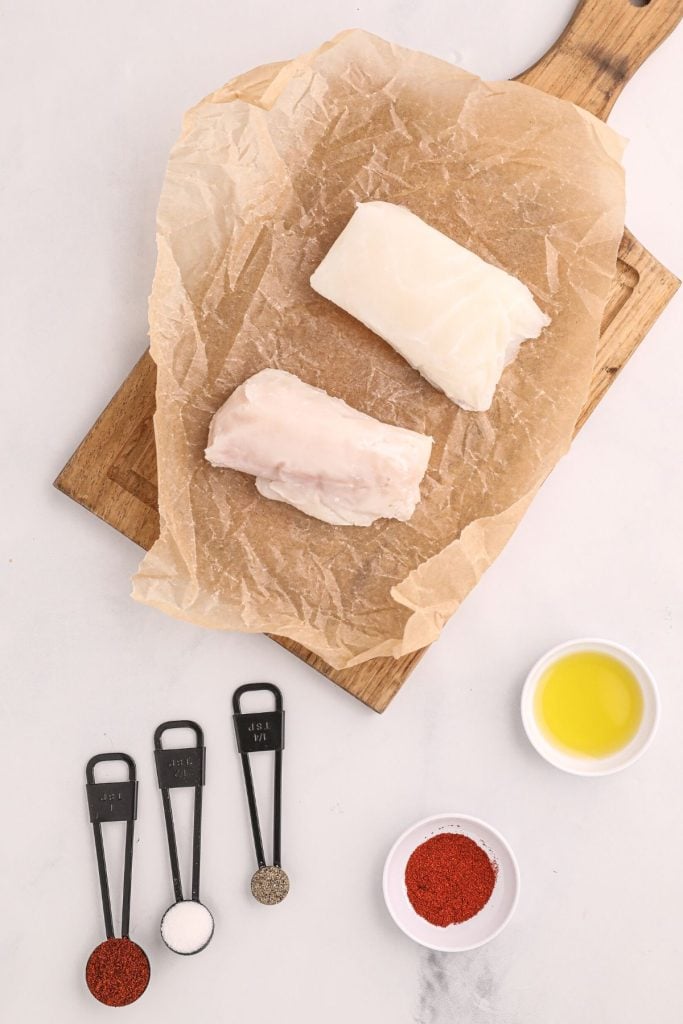 How to Make Air Fryer Halibut
Lightly rinse and pat halibut dry with paper towels.

In a small mixing bowl, combine the chili powder, paprika, salt, and pepper. Stir to combine.

Before air frying, brush each halibut fish fillet with olive oil or olive oil spray on both sides and then coat fish with seasonings.

Place fillets in a single layer in Air Fryer Basket.

Air fry at 350 degrees Fahrenheit for 6-8 minutes, depending on the thickness of the fish fillets. If using thicker fish, you may need to add 1-3 minutes extra cooking time.

Season with salt and pepper to taste. 
FAQs:
What is the best way to eat this recipe?
One of our favorite ways to eat this recipe is by pairing this white fish with wild rice and lemon wedges! Top with fresh parsley or chopped green onion for color.
What other spices or flavorings pair well with this recipe?
You can add of any of your favorite spices, such as McCormick's garlic powder, lemon zest, onion powder, goat cheese, or lime juice to this recipe to give it extra flavor. Some of the best sauces to pair with this recipe are tartar sauce, mango salsa, hot sauce, creamy Parmesan sauce, and Tzatziki sauce!
Can you make fish tacos with this recipe?
Absolutely! Grab some tortillas, mango or regular salsa, some coconut rice, and you've got yourself some delicious fish tacos! You can also use taco seasonings on the fish, depending on your individual preference. 
Can I use frozen fish for this recipe?
I love making this recipe with fresh ingredients, but air fryers are masters with frozen foods. If using frozen fillets, or coated fish, add 1-3 minutes to cooking process, depending on thickness of the filets.
How long can you store this recipe in the refrigerator or freezer?
You can store the halibut fillets in the fridge for 2-3 days or freeze them for up to six months.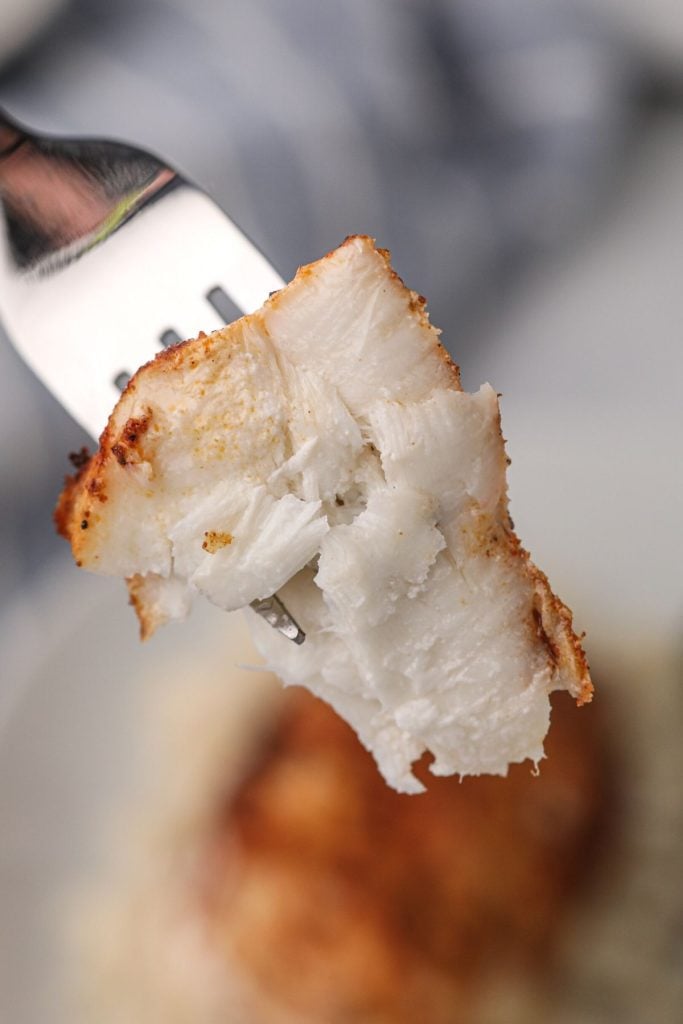 MORE SEAFOOD AIR FRYER RECIPES: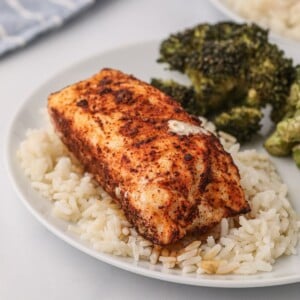 Air Fryer Halibut
This Air Fryer Halibut recipe makes juicy fish filets full of flavor and spice. With just a few ingredients, you will have a family favorite.
Ingredients
2

Halibut Filets

about 6 ounces each

1

tablespoon

olive oil

1

teaspoon

chili powder

½

teaspoon

paprika

½

teaspoon

salt

¼

teaspoon

black pepper
Instructions
Begin by lightly rinsing and then pat each piece of fish dry with paper towels, then set aside. 

In a small bowl, combine the chili powder, paprika, salt, and black pepper. Stir together to combine.

Brush each filet with olive oil on both sides, or use olive oil spray, and then sprinkle to coat with seasoning mixture.

In a single layer, without overlapping, place halibut in air fryer basket, without overlapping.

Air Fry at cooking temperature of 350 degrees Fahrenheit, for 5-6 minutes, until golden brown.
Notes
To confirm doneness, use a fork to confirm fish flakes. The fish should flake easily. Fish should be eaten when the internal temperature reaches 130-135ºF.  Additional cook time may be needed as cooking times may vary depending on the thickness of fish.
*Nutritional information is a calculated guesstimate. Please note that this can change with different brands and modifications you may make to the recipe. For the most accurate information, use a nutritional calculator with the exact brands and measurements you're using with each recipe.
©AirFryingFoodie 2023
Share this recipe!
Follow @AirFryingFoodie on Pinterest.