When you need a quick snack or meal, just throw Frozen Potstickers in Air Fryer! If you're looking for the best way to make crispy dumplings, don't miss this simple recipe! Using the air fryer is the best cooking method for this great snack or main course!
If you're a fan of Chinese food, these air fryer frozen dumplings are just what you need! They're a great way to take less time, getting that delicious snack that you're craving. Why wait for perfection when you really don't have to?
The hot air of the air fryer makes the cooking time literal minutes and makes that crispy bottom and soft center that we all know and love. Forget about pan frying or tossing them in the deep fryer, and try this recipe instead!
Looking for another easy frozen recipe? Check out this Fried Ravioli or Tyson chicken patties air fryer recipe. Made in just 10 minutes!
Ingredients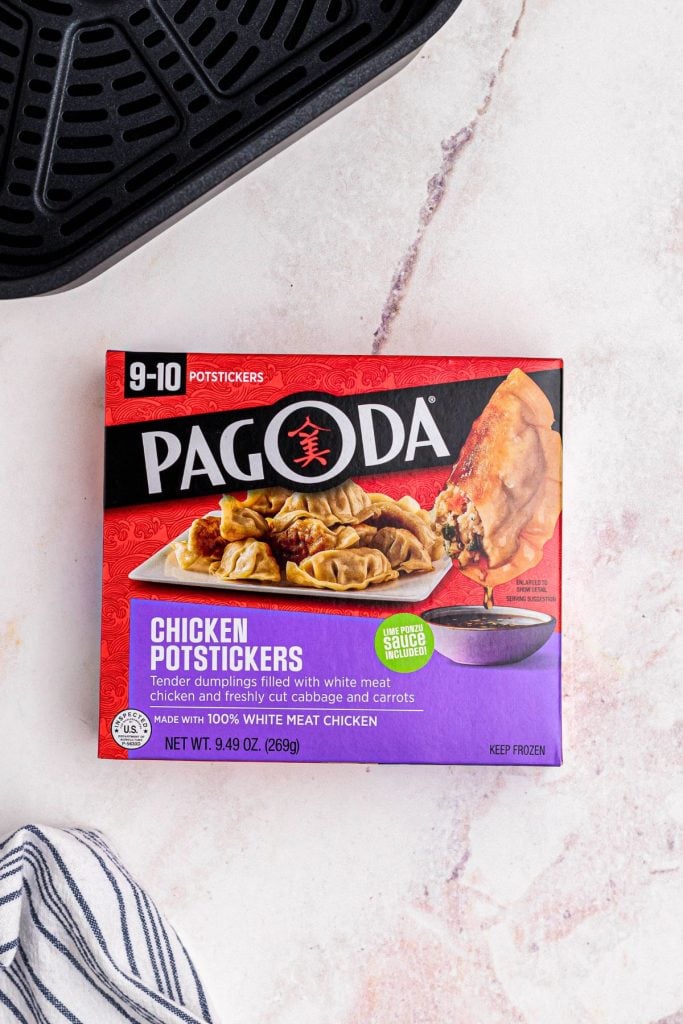 Frozen potstickers
Olive oil-or olive oil spray
Directions
Step 1

Lightly spray or brush potstickers with olive oil. Place in the air fryer basket in a single layer without overlapping. 

Step 2

Air fry at 360 degrees F for 8-10 minutes, turning potstickers halfway through air frying. Potstickers should be golden brown when done.
How to Serve
Once you cook this simple side dish, get ready! They're going to be hot! Let them cool down slightly, and then serve them with your favorite dipping sauce. Some great options for Chinese dumplings include hoisin sauce, sweet chili sauce, soy ginger sauce, or even regular soy sauce.
The crispy wonton wrappers provide a crunch to these air-fried potstickers, and the sauce helps to add a bit of flavor and softness.
If you are looking for more easy dinner recipes, try these air fryer stuffed peppers, air fryer cheese stuffed meatballs, air fryer turkey legs, or air fryer shrimp egg rolls. 
How to Store
This easy recipe cooks the food quickly and also makes it easy to store. Store leftover dumplings in an airtight container once they are cooled, and keep them in the fridge.
To reheat, you can add them back to the air fryer and reheat them for a couple of minutes to get those crispy skins. You can also reheat them in the microwave for one of the fastest ways to get them hot again, but that method isn't going to give them that crispy outer crunch.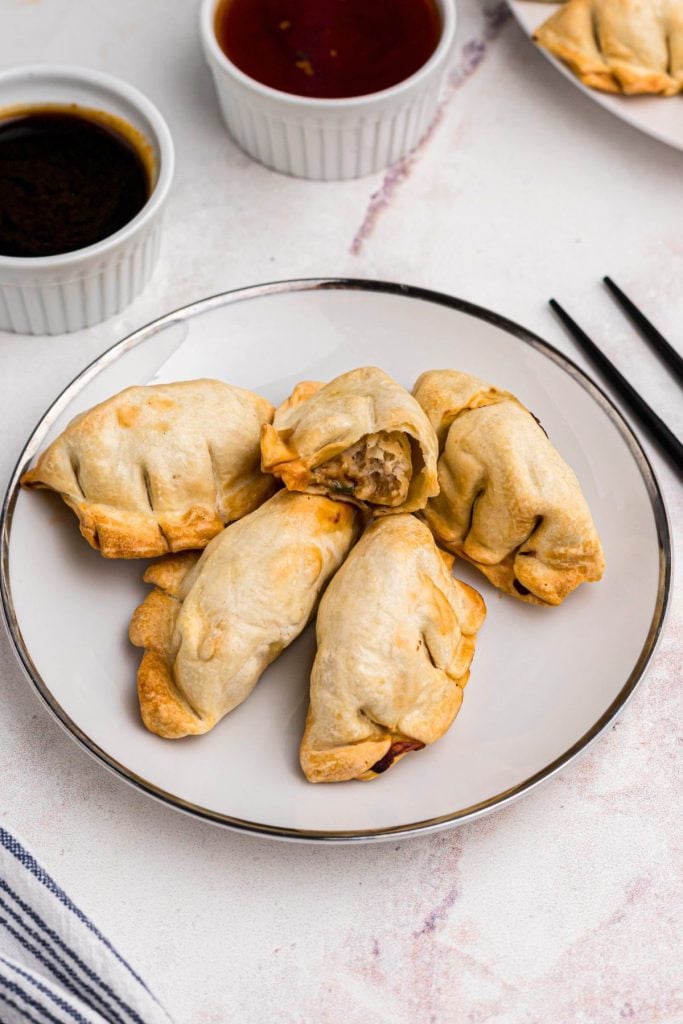 Common Questions
Can I use this simple recipe for different types of dumplings and potstickers?
You bet! Since most of the potstickers that you buy from the grocery stores are already cooked all the way, this recipe is the easiest way to get them hot and ready to eat! Just make sure to heat them all the way through and enjoy.
Are potstickers and dumplings the same?
They're not the exact same, but they are very similar. Typically potstickers will have a thinner outer layer, while dumplings are not. Potstickers are also fried as one of the main cooking methods, whereas dumplings will not be fried to be cooked.

A lot of people will interchange the two, as I have in this recipe in spots, but there is a difference between the two in terms of what you will find on a menu or order.
More Easy Air Fryer Recipes
We Would Love to Hear From YOU!
Let Us Know What You Think!
Be sure to leave a review of this recipe and give it a star rating. It lets us know how we are doing and lets others know they should try it!
Tag Us In Your Photos! Are you on Facebook? If so, join our Easy Air Fryer Recipes Group (with hundreds of thousands of Air Fryer Foodie Fans!) and share your photos! We love to see your creations.
Are you on Instagram? Follow along and TAG US @airfryingfoodie.
Have a Question or General Feedback?
Jump down to the COMMENT section and let us know! We would love to help and also love feedback on all of our posts.
📖 Recipe
Air Fryer Frozen Potstickers
Air Fryer Frozen Potstickers are made using two simple ingredients making them the perfect side dish or meal!
Ingredients
1

package

pot stickers

frozen

1

tablespoon

olive oil
Instructions
Lightly spray or brush potstickers with olive oil. Place in the air fryer basket, in a single layer without overlapping.

Air fry at 360 degrees F for 8-10 minutes, turning potstickers halfway through air frying. Potstickers should be golden brown when done.
Notes
Variations
Even though the recipe card below will show how easy these pot stickers are to make, that doesn't mean that you can't change things up!
Try different brands - You can use this recipe to cook a different type of dumpling every time! Stick with your favorite brand of dumplings, or try a new one. Try making chicken potstickers, veggie potstickers, or any type of dumplings that you want. You just might find a new favorite way and taste!
Toss some of your other favorites in the air fryer - If you want to cook more in the air fryer, along with these potstickers dumplings, go for it! You can easily use this same recipe for cooking some frozen spring rolls as well! Egg rolls and potstickers are quite the tasty pair!
Nutrition
Calories:
305
kcal
Carbohydrates:
46
g
Protein:
7
g
Fat:
12
g
Saturated Fat:
2
g
Polyunsaturated Fat:
0.4
g
Monounsaturated Fat:
3
g
Cholesterol:
5
mg
Sodium:
527
mg
Potassium:
0.04
mg
Fiber:
3
g
Sugar:
5
g
Vitamin C:
12
mg
Calcium:
41
mg
Iron:
2
mg
*Nutritional information is a calculated guesstimate. Please note that this can change with different brands and modifications you may make to the recipe. For the most accurate information, use a nutritional calculator with the exact brands and measurements you're using with each recipe.
©AirFryingFoodie 2023
Share this recipe!
Follow @AirFryingFoodie on Pinterest.