Long gone are the days of sitting down to a large homemade breakfast that we see in the old TV shows, these days we are lucky to have time to eat breakfast at all. Breakfast is such an important meal but my mornings are so hectic that I prefer to grab something as I run out the door.
That's why I'm so excited about these Air Fryer Biscuit Bombs, they are easy to make and I can take them to go.
These Air Fryer Biscuit Bombs are not only delicious but filling enough to get me through a crazy morning. I love trying different cheeses and protein, you can definitely make these to satisfy your family's preferred taste.
I get up just a few minutes early and cook these for my family and everyone is able to enjoy them before they leave or grab a couple as they head out. I feel good knowing that I was able to give them some fuel for their day.
Click Here to Get the Top Ten Air Fryer Questions Answered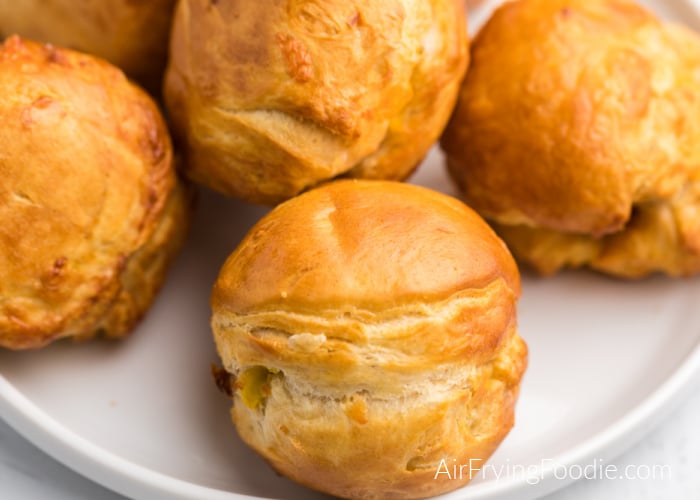 Ingredients:
bacon
eggs
butter
ground black pepper
Pillsbury Grands! Flaky biscuits
sharp shredded cheddar cheese
Egg wash:
How to Make Biscuit Bombs in the Air Fryer
Place parchment paper in your air fryer and spray with cooking spray.
Cook bacon in a skillet until crisp. Remove grease and wipe clean. Place bacon on a separate plate and break into small pieces.
Add skillet back to the heat and add the butter. Once melted, add eggs and pepper to skillet and scramble the eggs until finished, but still moist.
Remove skillet from heat and stir the bacon in with the eggs. Cool for 5 minutes.
Separate dough and split each biscuit in half.
Spoon the egg and bacon mixture onto the center of each round. Top with some of the shredded cheese. Put the top on the biscuit and fold the edges up and pinch to seal.
In a small bowl make the egg wash. Brush biscuits on all sides with egg wash, covering them completely.
Place the biscuit bombs, seam sides down on the prepared Air Fryer basket with parchment paper.
Cook in the air fryer for 7-8 minutes. Use tongs to turn all of the biscuits in the basket. Cook an additional 2 to 4 minutes or until they are fully cooked and golden brown.
Expert tips:
Save time by using the microwave to precook the bacon and the scrambled eggs.
Keep an eye on your Biscuit bombs as all air fryers cook differently. You may need to add more time or decrease the time depending on the Air Fryer.
Try sausage, turkey bacon, or ham to change things up for your family.
FAQs about making Biscuit Bombs in the air fryer:
Do I need to pre-heat my air fryer?
I typically preheat my Air Fryer for recipes, but It is not necessary for this recipe. NOTE: You should never pre-heat your air fryer with parchment paper alone.
Can I use a different cheese?
Yes! You can make it a little spicy by using pepper jack or any other preferred cheese. I like to use a mixture of Monterrey jack, mozzarella, and cheddar cheese.
What if I don't have parchment paper?
It's fine to put these directly in your air fryer basket but I suggest spraying it with an oil. Here are the Best Oils for the Air Fryer.
MORE AIR FRYER RECIPES: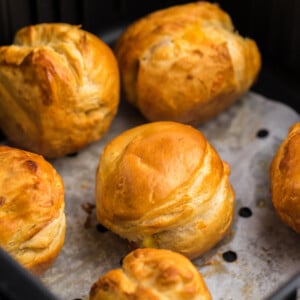 Air Fryer Biscuit Bombs
Air Fryer Biscuit Bombs are the perfect, fun and filling Air Fryer breakfast. Made with biscuits, eggs, bacon, and cheese.
Ingredients
1

can

Grands Flaky! Biscuits

2

eggs

4

pieces

bacon

1

tsp

butter

⅔

cup

shredded cheddar cheese
Instructions
Add parchment paper to the liner of the Air Fryer basket and spray with non stick cooking spray.

In a medium sized skillet, cook the bacon until crispy and set aside. Drain the grease from the skillet and wipe the skillet clean.

Add the skillet back to the heat and add the butter to the skillet. Once the butter is melted, add the eggs and scramble them until fully cooked, but still moist. Remove from heat and set aside.

Crumble the bacon into the egg mixture.

Take each biscuit and pull it apart or cut it in half. Create a small little bowl with one half and add a tablespoon of the egg mixture. Top with the shredded cheese, and then add the top half of the biscuit. Pinch the seams together and set aside as you finish the remainder of the biscuit bombs.

Create the egg wash by mixing the egg and water in a small bowl. Brush the egg wash over each biscuit bomb abd cover them completely.

Place the biscuit bombs into the bottom of the prepared Air Fryer basket, making sure to leave enough room around the biscuits to fully cook and receive air flow. Cook on 325 degrees Fahrenheitfor 8 minutes.

Flip the biscuit bombs in the basket and cook for an additional 2-4 minutes until the tops are golden brown and fully cooked. Serve warm!
Notes
Never preheat the Air Fryer with just parchment paper. 
Consider using different meats such as sausage, turkey bacon, or ham. 
Use different cheeses such as Monterrey jack, pepper jack, cheddar, and mozzarella. 
Nutrition
Calories:
554
kcal
Carbohydrates:
57
g
Protein:
16
g
Fat:
29
g
Saturated Fat:
8
g
Trans Fat:
1
g
Cholesterol:
145
mg
Sodium:
1255
mg
Potassium:
324
mg
Fiber:
2
g
Sugar:
4
g
Vitamin A:
371
IU
Calcium:
212
mg
Iron:
5
mg
*Nutritional information is a calculated guesstimate. Please note that this can change with different brands and modifications you may make to the recipe. For the most accurate information, use a nutritional calculator with the exact brands and measurements you're using with each recipe.
©AirFryingFoodie 2023
Share this recipe!
Follow @AirFryingFoodie on Pinterest.