Air Fryer Frozen Waffle Fries are the best way to make a great side dish. All you need are waffle cut fries, and your favorite dipping sauce. The air fryer takes over and does all the work.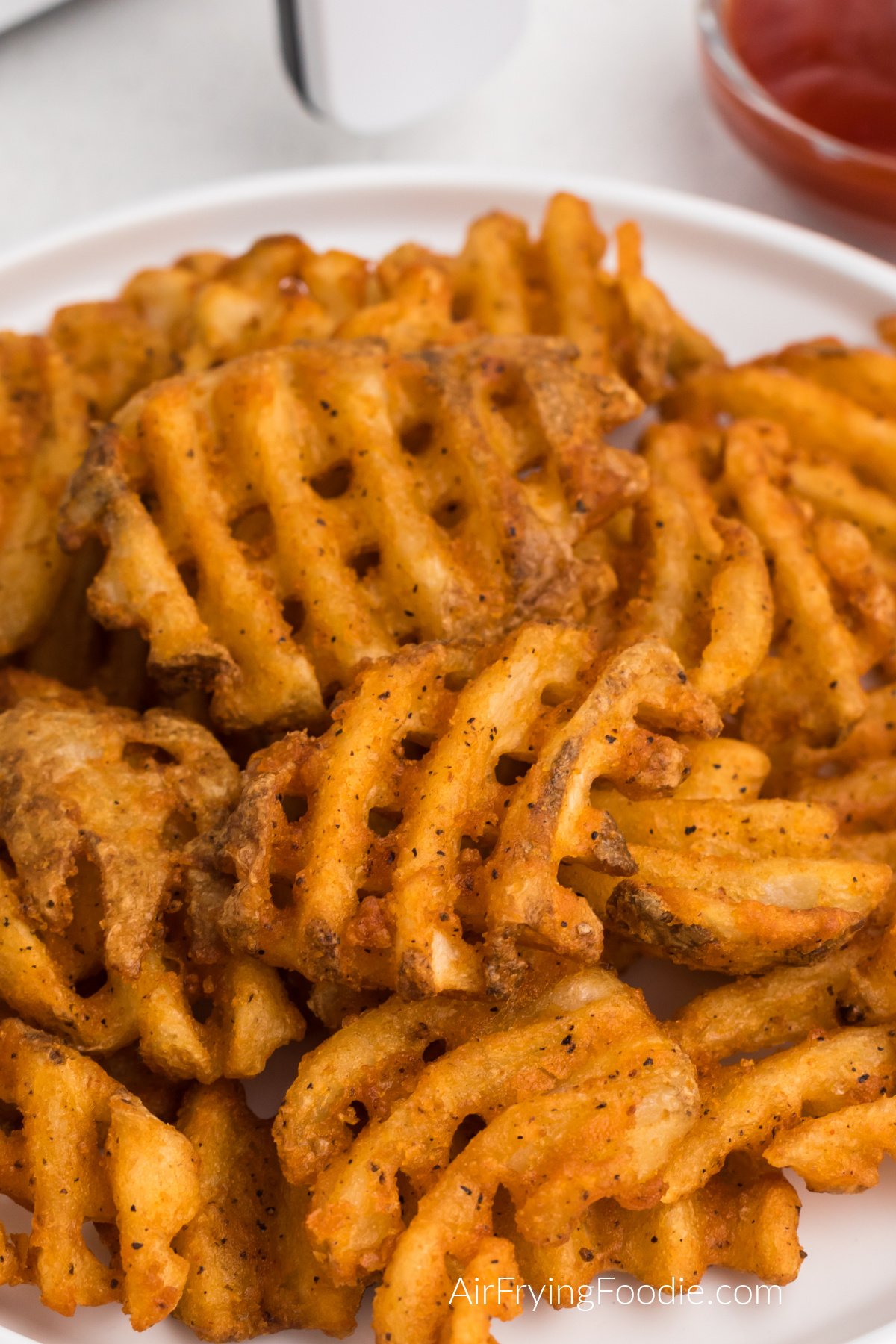 While I'm a fan of making homemade waffle fries, sometimes I just don't have time for that. The hot air of the air fryer makes air frying these tasty potatoes a treat! Forget regular fries - and give me a big ol' batch of waffle fries!
What I love most about waffle-cut fries is that they have a big surface for all my favorite dipping sauces! Every single time that I make them, I can't believe how they're the perfect snack.
Ingredients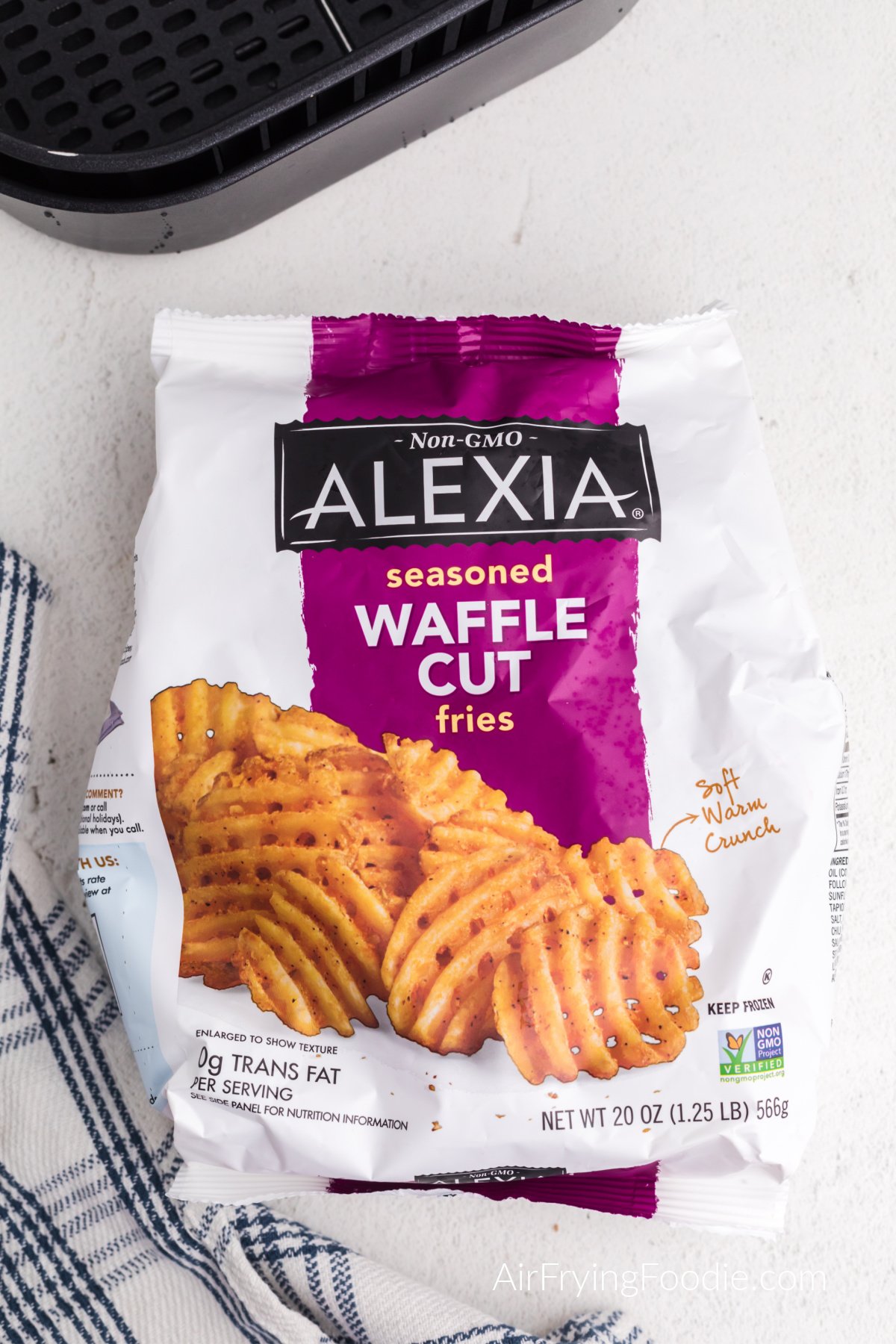 How to make Frozen waffle fries in the Air Fryer
Place frozen waffle fries in an air fryer basket in a single layer.

Allow space around the waffle fries so they will cook evenly. 

Air fry waffle fries at 380 degrees for 12-15 minutes, shaking the fries every 5 minutes. Serve with your favorite dipping sauce.
NOTE: I make this recipe in my Cosori 5.8 qt. air fryer or 6.8 quart air fryer. Depending on your air fryer, size and wattages, cooking time may need to be adjusted 1-2 minutes.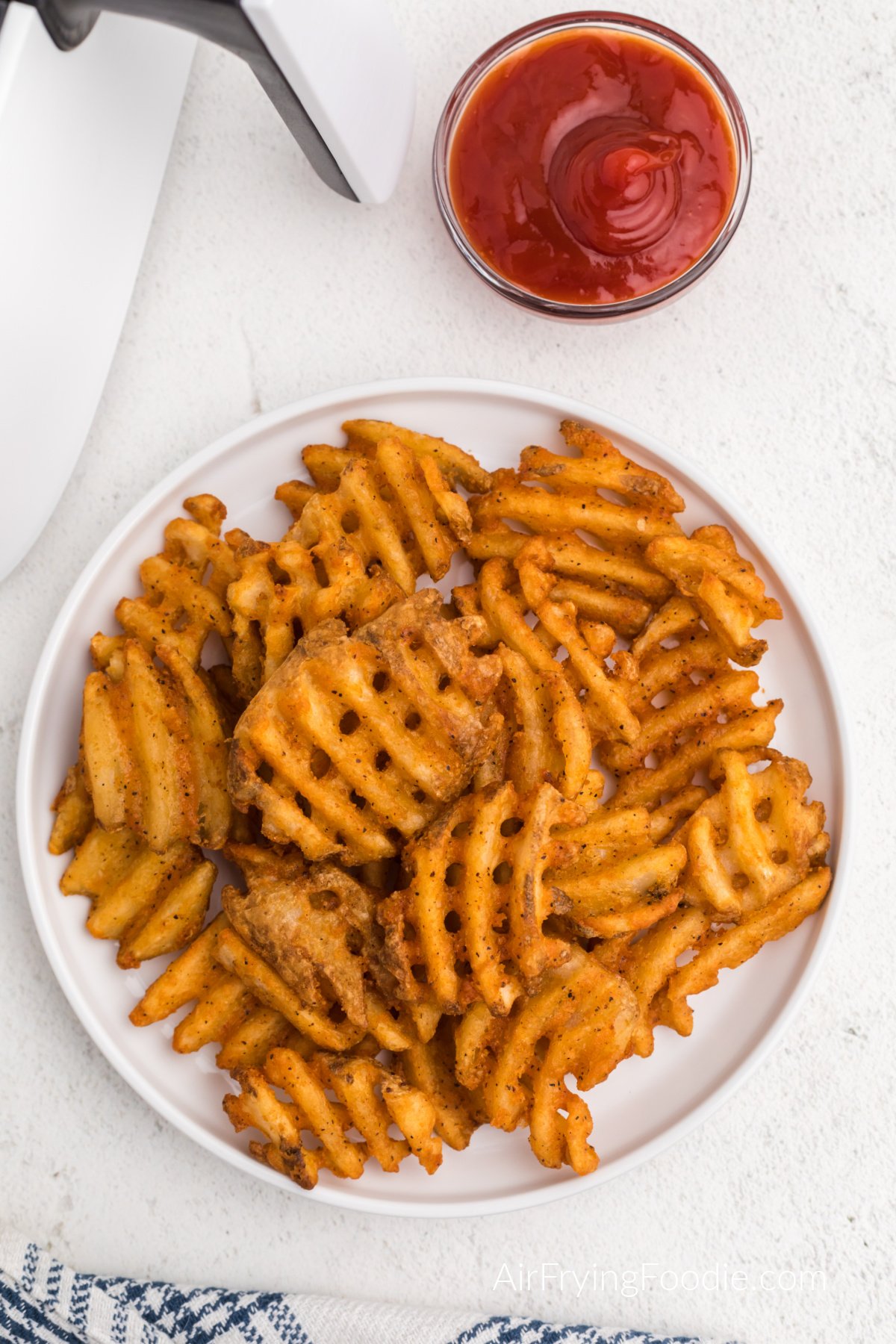 Variations
Use a different type of frozen fries - You can make any type of fries easily in the air fryer. Sweet potato waffles fries, potato wedges, curly fries, and even tater tots are a few delicious options.
Add seasonings - Even if you're going to use your favorite dips, you can still add black pepper, garlic powder, onion powder, and a little salt! Quick snacks like these fries are easy to season.
How to Serve
If you want to plate up the best waffle fries with a crispy crunch, pay close attention to the cooking process on the recipe card! This will give you the best results. You then just have to plate, dip, and eat!
If you have kids, don't forget that fries pair perfectly with mac & cheese, hot dogs, and burgers, too!
How to Store
If you have a large amount of fries remaining, save them! Let the leftover waffle fries cool down, and then store them in an airtight container. You can then reheat them in the air fryer for 2-3 minutes to get back that extra crispy waffles fries texture.
Even reheated, they'll taste as if they came from the deep fryer - but you'll know better!
FAQs
How do I get extra crispy fries?
To make the best waffle fries, you need to have fewer fries in the air fryer basket. If you don't have them in a single layer, they aren't going to get as crispy. They will still be delicious, but they just won't have that crunch that you might be hoping for.
For crispier fries, you can use less oil in the air fryer and still get that crispy texture! It's actually quite easy to make extra crispy waffle fries when you cook them in the air fryer.
What foods pair well with these perfect air fryer waffle fries?
This is one of those easy recipes that everything pairs pretty well with! It's an easy side dish that pairs well with burgers, chicken tenders, chicken nuggets, and more. And if you're like me, you just might want to enjoy a giant stack of fries all on its own!
What are some fun toppings to add to waffle fries?
Fries and topping go together almost as well as peanut butter and jelly! You can add shredded cheese, bacon, chives, cilantro, sour cream, jalapenos, and more!
You can also use a bed of waffle fries to create a giant platter of mimic nachos! The more toppings that you can pile on, the better!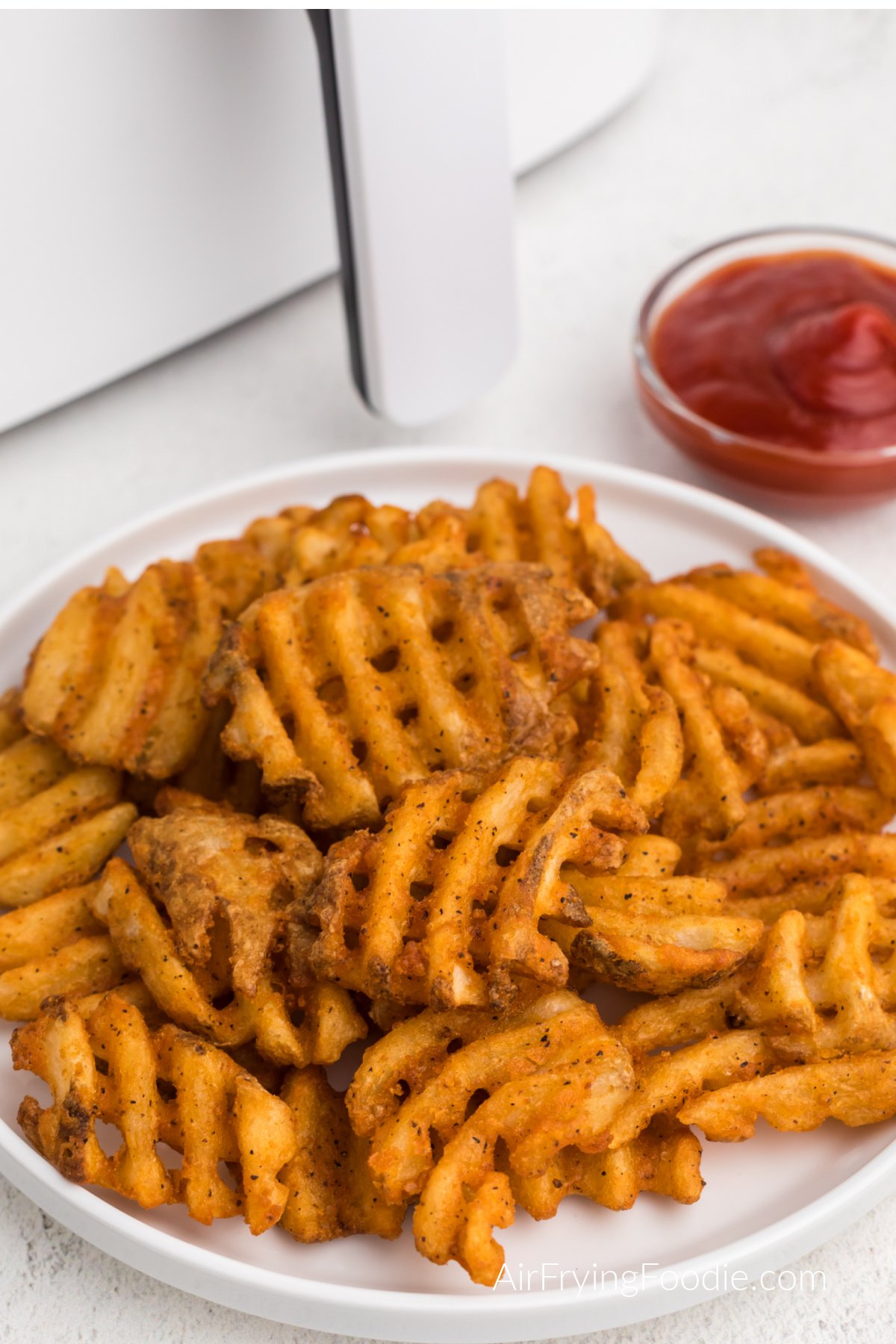 More Easy Air Fryer Recipes
We Would Love to Hear From YOU!
Let Us Know What You Think!
Be sure to leave a review of this recipe and give it a star rating. It lets us know how we are doing and lets others know they should try it!
Tag Us In Your Photos! Are you on Facebook? If so, join our Easy Air Fryer Recipes Group (with over a million Air Fryer Foodie Fans!) and share your photos! We love to see your creations.
Like to watch TikTok? Follow along with our recipes on TikTok @airfryingfoodie.
Are you on Instagram? Follow along and TAG US @airfryingfoodie.
Have a Question or General Feedback?
Jump down to the COMMENT section and let us know! We would love to help and also love feedback on all of our posts.
Air Fryer Frozen Waffle Fries
You'll love that these Air Fryer Frozen Waffle Fries only take one simple ingredient to make!
Ingredients
1

bag

frozen waffle fries
Instructions
Place frozen waffle fries in air fryer basket in a single layer.

Allow space around the waffle fries so they will cook evenly.

Air fry waffle fries at 380 degrees for 12-15 minutes, shaking the fries every 5 minutes.

Serve with your favorite dipping sauce.
Notes
Serve waffle fries with your favorite main dishes. 
Nutrition
Calories:
7
kcal
Carbohydrates:
1
g
Protein:
0.1
g
Fat:
0.4
g
Saturated Fat:
0.1
g
Polyunsaturated Fat:
0.03
g
Monounsaturated Fat:
0.2
g
Sodium:
12
mg
Potassium:
11
mg
Fiber:
0.1
g
Vitamin C:
0.2
mg
Calcium:
0.2
mg
Iron:
0.04
mg
*Nutritional information is a calculated guesstimate. Please note that this can change with different brands and modifications you may make to the recipe. For the most accurate information, use a nutritional calculator with the exact brands and measurements you're using with each recipe.
©AirFryingFoodie 2023
Share this recipe!
Follow @AirFryingFoodie on Pinterest.