I love biscuits but they can be so much work to make from scratch, that's why I love making canned biscuits. It's easy, already put together and ready to go when I open the can. Now it's even easier with my Air Fryer!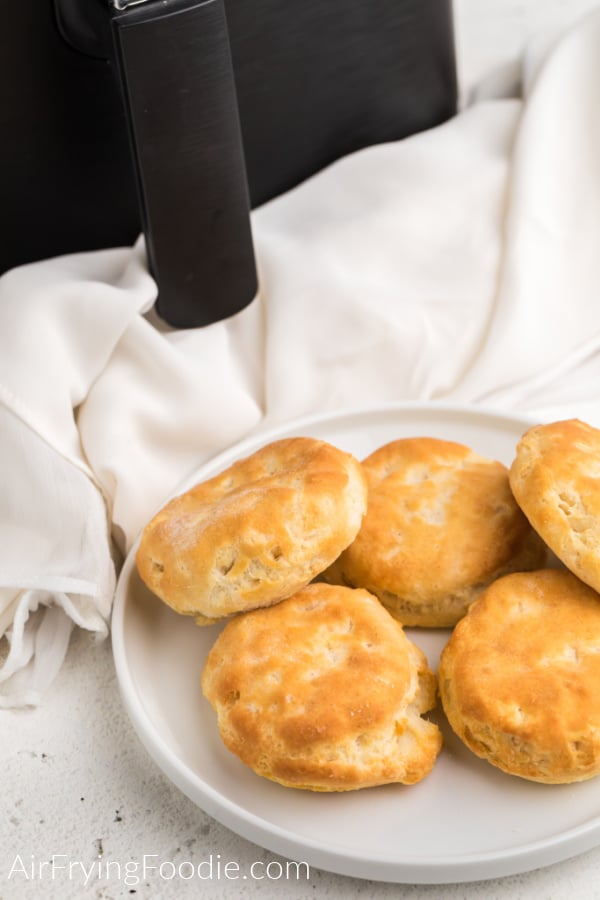 It takes just a couple of minutes to get them cooking and I can work on other things. Isn't that what all of us Moms do? We are multitasking masters.
You can use any brand of refrigerated biscuits but I prefer Grands biscuits. I like the way they cook up fluffy and flaky, you can pick your preferred style from all the different ones that they offer.
For these Air Fryer Canned Biscuits I use parchment paper because I prefer to have my basket covered especially with dough and meats. Just be sure to not put parchment paper into your air fryer without the food you are cooking otherwise, it can lift up and come in contact with the heating element. If you use parchment paper correctly it makes clean up a breeze.
I like to get other things together to serve these biscuits with while they are cooking. It makes breakfast a cinch, everyone can eat when they get ready. I put out a variety of items so that my family can create their own masterpiece.
What types of things do you like to serve with your biscuits? Here are some of our favorites:
Butter
Bacon or sausage
Cheese
Jelly
Gravy
One of my favorite things about cooking Air Fryer Canned Biscuits is how beautiful they turn out. They are golden brown and a little crunchy on the outside and warm on the inside. They cook evenly and I don't have to worry about them not being cooked fully. This is my favorite new way to enjoy biscuits!
Biscuits aren't just for breakfast though! These Air Fryer Canned Biscuits go great with dinner. I like to serve them with pot roast, soups and any holidays meals. You can even make small sandwiches with roast or other meats. It's a delicious meal and something different.
How to make Air Fryer Canned Biscuits
This will be one of the easiest things that you can make in your air fryer. Just open one can Grands biscuits and follow these directions:
Do not preheat the Air Fryer.
Add parchment paper to the bottom of the basket. Place the entire can of biscuits into the air fryer basket in a single layer.
Leave space between the biscuits. Cook for 2 minutes at 300 degrees Fahrenheit, and then 8-9 minutes at 330 degrees Fahrenheit. No flipping required!
Enjoy!
If you have frozen biscuits those can be cooked in the air fryer as well, sometimes I buy those because I can do individual servings. Learn how to make frozen biscuits in the air fryer over at Pinkwhen.

CLICK HERE to grab the BEGINNERS BOOK of recipes for the Air Fryer!!
Air Fryer Pro Tips:
Don't overcrowd the basket.
Pre-heat unless the recipe you are using specifically says not to.
Unless the recipe says something different it's a good idea to shake or flip food when halfway finished cooking.
Remember that just like other cooking appliances that every Air Fryer is different, it's best to open the basket to check things out a couple of times.
Be sure to use the right cooking spray in your Air Fryer, some can cause damage.
The food usually cooks better if placed in a single layer.
Air Fryer Biscuits are delicious and easy! Soft and moist inside with a light and crispy, flaky outside layer that is perfect for breakfast, side dishes, or even a quick snack! It's an easy Air Fryer Recipe to make whether you're a beginner or a pro at the Air Fryer.
More Air Fryer Breakfast Recipes
Air Fryer Canned Biscuits
Air Fryer Biscuits are my new favorite way to make biscuits. Fully cooked on the inside and light cripsy and flaky layers on the outside.
Ingredients
1

can

biscuits

Grands, flaky are my favorite!
Instructions
Do not preheat the Air Fryer.

Add parchment paper to the bottom of the basket.

Place entire can of biscuits into the basket, in a single layer. Leave space between the biscuits.

Cook for 2 minutes at 300, and then 8-9 minutes at 330 degrees Fahrenheit.

Carefully remove from the air fryer basket and serve with sausage, gravy, chicken, bacon, or by themselves!
Nutrition
Calories:
1
kcal
Carbohydrates:
1
g
Protein:
1
g
Fat:
1
g
Saturated Fat:
1
g
Cholesterol:
1
mg
Sodium:
1
mg
Potassium:
1
mg
Fiber:
1
g
Sugar:
1
g
Vitamin A:
1
IU
Calcium:
1
mg
Iron:
1
mg
*Nutritional information is a calculated guesstimate. Please note that this can change with different brands and modifications you may make to the recipe. For the most accurate information, use a nutritional calculator with the exact brands and measurements you're using with each recipe.
©AirFryingFoodie 2023
Share this recipe!
Follow @AirFryingFoodie on Pinterest.