Air Fryer Lamb Chops are an easy way to have a fancy gourmet meal. Made with rosemary, thyme, garlic, and other favorite seasonings, every bite is a burst of flavor.
You are going to love this Air Fryer Lamb Chops Recipe. They are so easy to make. Serve them crispy air fryer potatoes for a complete air fryer meal. These air fryer lamb chops have a delicious flavor and are truly a special and unique meal.
I love making an elegant meal to surprise my husband for a special occasion. Because air frying these lamb chops is so easy, it makes an elegant meal a breeze! Dinner is ready in just minutes.
Find this recipe along with over 35 others for the ULTIMATE list of Air Fryer Thanksgiving Recipes.
If you are looking for other delicious dinner air fryer recipes, see our air fryer chicken, chicken wings, and pork chops.
What you need to make Lamb Chops in the Air Fryer
I make these lamb chops in my Cosori Air Fryer because they fit perfectly in the basket. And, since they are lightly coated in olive oil, I did not spray or preheat air fryer.
Wondering what oils are best to use in the Air Fryer? Check out this complete list by clicking here.
Besides and air fryer, to make these lamb chops, you will need:
1 rack of lamb, or pre-cut chops
2 Tbsp Olive Oil
2 tsp fresh rosemary about 3 sprigs
1 tsp fresh thyme about 1-2 sprigs
1 tsp fresh minced cloves garlic
½ tsp kosher salt
½ tsp black pepper
How to make Lamb Chops in Air Fryer
If you are starting with a rack of lamb, cut between the bones, with the grain, into chops. You can also purchase the lamb chops already cut. Since I already had the rack of lamb, I cut mine.
Once you have the chops done, while preparing the seasonings, let lamb chops sit to bring to room temperature, right before cooking.
To begin, use a medium bowl to combine the olive oil, rosemary, thyme, garlic, salt and pepper and minced garlic cloves. Then, stir or whisk the ingredients together.
Next, working in batches, toss the lamb chops in the oil mixture until they are all completely coated with seasonings. If you need to, you may need to add in one or two more tablespoons olive oil, depending on the amount of chops you are coating.
Click Here to Get the Top Ten Air Fryer Questions Answered
Next, transfer the lamb chops to the air fryer basket. Do not stack or overlap the chops, or they may not cook evenly. Also, depending on the side of your air fryer, you may need to work in batches.
For medium doneness, air fry at 380 degrees Fahrenheit for 10-12 minutes cook time. Turn the lamp chops halfway through cooking.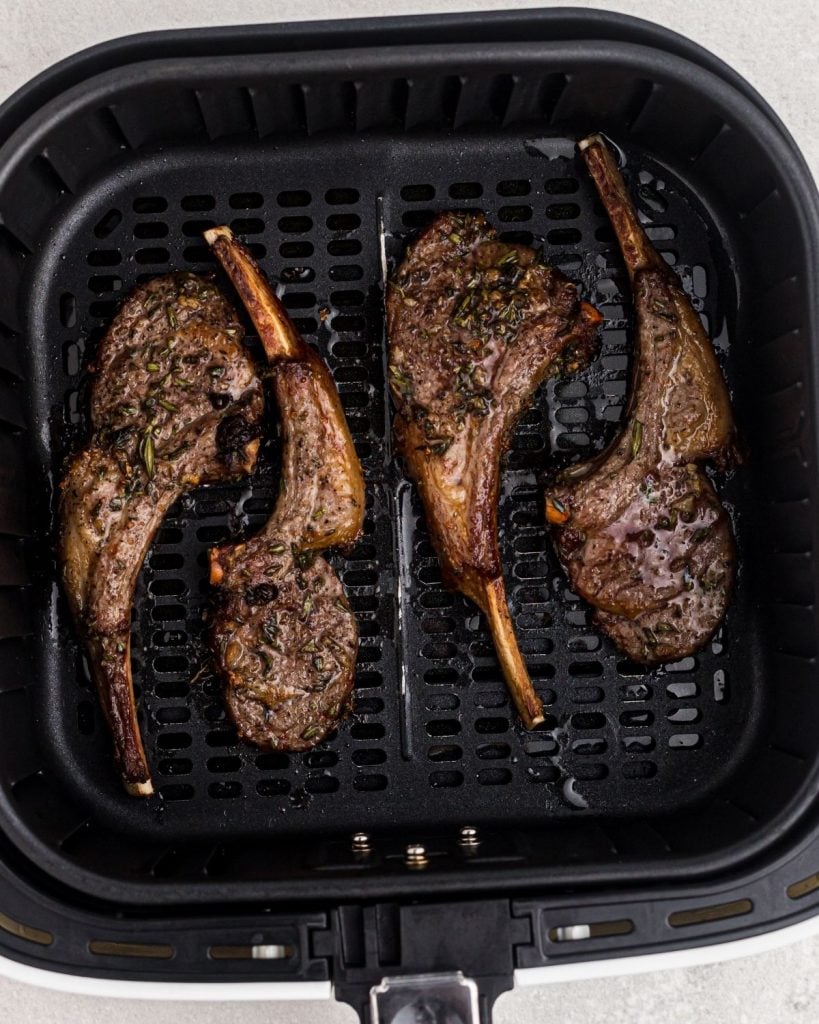 Once they are done, let the cooked lamb chops rest for about 3-5 minutes before serving.
Because cooking time may vary depending on the thickness of the lamb chops. Be sure to use a meat thermometer to check the internal temperature for doneness. For exact cooking time based for lamb doneness, see chart below in the FAQ's.
CLICK HERE to grab the BEGINNERS BOOK of recipes for the Air Fryer!!
FAQ's
How do I know when my lamb is cooked properly?
The recommended cooking guide for internal temperature for lamb is:
Medium Rare-145 degrees F
Medium- 160 degrees F
Medium Well-170 degrees F
Because it's important to get safest and most accurate way, using a meat thermometer is the best way to find correct air fryer cooking times.
Depending on the thickness, the cooking timing can be affected. Each piece of meat I used was about 1-1 ¼ inch in thickness. Add 1-2 extra minutes until you reach your desired doneness.
What kind of rack of lamb should I use?
Rack of lamb is perfect for this recipe. This cut has tender meat and in my opinion, is the best chops for cooking.
What else can I use to season my lamb chops?
I like to keep my recipes simple. I will say, my husband likes meals to have more seasonings, so I sometimes bump my ingredients up to a teaspoon black pepper and a teaspoon salt. Using fresh but simple ingredients, can really make this a gourmet meal.
If you want to try another blend of spices for a nice flavor, you could use garlic powder, garlic salt, teaspoon cayenne pepper, teaspoon onion powder, or even a teaspoon oregano. McCormick's has so many choices!
MORE AIR FRYER RECIPES:
Air Fryer Lamb Chops
Air fryer lamb chops are an easy but fancy gourmet meal. Made with rosemary, thyme, garlic, and other seasonings, every bite is delicious.
Equipment
Air Fryer

Suggested: Meat Thermometer
Ingredients
1

rack of lamb, or 8 pre-cut chops

2

tbsp

olive oil

2

tsp

fresh rosemary

about 3 sprigs

1

tsp

fresh thyme

about 1-2 sprigs

1

tsp

fresh minced garlic

2 cloves

½

tsp

salt

½

tsp

pepper
Instructions
If starting with a rack of lamb, cut with the grain to cut into chops.

In a medium bowl, combine oil, rosemary, thyme, garlic, salt and pepper. Stir together.

Working in batches, add in the lamb chops and toss to coat. Repeat process until all chops are well coated with oil and seasonings.

Place lamb chops in the air fryer basket, without overlapping or stacking. Cook in batches if necessary.

Air fry at 380 degrees F for 10-12 minutes.

Let lamb chops rest for 3-5 minutes after cooking.
Notes
Air fryer wattage and thickness of chops may affect cooking times. 
Nutrition
Calories:
2103
kcal
Carbohydrates:
2
g
Protein:
72
g
Fat:
199
g
Saturated Fat:
79
g
Polyunsaturated Fat:
16
g
Monounsaturated Fat:
91
g
Cholesterol:
377
mg
Sodium:
1442
mg
Potassium:
983
mg
Fiber:
1
g
Sugar:
1
g
Vitamin A:
107
IU
Vitamin C:
4
mg
Calcium:
94
mg
Iron:
8
mg
*Nutritional information is a calculated guesstimate. Please note that this can change with different brands and modifications you may make to the recipe. For the most accurate information, use a nutritional calculator with the exact brands and measurements you're using with each recipe.
©AirFryingFoodie 2023
Share this recipe!
Follow @AirFryingFoodie on Pinterest.