Air Fryer Churros are a delicious sweet treat, coated with cinnamon sugar mixture. These churros have a crunchy texture and are air fried to golden perfection.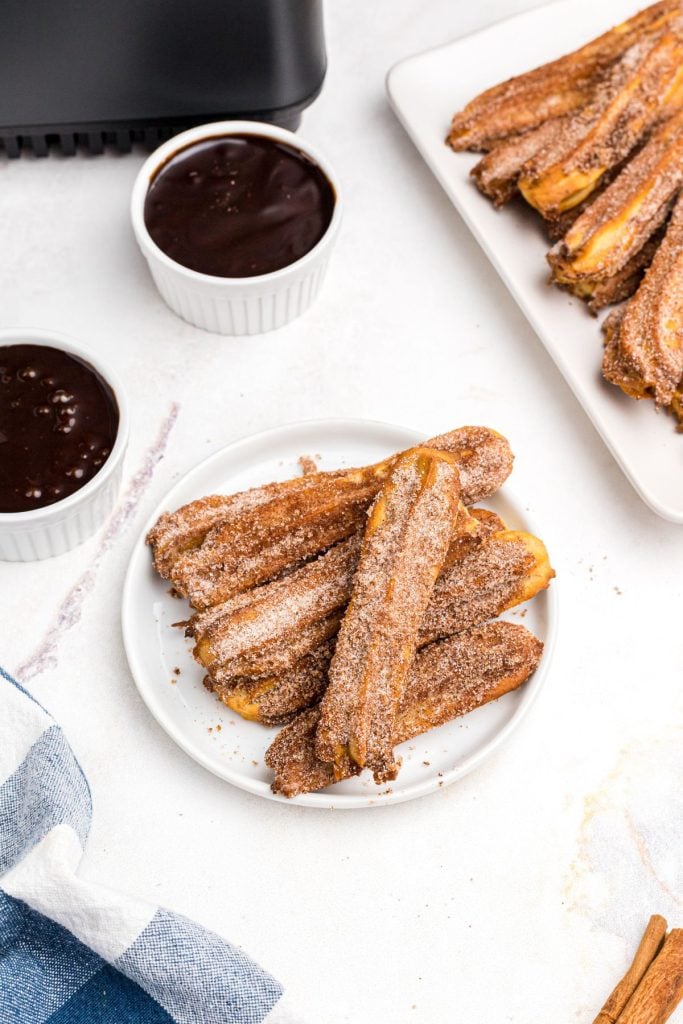 Making churros in the air fryer is an easy way to have a carnival or theme park treat in minutes!
WHY YOU WILL LOVE THIS CHURRO RECIPE
Traditional churros are a popular dessert, and family favorite when visiting the Magic Kingdom or the local fair. But instead of the deep-fried version, making them in the air fryer allows us to have them all the time.
Air-Fried Churros are so easy to make with just a few common ingredients. Because homemade churros are a wonderful special treats for the kids, or just an easy dessert, you will want them all the time.
Churro Dough Ingredients: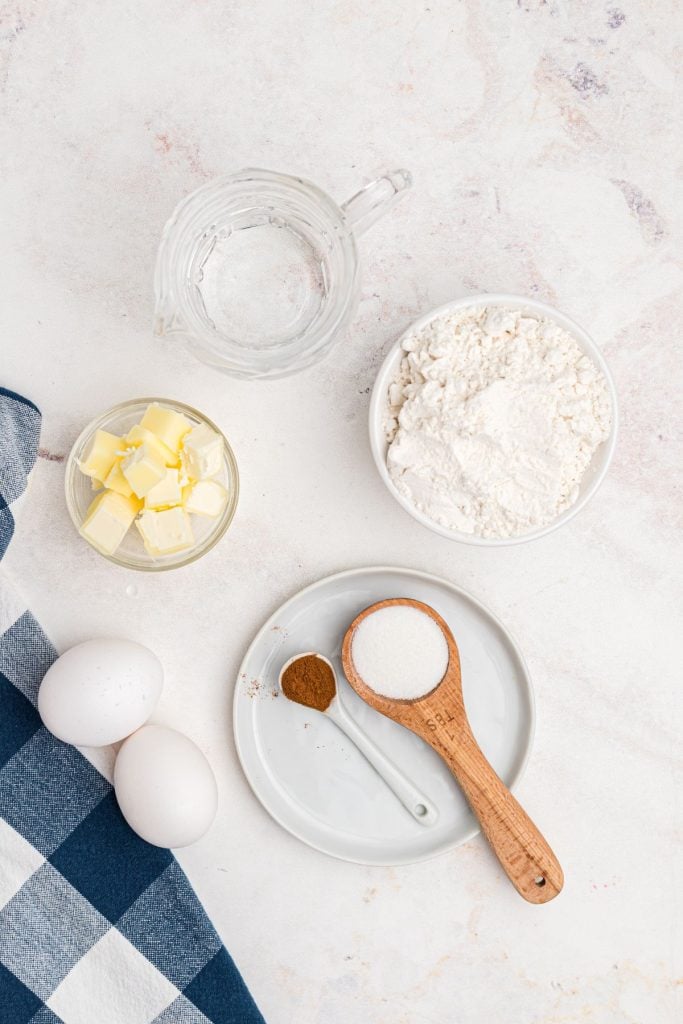 water
butter
granulated sugar
salt
ground cinnamon
flour
eggs
Coating:
butter
sugar
ground cinnamon
HOW TO MAKE CHURROS IN AIR FRYER:
In a medium saucepan, combine water, sugar and butter. Stir the mixture until it begins to boil. Let water boil for at least 2-3 full minutes. Remove from heat.

Add the flour and cinnamon, stir with a rubber spatula until the mixture is smooth and thickens. Let dough cool for about 5 minutes.
Once cooled, add the eggs to the batter while continuously stirring with a wooden spoon, or mixer, until a soft ball of dough forms.

Transfer batter to a pastry bag with a large star nozzle or closed star decorating tip. If dough is too sticky, add 1 tablespoon of flour at a time, until the dough thickens.
On a baking sheet or cutting board, lined with air fryer parchment paper, pipe churro dough in rows (about 4-inch pieces) in length. Try to pipe dough evenly in size so they air fry evenly.

Place cookie sheet in the freezer for 15-30 minutes to chill churros.
Transfer churros in basket, on air fryer parchment paper.
Air fry at 350 degrees F for 8-10 minutes until churros are golden brown.

Meanwhile combine cinnamon and granulated sugar in a shallow bowl, and melt butter in microwave safe bowl.
When churros are done cooking, brush with butter, and then roll in cinnamon and sugar, coating both sides.

Place warm churros on a baking rack or wire rack so they remain super crispy. Continue this same process when making batches of churros, until all dough has been used.
I make this recipe in my Cosori air fryer. Depending on your air fryer, size and wattages cooking time may need to be adjusted 1-2 minutes.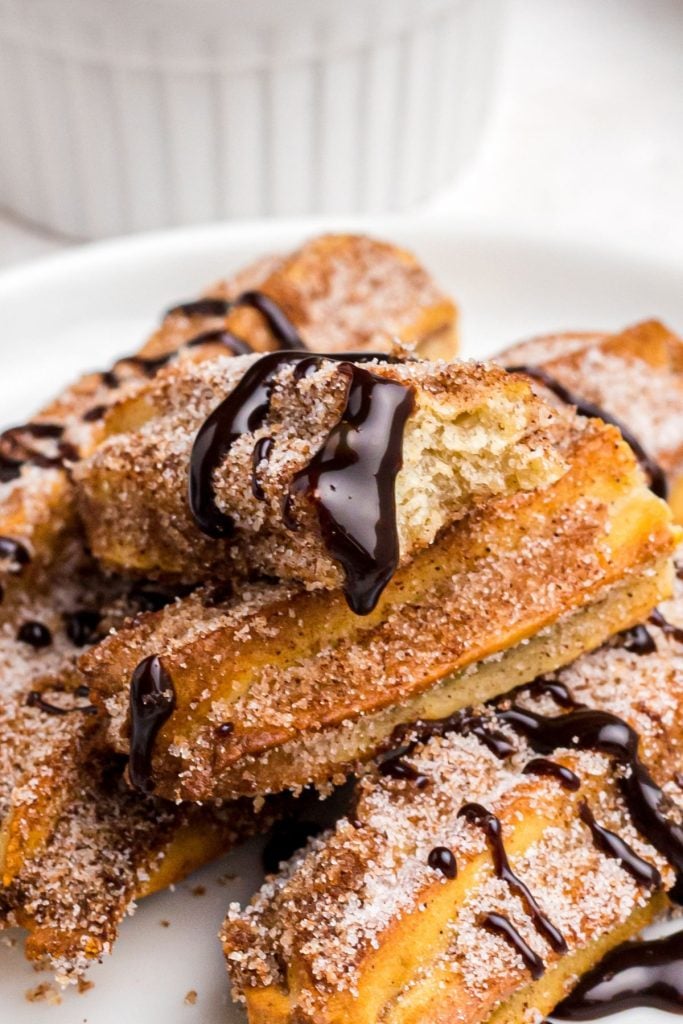 FAQ's
What is a good choice of dipping sauce?
I love the cinnamon and sugar coating, but churros with chocolate sauce or caramel sauce takes this dessert to perfection. You can also try Mexican chocolate sauce with a pinch of cayenne or chipotle pepper for some heat. My favorite dipping sauces are chocolate  or just the sugar with cinnamon.
Can I store leftover churros?
You can store leftover dough if refrigerated for 2-3 days or frozen for up to 1 month. Either way store dough in a sealed pastry bag or resealable airtight bag. Do not cover churros in butter or any spice blend prior to storing.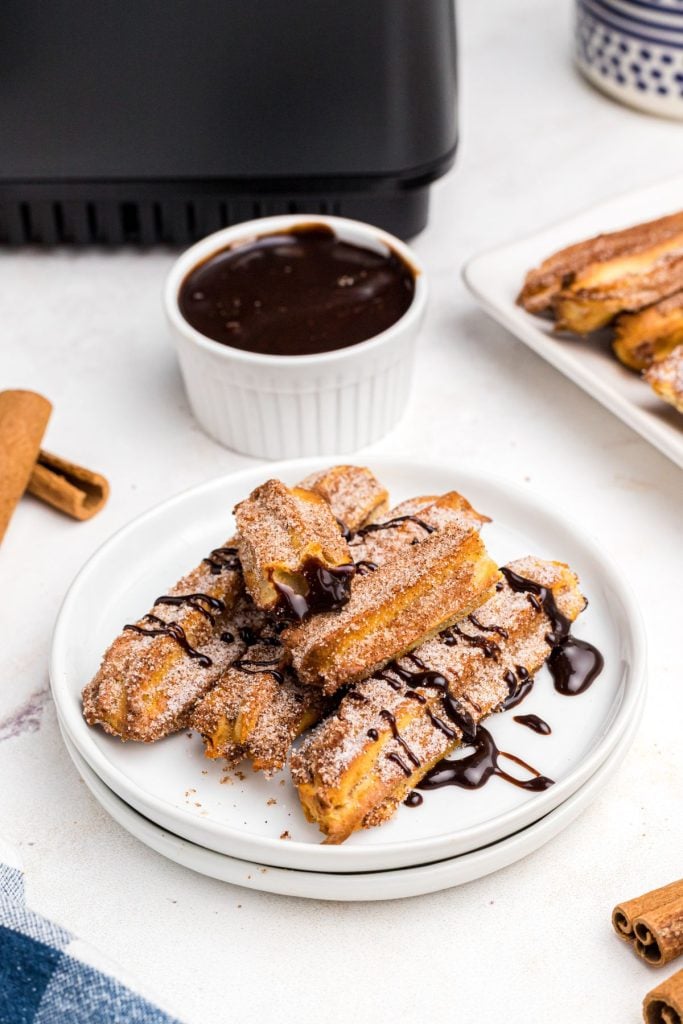 MORE AIR FRYER RECIPES:
We Would Love to Hear From YOU!
Let Us Know What You Think!
Be sure to leave a review of this recipe and give it a star rating. It lets us know how we are doing and lets others know they should try it!
Tag Us In Your Photos! Are you on Facebook? If so, join our Easy Air Fryer Recipes Group (with hundreds of thousands of Air Fryer Foodie Fans!) and share your photos! We love to see your creations.
Are you on Instagram? Follow along and TAG US @airfryingfoodie.
Have a Question or General Feedback?
Jump down to the COMMENT section and let us know! We would love to help and also love feedback on all of our posts.
Air Fryer Churros
Air Fryer Churros are a yummy treat, coated with a cinnamon sugar mixture. Golden and crispy, they are an easy dessert, done in minutes!
Ingredients
¾

cup

water

¼

cup

butter

cut into cubes (4 tbs)

1

tablespoon

sugar

½

teaspoon

salt

½

teaspoon

ground cinnamon

1

cup

all purpose flour

plus 1-2 tablespoons

2

large

eggs
Cinnamon Sugar
½

cup

sugar

1

tablespoon

ground cinnamon
Instructions
In a medium saucepan, add water, butter, sugar, and salt. Heat on medium to high heat until it begins to boil. Stir continuously until butter has melted and sugar and salt are dissolved. Let boil for at least 2-3 minutes.

Remove from heat and let mixture cool for about 30 seconds, then add in flour and cinnamon. Then beat in whisked eggs. If dough is too sticky, add in 1-2 extra tablespoons of flour. Dough will be slightly sticky but thick enough to hold shape.

Transfer dough to a piping bag with a large star tip. (I use 1M tip)

Pipe dough onto baking sheet lined with air fryer parchment paper, into 4-6 inch strips, then place baking sheet in the refrigerator to chill for 30-45 minutes, or freezer for 15 minutes, until dough is firm.

Gently transfer parchment paper with piped dough into the air fryer basket. Air fry at 350 degrees for 8-10 minutes, until golden brown.

Combine sugar and cinnamon in a small bowl. Brush churros with melted butter, then toss churros with sugar mixture until well coated.
Notes
Optional Ingredients: You can dust the churros with powdered sugar, or brown sugar with fall spices. They can also be stuffed with Nutella, peanut butter and jelly, or vanilla pudding.
Kitchen Tips: If you do not have piping bags no worries a resealable plastic bag works just as well. Use a pair of kitchen shears or kitchen scissors to cut one small corner of bag to desired thickness before piping out dough. You can use an electric hand mixer instead of stirring on stovetop if you prefer.
Nutrition
Calories:
181
kcal
Carbohydrates:
36
g
Protein:
5
g
Fat:
2
g
Saturated Fat:
1
g
Polyunsaturated Fat:
0.4
g
Monounsaturated Fat:
1
g
Trans Fat:
0.01
g
Cholesterol:
63
mg
Sodium:
230
mg
Potassium:
66
mg
Fiber:
1
g
Sugar:
19
g
Vitamin A:
111
IU
Vitamin C:
0.1
mg
Calcium:
40
mg
Iron:
1
mg
*Nutritional information is a calculated guesstimate. Please note that this can change with different brands and modifications you may make to the recipe. For the most accurate information, use a nutritional calculator with the exact brands and measurements you're using with each recipe.
©AirFryingFoodie 2023
Share this recipe!
Follow @AirFryingFoodie on Pinterest.